Whitney Port's Favorite Meal Is Really Easy To Make At Home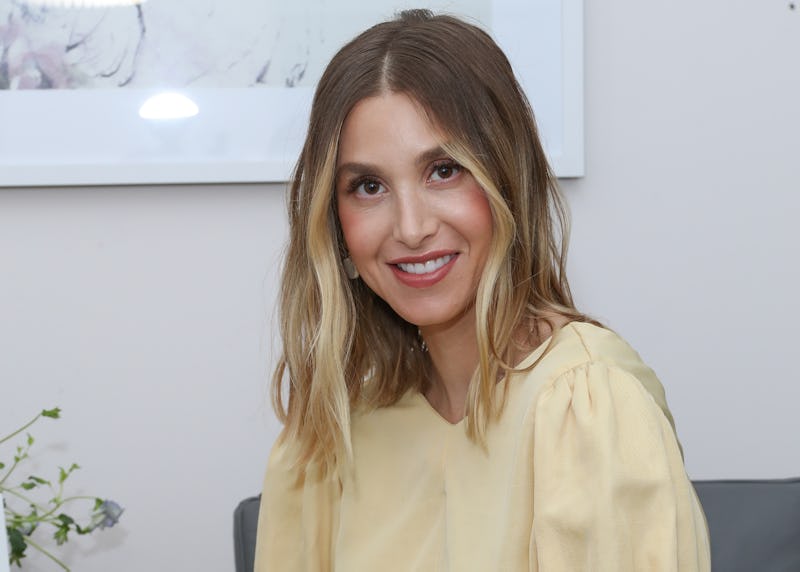 Michael Simon
The Hills covered a lot of drama in the lives of its main cast during its MTV run from 2006 to 2010, but now, series star Whitney Port's life seems too blessed to be stressed. The reality star and fashion designer, who welcomed her first child with husband Tim Rosenman in 2017, has been keeping a packed schedule as of late. Not only has she been working with soap brand Mrs. Meyers on its Compassion Flower Project, which aims to spread kindness and love through the creation of a one-of-a-kind hybrid flower, she's also been working on filming a new season of The Hills for MTV. Still, despite being busy juggling her work and family, a good meal is important to Port — and above all, she says she loves a good flank steak.
I'm a big steak girl. I love a big flank steak with arugula and parmesan, and a side of roasted potatoes. Parmesan's one of my favorite foods, potatoes are one of my favorite foods, and steak is. If you want to take me out for an ideal date night, you're taking me to get a steak meal. It's just something I grew up with, and I'm a really picky eater — my taste buds can pick up on everything, so flavors are something I'm really conscious of. (My husband is too, now. He'll ask me before he puts any kind of special herb in anything because I'm just so particular! For instance, cilantro: nay.) I err more on the simple side when it comes to food, so a good flank steak dish is just a constant in my diet — something that you know I'll always like.
Dinner Table Talk Was Always Steak In My House
Michael Simon
Michael Simon
Michael Simon
Growing up, my grandma was a really big cook and she always made meat, so I think that it's just comfort food to me. My grandparents lived with us, and I remember just sitting at the dinner table and the meat was always the topic of conversation. Was it too tough? Was it cooked right? Where did they get it? My grandma was always talking about the meat, and it was really important.
I like flank steak in particular more than other steaks because of the flavor. It's the easiest for me to cook for myself. My sisters and I found this recipe that we like... I don't want to say it's better than my grandmother's, but it's amazing. We found it, I remember, when we were watching a Food Network competition show called Throwdown! With Bobby Flay, and there was a chef called Father Leo Patalinghug. He had this special marinade for a flank steak, and it looked so good, so we tried it. It has brown sugar and garlic, and it's just really delicious. The longer you can marinate it the better — so you just put it all in a Ziploc bag and marinate it, and it's so easy and good.
It Reminds Me Of Summers In Missouri Growing Up
I think the dish also reminds me of how we'd go to this lake in Missouri every summer as a family. I remember being down at the pool, and my grandmother would ring a bell when dinner was ready. That was it — the bell rings and we all gotta pack up and get out of the pool and go! I distinctly remember that. And we always ate dinner together as a family — it was a non-negotiable — Sunday through Thursday night. (And then, Friday and Saturday, my mom would always say the kitchen was closed.)
It was a really important time for the family to be together, and that's something that's important to me now with my family. I mean, my son Sonny eats dinner at like 5:30 p.m. now because he's one, so it's kind of hard to actually eat dinner with him — but eventually when he's eating dinner a little later I want to make sure that everybody's eating together.
As told to Associate Lifestyle Editor Tanya Ghahremani.
Bustle's series My Favorite Meal asks famous chefs, bloggers, and tastemakers to describe the one dish, recipe, or ingredient they can't live without — and why.