Arie's Parents On 'The Bachelor' Are No Stranger To The Public Eye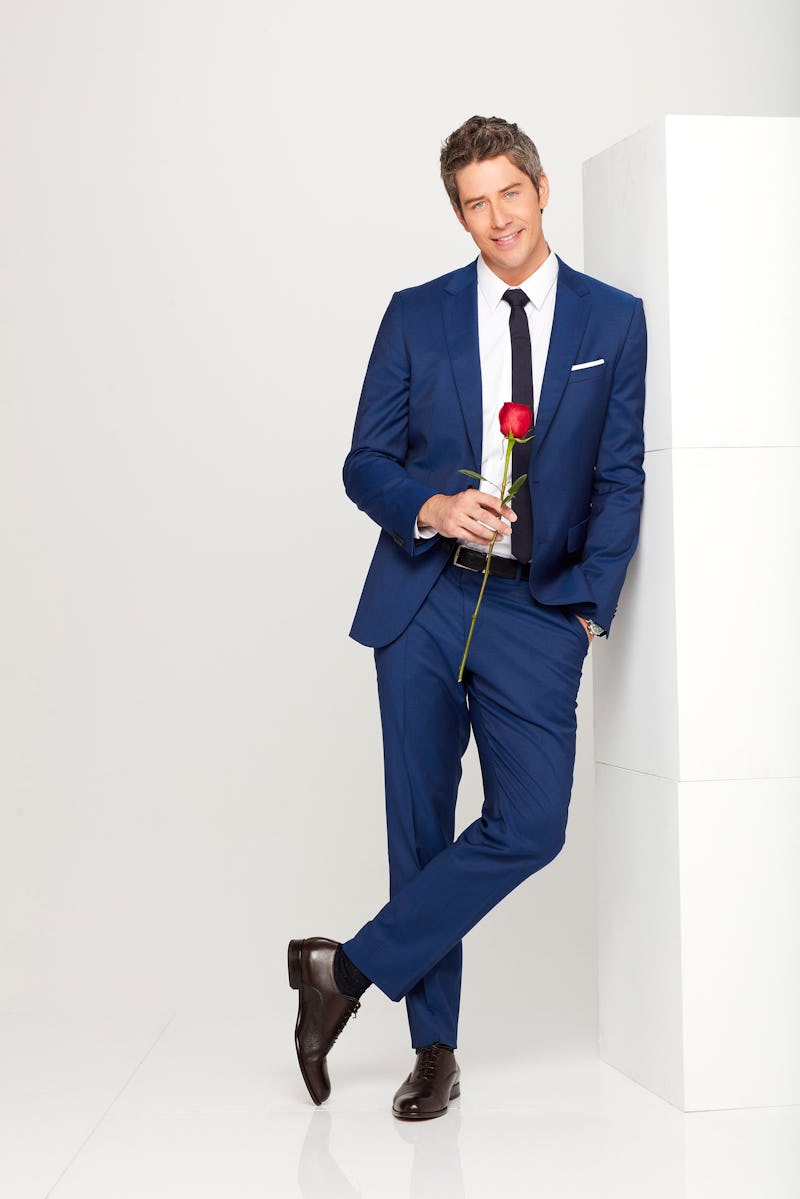 ABC/Craig Sjodin
Arie Luyendyk, Jr. isn't the first Luyendyk to rise to fame, and as the professional racecar driver re-enters the spotlight while trying to find his soulmate on national television, there's no doubt that his family and friends are about to be put under the intense scrutiny that can only be brought along by fans of The Bachelor. Whoever Arie chooses to give the final rose to will likely be gaining a set of in-laws soon after, so who are Arie's parents?
According to People, Arie's father, Arie Luyendyk, Sr., paved the way for Arie to become a racing driver in a big way. Arie Sr. is himself a Dutch racing driver who found major success in the field — he's a former two-time winner of the Indy 500. The magazine reports that Arie Sr. was often known as "The Flying Dutchman" and has several European racing titles under his belt. Arie Sr. actually set records with his speed in his first Indy 500 race in 1990, and it remained clear following the win that he was passionate about continuing his hunt for titles. "After I won the race in 1990, it definitely became a huge part of my life," Arie Sr. told the Indianapolis Motor Speedway following his second win. "Obviously the Speedway always wants you around to do certain things and the fans recognize you no matter what you have done outside of the Indy 500. But they always mainly recognize you for winning that race."
It's clear, then, where Arie gets his racing chops. Arie, according to People, is a previous winner at the Firestone Indy Lights and has also competed in the A1 Grand Prix World Cup of Motorsport, in addition to working as a racing analyst and commentator.
This brings us to Arie's mother, Mieke. According to Life & Style magazine, Mieke has been married to Arie Sr. for decades, giving the Bachelor plenty to live up to as he searches for love and a lasting relationship. According to what appears to be Mieke's official Twitter page (though it isn't verified), she promotes a line of specialty dresses and lives with Arie Sr. in Fountain Hills, Arizona.
Though Arie's parents are no stranger to the public eye, given Arie Sr.'s fame, one has to imagine that the watchful eye of Bachelor viewers might be slightly different than the scrutiny of racing fans — they're likely in for an entirely new level of publicity, or at least an entirely new audience to be observed by. The two aren't completely strangers to the whole thing, though — Arie brought Bachelorette Emily home to meet the folks in the 2012 season. But now the spotlight is fully on Arie — his parents aren't just potential family members if another girl so chooses; this time Arie is doing the choosing.
Apparently he's not great at keeping his parents in the loop with things appearing on a wildly successful reality dating show, though. Arie revealed on the Good Morning America that his parents still had no idea he was the new Bachelor and would likely find out along with everyone else who was watching. "I kind of kept things really under wraps because I didn't know how this would turn out," Arie told the morning show, according to another People article. "It's been such a quick turn of events, and my family doesn't know, so now they know. They know along with you guys!"
Hopefully Arie's parents are ready for this whirlwind, because it sure seems like he is. "[The show and I have] kept in touch over the last few years, but this just fit perfectly," he said in the same GMA interview. "The timing of this really fit for me. I'll be 36 in a few weeks, so for me, it's time. All my friends around me have kids and have grown up, so I feel like I'm the last one to really take that step."
Arie Sr. and Mieke might be the most prepared to re-enter this world of Bachelor mayhem, given their backgrounds in the public eye. Arie certainly seems to have a good relationship with them (though he should probably get better at letting them know he'll be dating on national television) and it'll be interesting to see how these ladies get along with the Luyendyks.