Two Police Officers Are Arguing A Teen's "Provocative 'Selfies'" Prove She Wasn't Raped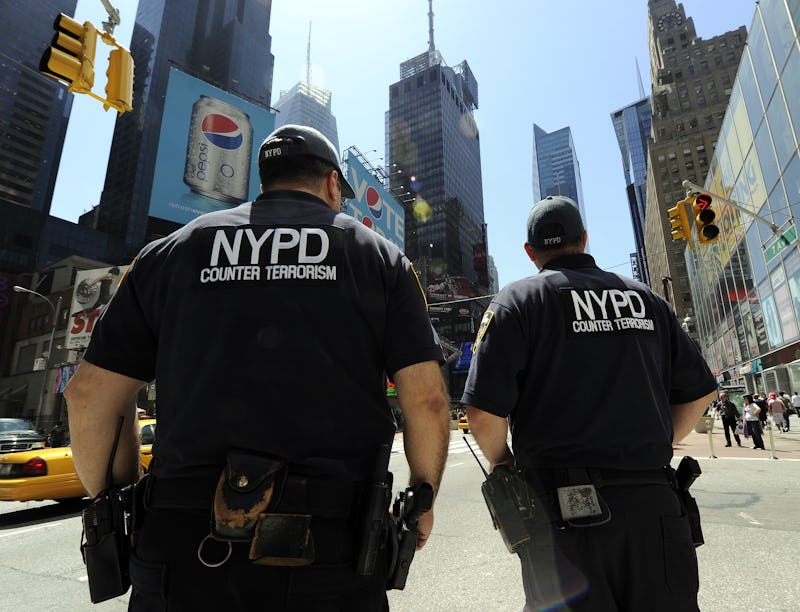 TIMOTHY A. CLARY/AFP/Getty Images
The lawyers representing two New York police officers accused of rape by a woman in their custody told the District Attorney's office in Brooklyn that the woman's claims were illegitimate because she posted "provocative 'selfies'" online, according to the New York Post. The paper acquired an exclusive copy of the letter sent to the D.A.'s office by the attorneys for Eddie Martins and Richard Hall, who say they had sexual relations with the woman with her consent while she was in their custody. Both men have been demoted and stripped of their guns and badges while further action is considered.
The woman has filed a $50 million claim against the city, alleging that the two narcotics officers forced her to perform oral sex while she was in handcuffs after they picked her up for allegedly possessing drugs. After the officers released her, she went to the hospital; a rape kit found traces of both officers' semen in her mouth. Both officers deny sexual assault.
According to the Post, in a letter from Martins and Hall's attorneys, the officers claim that the woman cannot be a victim of rape because she did not behave in a way expected of a victim of sexual assault.
[She] rebranded herself as a wannabe rapper named "Fi5ty Milli," an obvious reference to her lawsuit ... She has posted Instagram videos of herself using drugs and rapping in her "Fi5ty Milli" persona about the case while joking about the millions that will be 'in her bank account" ... [She posted] provocative "selfies."
In summary, the letter claims that "this behavior is unprecedented for a depressed victim of a vicious rape."
There are two crucial points to be made here: For one, as many observers and commenters have noted, one cannot give consent to a sexual act while in police custody. By the nature of being in custody, no individual can give her full consent to a sexual act, especially one that ends in her being released from custody. Secondly, it is far from "unprecedented" for victims of sexual assault to act in a way that observers find unusual; in fact, there is no single way that a victim of trauma should, or does, behave.
Moreover, if a person were to file a claim for compensation after being the victim of a crime, then they are able to recognize that they deserve compensation. To openly talk about receiving that compensation, therefore, as the letter to the Brooklyn DA's office claims the woman who is accusing the officers has done, would not be "unprecedented" or even unusual behavior — it would the behavior of someone who is aware that, as outlined in her filing, she would be entitled to compensation if the officers committed the crime.
Perhaps the most painfully tone-deaf part of the letter is its reference to "provocative 'selfies'." To suggest that a person cannot be a victim of sexual assault because they post a "provocative" photo of themselves online is flatly incorrect; the average millennial takes up to 25,000 "selfies" in a lifetime, according to the organization Rawhide, and some of those may be posted to social media.
Whatever the circumstances, it is deeply harmful to suggest that any victim of a crime cannot be a victim because of the way they behave online. The Brooklyn DA's office appeared to recognize this immediately, telling the New York Post in a statement:
Without commenting on this ongoing investigation, defense counsel's characterization of how a rape victim should behave is inaccurate, inappropriate, and demeaning.