A Family Of Doomsday Preppers Will Make Waves On 'FTWD'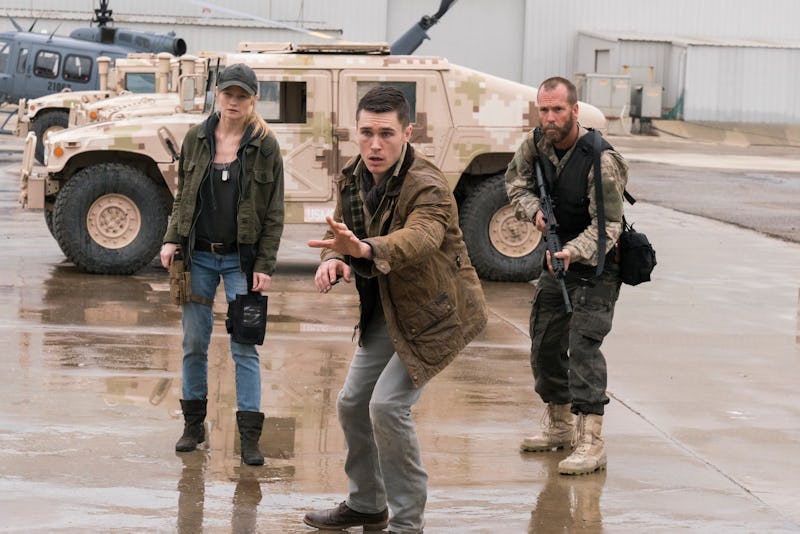 Michael Desmond/AMC
Fear The Walking Dead has only two seasons under its belt, which means that the show still has a relatively small ensemble of characters compared to the original series it's spun off from. So fans should be excited to hear that several new faces will be joining Fear The Walking Dead in Season 3, including a whole new societal faction that the Clarks (and the rest of their group) will run into in future episodes. So, who are the Otto family on Fear The Walking Dead?
While most of the characters in Fear the Walking Dead are navigating the zombie apocalypse as complete neophytes, the Ottos are a little bit different. Led by patriarch Jeremiah, the Otto family have been preparing for a societal collapse for decades, making them uniquely suited to survive in a world plagued by zombies. That's why Broke Jaw Ranch becomes the recurring characters' "home away from home," according to star Kim Dickens in a behind-the-scenes look at the Otto compound.
The series takes place at the now pretty much meaningless Mexican-US border, and familiar political tensions seem to be one motivation for the family's preparation for society's collapse. According to AMC's character description, Jeremiah is "a patriotic border militiaman who railed against the region's cartel violence and illegal immigration."
He was able to ultimately succeed in creating his own self-sustaining community, but when the multicultural group of characters that make up Fear The Walking Dead encounter his ranch, he may look to kick them out — especially if they challenge his authority. Showrunner Dave Erickson puts it blankly to The Hollywood Reporter: "We'll come to learn with [Jeremiah] Otto that even though there seems to be a benevolence to him at times, there's a darker and uglier side to him as well, and it's frankly racist."
Jeremiah is the patriarch, but based on AMC's character bio for Jake Otto, the eldest son is big part of Jeremiah's plan for the future, and is certainly the chief negotiator at Broke Jaw. But according to what actor Sam Underwood tells ComicBook.com, Jake is totally different than his father and half-brother. Underwood explained, "Jake left to go study constitutional law over on the east coast for a number of years, so there's been a huge separation between him and his family." It sounds like leaving the bubble of their tight-knit, exclusionary family changed him. "When he comes back to this community, he has a different world view and a different perspective on how to approach things, which often comes up with tension between him and his family and some of the other members of the community," Underwood continued, but also warned that Jake could turn out to have a darker side that's not so different than his family. "There's room for even the best people to get lost along the way, and Jake is, by no means, immune to that," he said.
By contrast, Troy, Jake's younger brother and Jeremiah's youngest son, has adopted many more of his father's views, making him the natural choice for the ranch's enforcer. "He is intensely suspicious of outsiders and more militant than his older brother," AMC writes. "Troy has a dark side to him, and while he presents as something of a psychopath and a sadist, he has an intense charisma that draws people to him." So even though the Broke Jaw ranch has food, shelter, and, at least at the beginning of the season, safety from the walkers, Troy is providing a constant threat of violence. But since the Clark family have already had to kill in order to survive, Troy probably won't be able to stop them.
If there's one weakness that the Otto family has, it's that their ranch is totally untouched by the outside — and infected — world, so they may not fully understand the scope of what's happening outside of their still-tranquil valley. The Walking Dead and Fear The Walking Dead have always been more about how people react to the end of civilization than about gnarly zombie kills. So if anything could threaten the Ottos, it might be holding on to Jeremiah's old prejudices.