You're Going To Have Serious Feelings About Miley Cyrus' 2017 VMAs Performance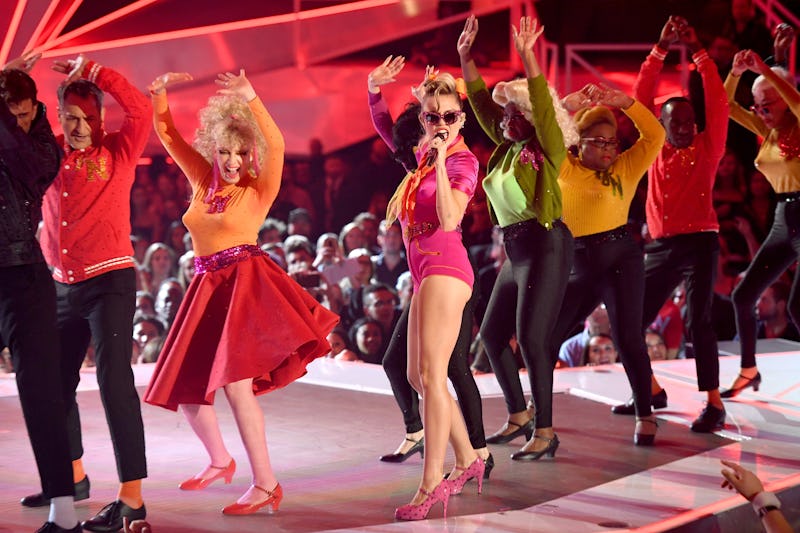 Kevin Winter/Getty Images Entertainment/Getty Images
Miley Cyrus might be Younger Now, as the title of her upcoming album suggests, but that doesn't mean she's trying to go back to her earlier days. It's clear from Cyrus' 2017 VMAs performance that the singer has moved beyond her partying ways, at least a little bit. Cyrus performed "Younger Now," and instead of being surrounded by twerking dancers to create a sexy atmosphere, the people in her 2017 VMAs performance created an more inclusive, fun, and relaxed vibe. It's the new Miley, y'all.
Dancing alongside Cyrus was James "Gypsy" Haake, a renowned drag performer. Haake, 85, has been performing for decades, and is even featured in the "Younger Now" music video. Haake teased the performance prior to Sunday's show, telling USA Today that the performance would include a "huge, huge dance number with her with all the seniors." The song and video are all about embracing people of all ages, so it's no surprise Cyrus had dancers ranging from senior citizens to little kids. Dressed in a '50s theme — bright colored poodle skirts and black leather galore — the dancers were full of spirit, following Cyrus around the stage. The entire vibe of the performance was fun and inclusive — a far cry from the singer's last VMAs performance, when she twerked on stage with Robin Thicke in 2013.
It's just like Cyrus sings in her new single: "Change is a thing you can count on." And with her VMAs performance, the star seems to have officially traded in her intense rebel status for a more lighthearted persona.
And if the audience reaction to her performance is any indication, it's a welcomed change. You can watch the whole performance below.