Miley Cyrus' "Younger Now" Lyrics Will Really Make You Think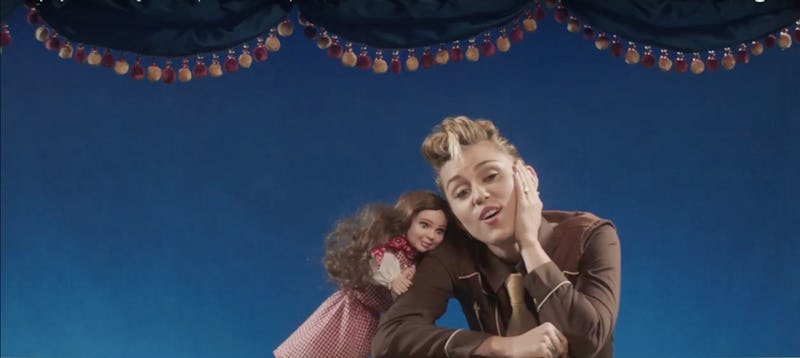 MileyCyrusVEVO/YouTube
Without warning on Friday, August 18, Miley Cyrus dropped a new song, "Younger Now." The lyrics, which were penned by the singer, seem to address the evolution that she has undergone over the past few years. The "Younger Now" lyrics speak of the various aspects of change that we've all faced at one time or another in life and impresses upon the importance of accepting and acknowledging that metamorphosis.
The four minute video, which premiered along with the new song, pays homage to Elvis Presley almost 40 years to the date after his death on August 16, 1977, and seemingly goes back to her roots in country music. Cyrus also appears to offer a tribute to her godmother, country music icon, Dolly Parton in the visual as she strums a guitar while donning a huge puff sleeved dress and blonde hair.
The first verse of the single, which is the second offering from Cyrus' upcoming album of the same name, details a new awakening in the singer's life. She recognizes that she is not the same as she once was, but also is not ashamed of who she used to be:
"Feels like I just woke up
Like all this time I've been asleep
Even though it's not who I am
I'm not afraid of who I used to be"
As the song moves into the chorus, the lyrics point out that nothing and no one stays the same in life. She explains that change is certain and a thing that we should embrace.
Cyrus goes on to say that she now feels more youthful as a result of that acceptance and alludes to the notion that she gets better with time:
"No one stays the same (oh, oh)
You know what goes up must come down (oh, oh)
Change is a thing you can count on (oh, oh)
I feel so much younger now (oh, oh)"
The second verse suggests that life is like a dream, and perhaps, somewhat of a nightmare at time. Cyrus, however, indicates that she has yet to make it to the end of the dream, as more is yet to come of life:
"Feels like I've been living in a dream
But never make it to the end
My eyes open when they feel the light
It's always right before I'm about to scream"
After the song returns to the chorus, the bridge becomes a repetitive reminder of Newton's Law:
"What goes up must come down
What goes up must come down
What goes up must come down
What goes up must come down (yeah)"
After listening to the heartfelt lyrics of "Younger Now," it's clear that this is a very personal ode for the 24-year-old. And, within hours of its release, the video has racked up over 1.2 million views on YouTube, proving that fans are also on board for the message that change, especially in Cyrus' case, is a beautiful thing.