Adele Is Reportedly The Richest Brit Under 30 But How She Got There May Surprise You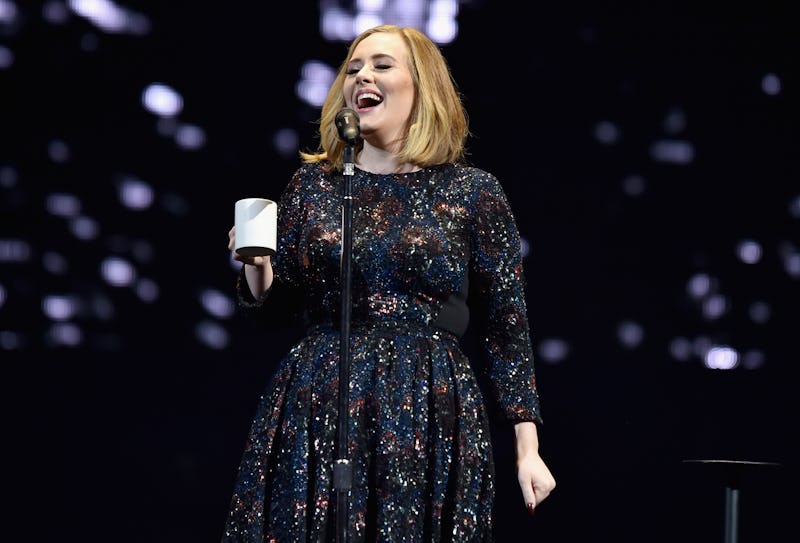 Gareth Cattermole/Getty Images Entertainment/Getty Images
Sometimes it's easy to relate to stars. Other times, it's really, really hard. Today falls into the latter category as Heat Magazine has just released their annual celebrity rich list, which tracks who the 30 richest British stars under 30 are and it's a doozy. For the third time running, Adele has completely blown everyone else on the list out of the water to secure first place while TOWIE's own Spencer Matthews brought up the rear. So, who are the richest British celebrities in 2018? There's a couple of newcomers and a few surprisingly savvy celebs whose business smarts have put them on the ladder.
I'd just like to remind you that despite not having released an album since 25 in 2015, despite juggling motherhood with work, despite having all but withdrawn from the public eye — Adele has still managed to show up everybody on the list. Coming in at an eye-watering £147.5 million on Heat's list, the outlet claimed that her 2017 world tour snagged her "a massive £42m" and "pocketed £9m from record sales." It's a big step up from her reported earnings from previous years.
Comparatively, Adele was valued at £132 million on Heat's 2017 rich list and in 2016's edition, she was earning a much lower £92 million. (She placed first both years.) TBH she's well on her way to doubling her 2016 net worth next year especially if her rumoured Las Vegas residency goes through, as according to Heat it's valued at £22m.
Ed Sheeran didn't even come close to touching Adele in second place, with an estimated value of £94m. Unsurprisingly, the launch of his album last year was so massive that it not only dominated the charts here but was named Nielsen Music's most popular album in the U.S. According to Heat, 6 million copies of the album were sold and he's making £225 million off his world tour which is still underway.
The cast of Harry Potter have also proven themselves pretty savvy since amassing their wizarding fortunes, with Daniel Radcliffe securing third place with £87 million, Emma Watson in fifth at £55 million, and finally Rupert Grint in eleventh at £33 million. (Sounds like a trip to Gringotts is in order, TBH.)
The former One Direction lads also made a pretty good showing with Harry Styles sitting comfortably in fourth place (£58 million) thanks to his music, acting and Gucci fashion work. The rest of the boys took up the seventh, eighth, ninth, and tenth slots with Niall Horan at £46 million following the success of his debut solo album, X Factor's Louis Tomlinson cashing in with £44 million, Liam Payne with £43 million and Zayn Malik at £37 million. According to Heat, one of the reasons Zayn's fortune is lower than the rest of the Directioners is down to the fact that he has toured less due to his anxiety disorder.
There were a lot of musicians on the list including Little Mix (sixth place, £48 million), Sam Smith (twelfth place, £12 million), Jessie J (seventeenth, £11.2 million) and The 1975 much lower on the list in 25th place with £5.3 million. It was also a delight to see my faves from the new Star Wars series John Boyega and Daisy Ridley making an appearance this year, taking up 27th and 28th place.
Naturally, Game of Thrones Sophie Turner also charted at 23 with £6 million thanks to her work with the HBO show and her role in X-Men: Apocalypse. She was the only GoT actor to make the list, so better luck next year Maisie Williams.
It's worth noting that these are all estimations, so I've reached out to all the stars' agents to see if they can confirm the figures. The whole list can be seen here and reading it has been a bit of a weird experience, as I'm both super inspired and hugely demoralised by their success. Hey Adele, want to Monzo me a casual £10k? Surely that's chump change at this point.