Why These 35 Men & Women Were Chosen As 'TIME's 'Silence Breakers'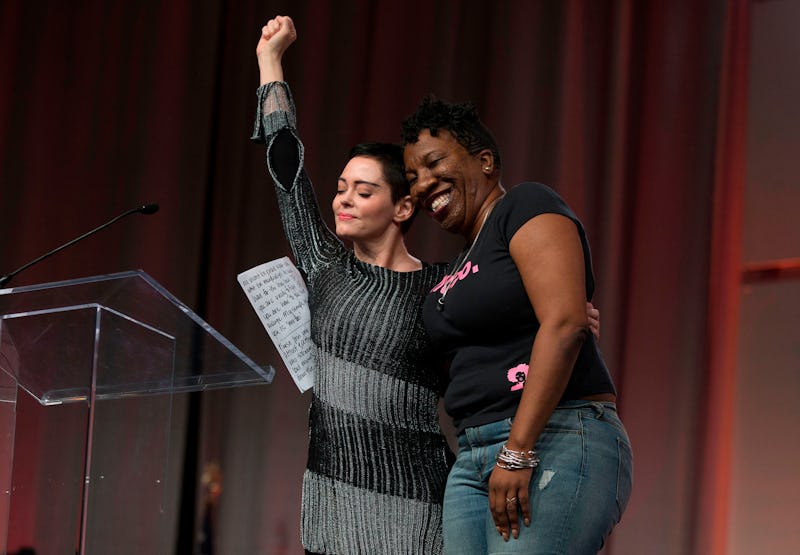 RENA LAVERTY/AFP/Getty Images
TIME released its annual "Person of the Year" issue on Wednesday morning, but its 2017 choice wasn't just one individual. Instead, it dedicated its vaunted cover to a group of men and women TIME dubs "The Silence Breakers." It's a term designating the millions of women, and some men, who shared their stories of enduring sexual harassment and/or assault, many under the viral #MeToo hashtag that exploded on social media in the closing months of 2017.
In its feature article, TIME highlights a range of individuals who have spoken out in 2017 against the culture of silence that often surrounds sexual harassment and assault. The people featured include Hollywood celebrities, as well as lesser-known entertainers, activists, professors, and even anonymous survivors. The #MeToo movement founder, Tarana Burke; actors Selma Blair, Alyssa Milano, and Terry Crews; the female staff at The Plaza hotel; state Sen. Sara Gessler; Isabel Pascual, a strawberry picker; and many others are highlighted in the piece.
Of the five women featured on TIME's cover, perhaps the two most recognizable are Taylor Swift and Ashley Judd. Swift is included for her much-publicized lawsuit against a radio DJ who she alleges groped her in 2013. A jury found in Swift's favor, and awarded her the damages she'd asked for — $1. Swift wanted the trial be "an example for other women." Her testimony was notable for its lack of apology. When questioned on the stand about the accused DJ being fired, Swift retorted, "I am not going to allow your client to make me feel like it is any way my fault, because it isn't."
Judd made the TIME cover for her role in exposing accusations against Harvey Weinstein. When the New York Times published its original exposé of the Hollywood producer, the authors opened with Judd's story of being asked to his hotel room for a "meeting," whereupon the actress says she encountered Weinstein in his bathrobe asking for a massage. She recalls the experience in her interview with TIME, and notes the difficulty of handling it. "Were we supposed to call some fantasy attorney general of moviedom?" Judd asks.
Lobbyist Adama Iwu is also on TIME's cover for spearheading a movement to expose rampant sexual harassment in California state politics. After being inappropriately touched, Iwu gathered 147 signatures and published an open letter decrying the "summer camp" atmosphere of Sacramento's legislative sessions. "You have to address it head on as a group," Iwu tells TIME. "It's hard to call 147 women liars."
On the left side of the cover is Isabel Pascual, an agricultural worker who spoke at a march in L.A. about being harassed in her job. "When the man was harassing me, he threatened to harm my children and me — that's why I kept quiet," Pascual says. "But, thank God, my friends in the field support me," she added. "I lost the fear."
The fifth woman pictured on TIME's cover is Susan Fowler, a computer engineer whose detailed February blog post about the sexual harassment she says she experienced while working at Uber led to the eventual ousting of former CEO Travis Kalanick. Fowler's revelations also catalyzed a kind of pre-Weinstein public reckoning for Silicon Valley's problem with sexual harassment. (The April cover of The Atlantic featured a headline with a simple, jarring question: "Why Is Silicon Valley So Awful To Women?")
In a video posted within the online feature article, TIME interviewed 22 of the 35 women and men featured as "silence breakers." Besides the women on the cover, TIME highlights snippets from women in journalism, Megyn Kelly, Wendy Walsh, and Sandra Muller; women in the hospitality industry, Dana Lewis and Crystal Washington; women and men in entertainment, Selma Blair, Blaise Lipton, Rose McGowan, Terry Crews, and Alyssa Milano; women in academia, Celeste Kidd and Jessica Cantlon; women in the service industry, Juana Melara, Sandra Pezqueda; food blogger Lindsey Reynolds; art curator Amanda Schmitt; entrepreneur Lindsay Meyer; state Senator Sara Gelser; and the creator of the "Me Too" movement itself, Tarana Burke.
TIME also highlighted four women who brought allegations of sexual harassment and assault across the pond. Jane Merrick is a journalist whose story of Britain's Defense Secretary Michael Fallon making a lunge for her during a work lunch helped lead to his eventual resignation. Weinstein's former assistant in London, Zelda Perkins, publicly broke her non-disclosure agreement to speak out about the producer's behavior. Terry Reintke, a German representative in the European Parliament, stated in a speech that she, too, had been sexually harassed. And activist Bex Bailey revealed that she had been raped at a party event in 2011, and said she was then told not to report it.
The range of women and men featured in TIME's "Person of the Year" issue is astounding. From multi-millionaires at the height of social status in Hollywood to hospitality workers at the Plaza hotel to agricultural workers in California, sexual harassment and assault affects women from Silicon Valley to academia and everywhere beyond.
The "silence breakers" have given the world a glimpse of the undeniable scope of the international problem of sexual harassment and assault, and how it harms men and women from all walks of life.