A 'GoT' Star May Join The Next 'Avengers' Movie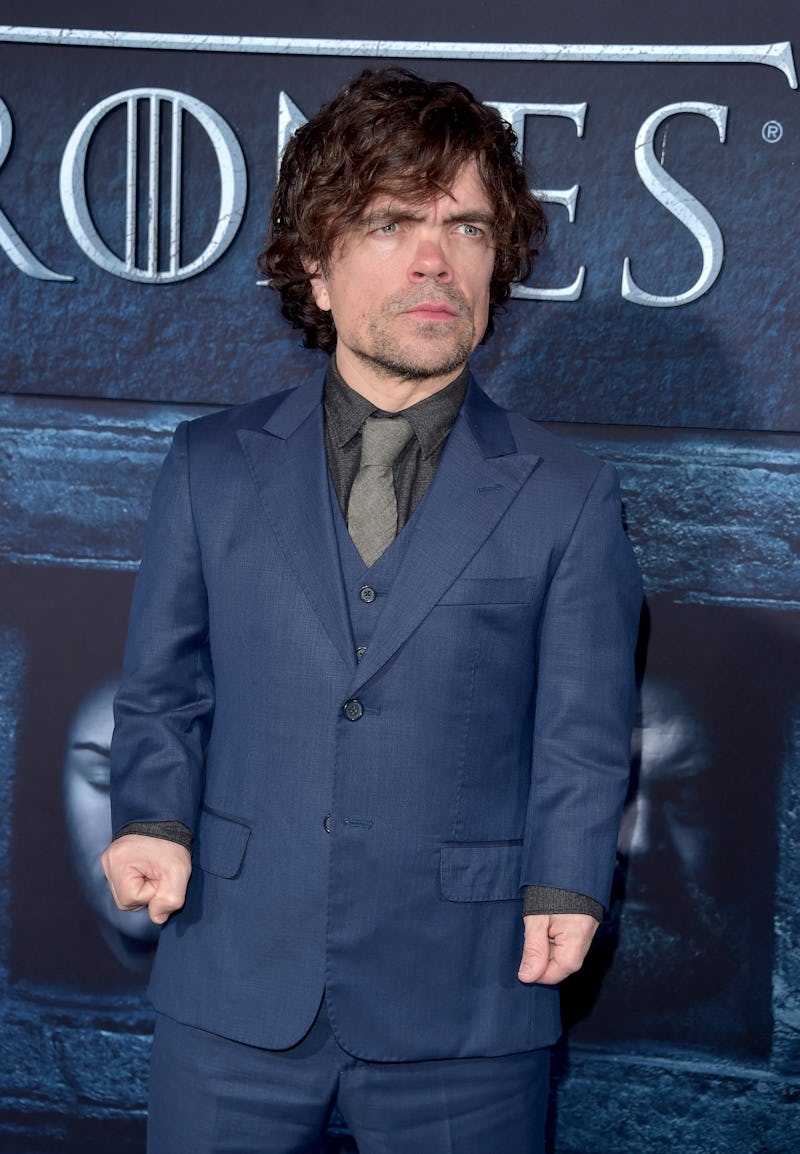 Alberto E. Rodriguez/Getty Images Entertainment/Getty Images
Tyrion Lannister, meet Tony Stark — no relation to the Starks of Winterfell. Probably. According to Variety, Game of Thrones fan favorite Peter Dinklage is in talks to star in Avengers: Infinity War, and his potential role is said to be "key" to the story. Marvel has yet to comment on the rumors, but scheduling shouldn't be a problem. With Game of Thrones Season 7 set to wrap filming in February and both parts of Infinity War set to film in the summer, Dinklage would be available. Still, that doesn't answer the question of who Dinklage could play in Infinity War.
Marvel is keeping details about the two-part film's plot as quiet as possible. The only confirmed details are the Avengers will unite with the likes of the Guardians of the Galaxy, Dr. Strange, and basically every character who has been introduced in the Marvel Cinematic Universe so far to defeat Thanos, who now wields the infinity gauntlet. With an expansive cast already in place, there hasn't been much talk about adding new characters to the mix until Dinklage's name entered the discussion.
Dinklage is no stranger to the Marvel universe, although his last visit was on the 20th Century Fox side of things. In X-Men: Days of Future Past, Dinklage played Dr. Bolivar Trask, father of the Sentinels. Given the reportedly rocky relationship between the Disney arm of Marvel Studios and 20th Century Fox, it is unlikely Dinklage is reprising his role as Bolivar (who had no connection to the Infinity War in the comics anyway). Instead, Dinklage will likely play an entirely new character, and I have rounded up the most likely suspects below.
MODOK
The leading theory on the interwebs is Dinklage is in talks to play MODOK, a man-made super villain with an acronym for a name. MODOK stands for Mental Organism Designed Only for Killing. In the comics, MODOK has faced off with Captain America, The Hulk, and Vision. Small though he may be, MODOK is not a character to be trifled with — which is probably why Avengers: Infinity War co-writer Christopher Markus has wanted Dinklage for the role since 2011.
Starfox (Eros)
Starfox is the brother of Thanos, but he is way less into galactic domination than he is into traveling, doing heroic deeds, and falling in love. The role of Thanos' quippy brother is one Dinklage could easily play — and it could set him up for a bigger role in future Avengers stories, since Starfox ultimately joins the team.
The Watcher
The Watcher is part of a superior race, who has been assigned to keep an eye on Earth and its galaxy without interfering. He is particularly interested in galactic events, and while it is unclear how much he drinks, he definitely knows things — offering up reassuring shades of Tyrion.
Annihilus
A member of the Galactic Council, Annihilus is not exactly sane, but he is all kinds of scary. Dinklage could bring the slightly unhinged villain to life and add a spark of humor to his usual attempts at world domination.
Whoever Dinklage is in talks to play, there is no denying he would be a major asset to the franchise. It's way past time for Marvel to invite a Lannister to the party.