Versace Designed Gaga's Super Bowl Stage Outfits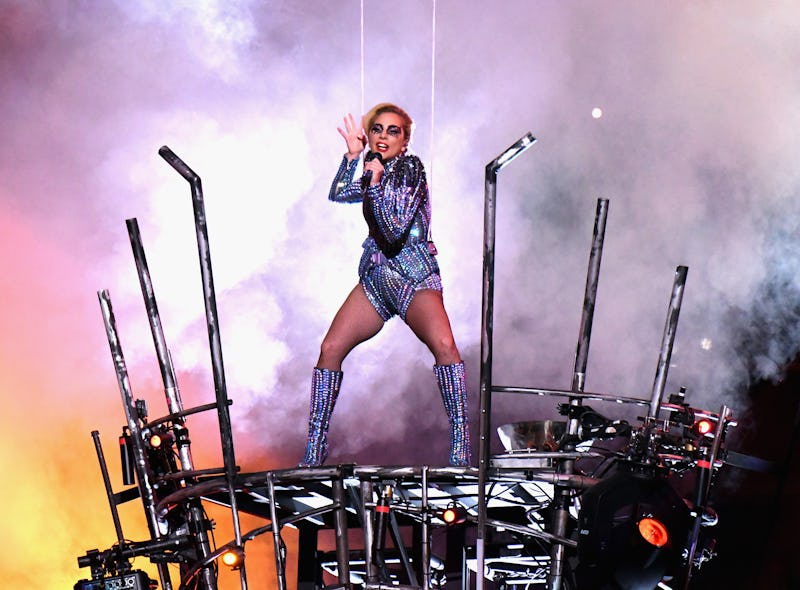 Larry Busacca/Getty Images Entertainment/Getty Images
ICYMI, Lady Gaga crushed the 2017 Super Bowl Halftime Show, leaping from the top of the stadium, performing a medley of hits minus any guest stars or A-list assists, embarking on just one (!!!) costume change, and ending with an epic mic drop. Gaga wore a silver beaded bodysuit with long sleeves and strong shoulders, along with matching, knee-high boots. She swapped out that ensemble for sparkly boy shorts and a crop top with shoulders that emulated a football player's protective padding. Gaga also rocked Marc Jacobs Beauty makeup with looks created by Sarah Tanno for her performance. But who designed Lady Gaga's 2017 Super Bowl Halftime Show outfits?
Both of Gaga's Super Bowl performance outfits were a familiar and favorite designer — Atelier Versace. Remember, Gaga was the face of the luxe brand a few years back.
Gaga slayed the Super Bowl from top to bottom — literally. Her fans expected multiple costume changes. But Mother Monster's performance was so acrobatic — those leaps— that she needed something that moved with her. She also didn't have much time to change or it could have messed with her effectiveness as an entertainer. So she opted for ensembles that made statements and didn't get in her way.
Her first and main ensemble was custom, made with Swarovski crystals and boasted sculptured shoulders.
The outfit was matchy matchy in just the right way.
The futuristic bodysuit was exactly the silhouette and construction she needed to work with her since she did a lot of dancing and running around. The boots were my fave part of the costume.
This is the caption that accompanied the brand's Insta post confirming it designed the outfit, offering a detailed description of the costume.
The second ensemble was a pair of "fully-embroidered hot pants and cropped sculptural white jacket," according to Versace's caption and post. Atelier Versace calls it a "jacket"; I call it a football-inspired, belly-baring, and totally appropriate top for the occasion.
Gaga also rocked fishnets, adding another dose of sexiness to her ensemble. All the beading made her outfits stand out that much more!