Pippa Middleton's Wedding Gown Was One Of A Kind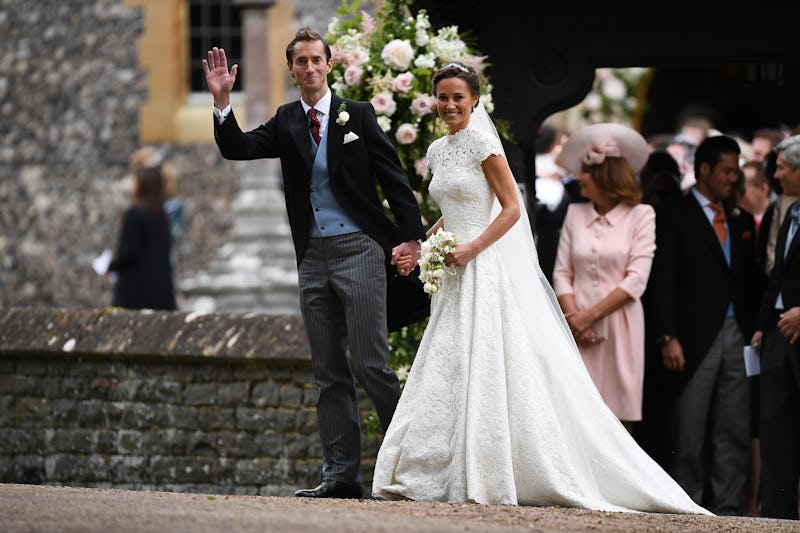 WPA Pool/Getty Images Entertainment/Getty Images
No matter how royal the wedding, one thing is true — it's all about the gown. Kate Middleton got her time to shine in 2011, and now it's finally her younger sister's moment. Pippa Middleton's wedding might not have been as televised or talked about, but her all-lace attire was just as stunning. Who designed Pippa Middleton's wedding dress, you ask? You might know the name, but I can guarantee you haven't seen this design before.
In case you haven't already heard, Middleton married James Matthews on May 20 at the St. Mark's church, in Englefield, Berkshire. Although the wedding was a lot smaller and less hyped up than the Royal Wedding, her dress was just as stunning as her sister's. According to Vogue, her gown was custom designed by Giles Deaco, who is a popular British fashion designer. The dress was a cap-sleeved all-lace number with a peek-a-boo, heart-shaped cutout in the back. It was elegant and trendy all at the same time.
The gown was custom made for Middleton, which means you won't be able to cop the style for your own wedding. According to Daily Mail, the Giles Deacon made-to-measure dress was likely to have cost the bride around £40,000 or around $44,830. One look at the gown and you'll see exactly why it was worth every single penny.
Middleton hasn't commented on whether or not she drew some wedding day inspiration from Kate, but there are some definite similarities between the two. For one, both women wore lace gowns and opted for a tiara. Although she skipped the 25 foot train, Pippa's dress was absolutely stunning, and had some details that deserve an up-close look.
According to Vogue, Middleton wore a Maidenhair Fern tiara with a matching hairpiece that was handmade by Robinson Pelham and finished the look off with a pair of ivory colored Manolo Blahnik pumps. Not too shabby, huh? There's no word on where her dainty, tear-drop earrings are from, but they looked absolutely gorgeous.
Kate looked just as stunning for her sister's day too. She opted for an all blush pink Alexander McQueen ensemble, according to Vogue. The dress was gorgeous, but didn't take away from her sister's gown. Of course, Kate completed her outfit with a quirky hat, which is signature to British weddings.
This is one good looking family, if you ask me. According to The Telegraph, both the Duke of Cambridge and Price Harry attended the wedding as well. There's no word on who they were wearing. After all, Pippa is the star of the big day.
I can't wait to see how many brides draw inspiration from her wedding dress for their own. According to People Style, the "Princess Kate effect" is real, with every dress she wears — especially her wedding gown — selling out within days. I'm willing to bet the Pippa-effect will become a thing very soon!