This Year's Olympic Snowboarding Uniforms Are Inspired By Astronauts & There's A Good Reason Why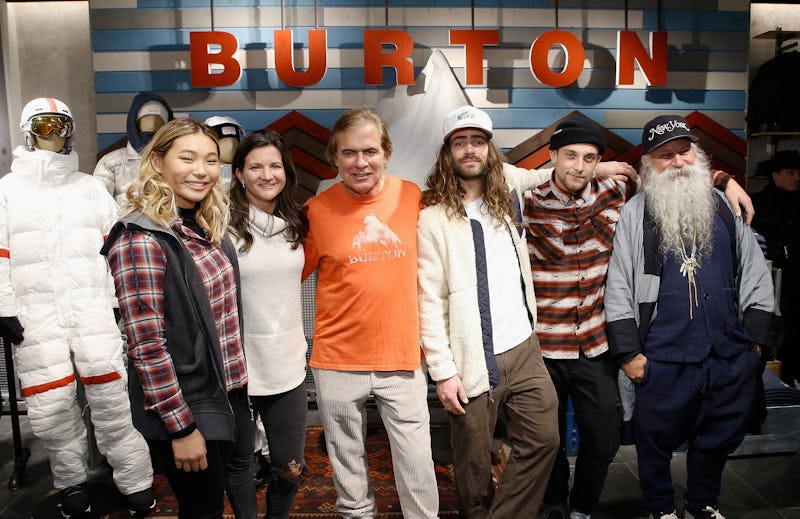 John Lamparski/Getty Images Sport/Getty Images
For a fashion lover, the Olympics are about more than just incredible athletes — it's about what the incredible athletes wear. Dreaming up the perfect uniform is no easy feat, but this designer has a whole lot of practice. According to Forbes, Burton designed the U.S. Olympics snowboarding outfits for the fourth time. Once you see the uniform, you'll spot the nostalgia right away.
Forget every Olympic uniform you've seen before, because this one is the best yet. Instead of going your typical red, white, and blue route to show American pride, Burton took it one step further. The snowboarding outfits look just like astronaut suits. They come complete with a NASA-esque jacket, pants, and matching hat, and, according to Forbes, have gloves, a hat, shirt, and second jacket to go with them.
"Inspiration is full on space suit — Apollo program, sort of," Greg Dacyshyn, head designer of Burton's Olympic uniform program, said in a Forbes interview. "This is our fourth time doing the Olympics. They've always been sort of retro inspired Americana. This time we wanted to do something that would push on the technical aspects. Who doesn't love a space suit? They're the coolest things in the world, right? You go to the Smithsonian you look at that and it's just awe."
Burton Snowboards first unveiled the collection back in November 2017, when the official U.S. Snowboarding Team was not chosen yet. The halfpipe team includes Ben Ferguson, Jake Pates, Shaun White, Chloe Kim, Kelly Clark, and Maddie Mastro. The publication reports that the slopestyle team includes Chris Corning, Red Gerard, Kyle Mack, Jamie Anderson, Julia Marino, and Hailey Langland. Both teams will be wearing the space suit design.
According to Forbes, the Burton Snowboard team works very closely with the athletes to come up with an outfit that they actually want to wear. This isn't just a uniform, it's a cool uniform, and, according to the brand, the athletes love it.
"When I presented the concept to the riders and showed them the fabrics, it was a rousing thumbs up," Dacyshyn told Forbes. "I knew we were in a good place to boldly go where no rider has gone before. You never want it to look too costume-y, but I think it's cool to have a little bit of theme to it. Have a little fun with it. No one likes to wear a uniform, but a fun uniform…"
If you're looking to stock up on the style for yourself, I have some bad news. Unfortunately, the design will not be available for retail purchase. The brand said in the Forbes interview that the look is just too pricey to be practical.
"Snowboarders have pretty much always led the sport. We're not just saying, 'Hey, go ride in this.' We really involve the athletes in making the decisions," founder and chairman of Burton Snowboards Jake Burton told Forbes. "[The uniform collection] is super functional. I don't know how realistic it is for retail.
"It's expensive, but the riders are stoked. I have yet to find a rider who isn't really excited to ride in it. Snowboarding is not about uniforms. It's not about nationalism. But once every four years, it's kind of like, 'Let's do it.' And if we're gonna do it, let's do it right."
You can shop other eco-friendly and ethical outerwear styles on the Burton website though. You can also stock up on the exact Ralph Lauren outfits that the athletes wear in the Olympic Opening Ceremony, with exception of the heated jacket.
If you weren't already interested in watching the snowboarding event at the Olympics, you might be now. While there's no telling who will win the gold at the event, Team USA will definitely be the best dressed.