Get Excited, There Are Some Big Names Joining The 'Peaky Blinders' Cast For Series 5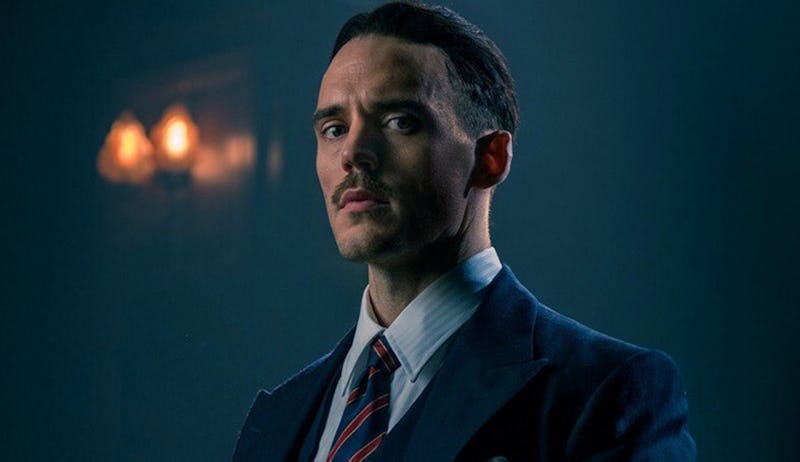 Peaky Blinders Instagram
Peaky Blinders series five is currently being shot, and will be with us in 2019 for our viewing pleasure. And last month in October, the news was announced that everyone's fave The Hunger Games actor Sam Claflin would be joining the cast for the first time. So who does Sam Claflin play in Peaky Blinders?
Well, it's not exactly clear just yet who the star will be playing, but in the first image released by the show, he looks pretty damn serious and ready to go! The picture, which was unveiled yesterday, shows Claflin in a three piece suit, stripy tie and rocking slicked-back hair and a moustache.
The caption alongside the photo on Peaky Blinders' official Instagram page read: "New cast member @mrsamclaflin joins us for his first day on set #PeakyBlinders."
Unfortunately we have no further news at this time about who Claflin will be playing or what his character's involvement will be, although I have contacted a representative of the show for more info, so will update you as soon as I hear back.
The actor has previously spoken about his excitement at taking part in the upcoming series. Back when the news was announced in October, he said that he: "couldn't feel more privileged to be invited to join this iconic show".
He also praised the show and called its production "consistently brilliant".
Claflin is not the only new cast member who'll be making their debut in series five. Also joining the show will be Brian Gleeson, Anya Taylor-Joy, Neil Maskell, Cosmo Jarvis, Emmett J Scanlan and Kate Dickie.
So what can we expect from the upcoming series of Peaky Blinders in 2019? "We are going into the '30s now," said series creator Steven Knight.
"There is so much stuff happening, so why not finish the job? It is setting those things up. In the '30s across Europe and Britain there was the rise of fascism," he told The Birmingham Mail.
And for the next series, a big change has been confirmed by Charlotte Moore, director of BBC content: the show will have a new home for as it'll be airing on BBC One instead of BBC Two from now on.
"Peaky Blinders is world class drama at the top of its game and the time has arrived for it to move to the UK's biggest channel," Moore explained.
She continued: "Steven Knight's epic storytelling is authentic and utterly compelling and I want to give it the chance to be enjoyed by an even broader audience on BBC One. We couldn't have asked for a better response to Series 4 and the impact it had with young audiences. This move will also give BBC Two more creative headroom to experiment with new drama."
In even more exciting news, Knight has also confirmed that we have a lot more to expect from Peaky Blinders in future, with series six and seven in the pipeline. He told the Birmingham Press Club:
"We are definitely doing [Series] 6 and we will probably do Series 7. After series four it went mad. We've talked to [lead actor] Cillian Murphy and he's all for it, and the rest of the principal cast are in for it."
Yuussss. Bring. It. On.