A 'Pretty Little Liars' Couple Is Headed To The Altar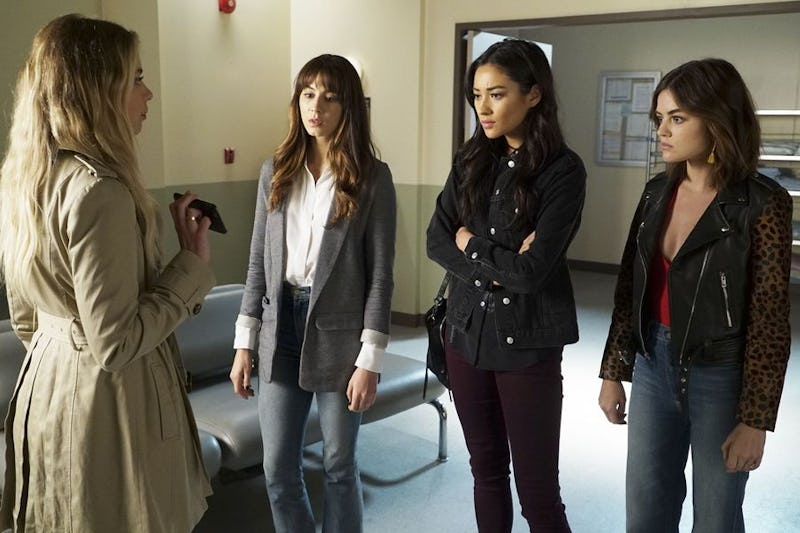 Eric McCandless/Freeform
As the Pretty Little Liars cast gets older, it's no surprise that they are, you know, becoming adults — Aria and Ezra (ick) are already engaged, and now, the show is teasing that one more couple will start planning a wedding on the June 6 episode. I'm ready for a Pretty Little Liars wedding that I will actually support (never been an Ezria fan, so don't @ me)! Who will get engaged on Pretty Little Liars?
Let's start with the already known couples — Alison just admitted her love to Emily, but it literally just happened on the May 30 episode, so let's pump the brakes on that, okay? Let's have this implanted baby and get with it. Ezra and Aria are already engaged, even though they're having some issues with Aria joining the A team (well, Ezra doesn't know that yet) and Ezra's ex, Nicole. Spencer is single but having random sex with Marco Furey, the detective that's investigating her for murder. Complicated! And not even that hot. Hanna and Caleb are going strong with a capital S, and they have always been my Pretty Little Liars OTP. They're the couple that knows each other the best, and they are officially my guess as to who will become engaged next. Hooray!
None of the other couples are even remotely ready for a marriage, but Hanna and Caleb are stronger because they're with each other. They've been through hell and back, and even though they broke up for a while, Hanna and Caleb are together because they're meant to be together. Period. That makes them my top pick for a Pretty Little Liars engagement, and I can't wait to see how Hanna designs her own wedding gown (but someone needs to talk her out of all of those bondage straps she favors in her clothing). Hanna and Caleb for the win!