Who Emma Stone's Dated Besides Andrew Garfield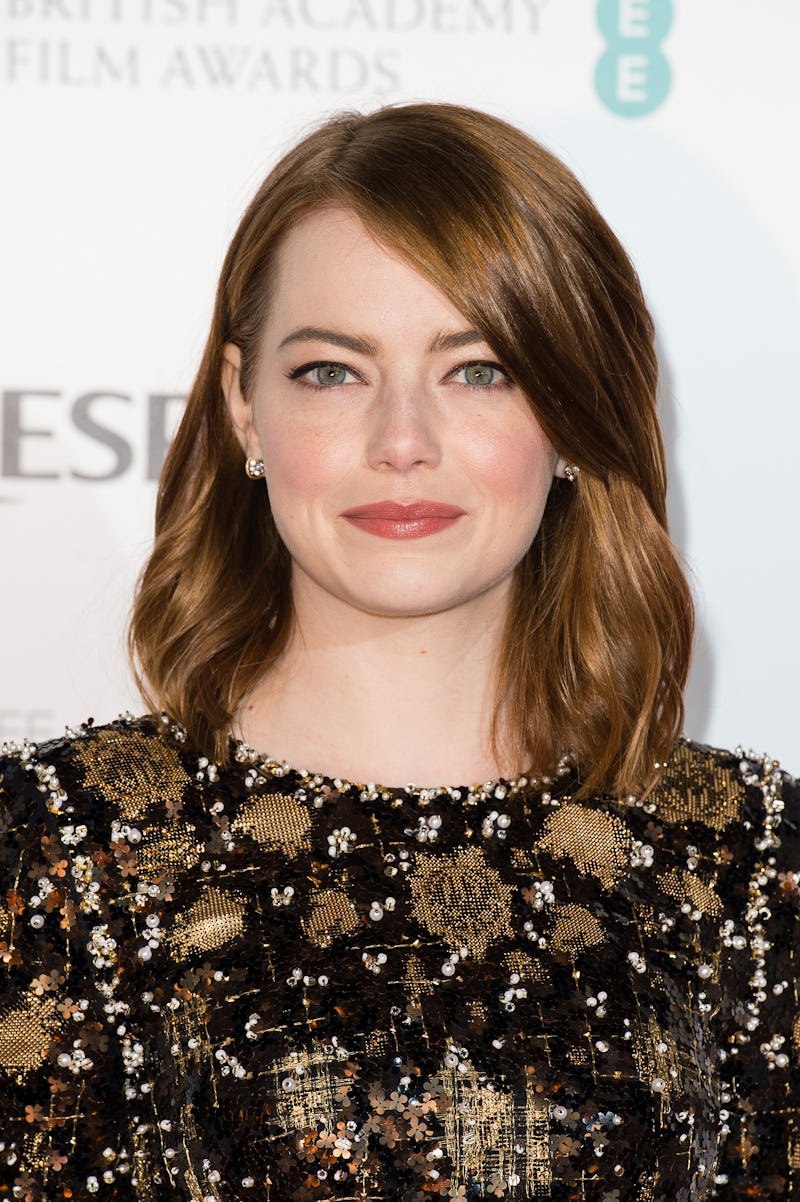 Jeff Spicer/Getty Images Entertainment/Getty Images
When you hear Emma Stone's name of course you automatically think of how amazing she is as an actor, especially in La La Land. In addition to that, you also probably think of her past relationship with Andrew Garfield. They were once an "it" celebrity couple most everyone worshipped and adored. There's also a good chance he's the only person you know the Golden Globe winner has dated. But, who has Emma Stone dated besides Andrew Garfield?
For those unaware, Stone stays pretty tight-lipped about her private life. It isn't something she likes to openly discuss. For example, it wasn't until October 2016 that she addressed her October 2015 split from Garfield, who she dated for four years. That's right, it was a whole year later that she finally opened up about it to Vogue. After confirming the two are very much over, she sarcastically said, "I'm really glad you're sitting down so I can tell you." However, she did say that the Hacksaw Ridge star is "someone I love very much."
That said, she has been linked to a few different individuals that you may or may not recognize. As for whether or not these are all of the people she has dated remains unknown, but if or when Stone wants to talk about her past relationships, she'll most definitely do it when she feels like it.
Teddy Geiger
Apparently, Stone and the "For You I Will (Confidence)" singer dated for quite a bit. The two starred together in the 2008 film The Rocker and seemingly took things to the next level. It doesn't appear that anything was officially confirmed regarding a romance, but they supposedly dated on and off for awhile. According to the Inquisitr, Geiger and Stone dated between 2007 and 2008.
Kieran Culkin
Yes, Stone was once in a longterm relationship with Kieran Culkin, aka Macaulay Culkin's brother. The DailyMail.com reports they first started dating sometime in 2010 and acccording to Celebuzz the two split in April 2011. However, PopSugar reports they dated somewhere between 2009 and 2010, which seems likely since they starred together in the 2009 film Paper Man. Either way, they were most certainly connected romantically.
Austin Stowell
In June 2016, reports surfaced that Stone was linked to Austin Stowell, who she co-stars with in the 2017 film Battle of the Sexes, which tells the story of the famous tennis match between Billie Jean King (Stone) and Bobby Riggs (Steve Carell). Stowell plays Larry King, who was married to Billie Jean from 1965 to 1987.
According to a report from Star magazine (via HollywoodLife.com), a source allegedly said, "Emma and Austin are inseparable." The source reportedly added, "There's a real connection there. They have the same sense of humor and are constantly teasing each other in between takes about how sexy they look in the funky 1970s-inspired get-ups they have to wear."
There you have it. Stone has been connected to several famous faces, but has appeared to remain mum on all of them. Her private life, well, it remains rightfully private.