Emma Stone Keeps Mum About Her Dating Life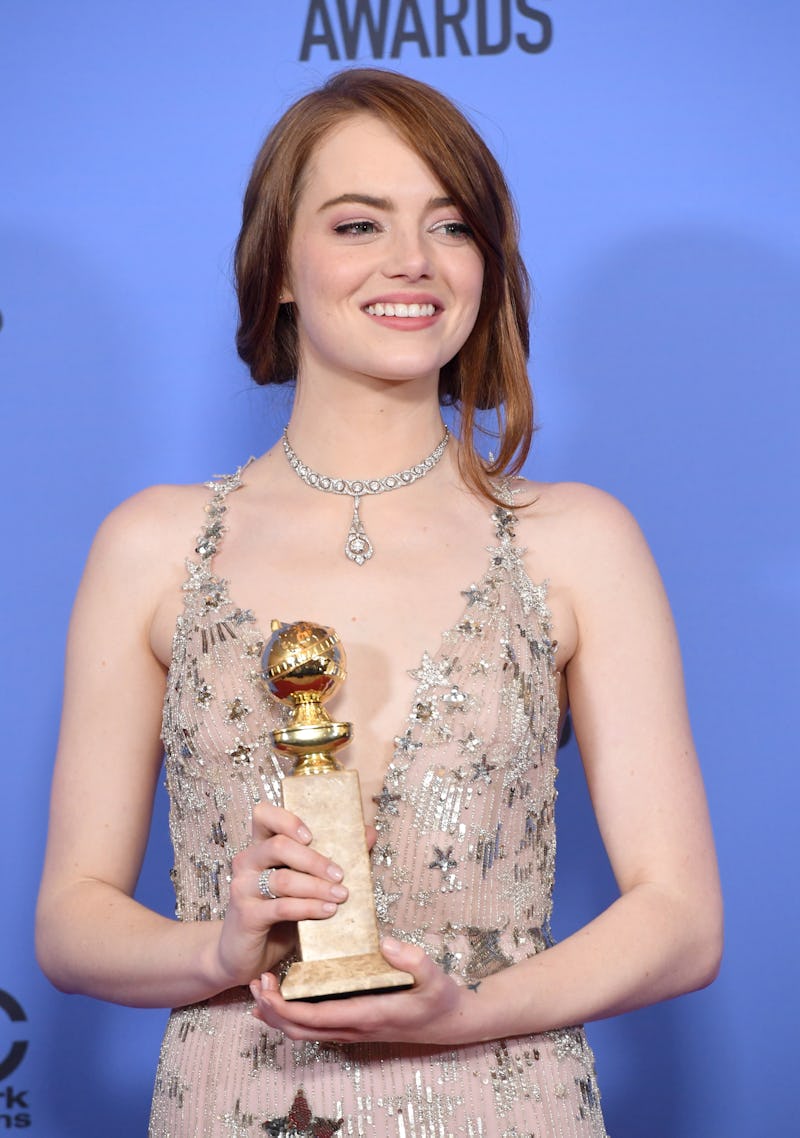 Kevin Winter/Getty Images Entertainment/Getty Images
Wish and hope as you might, it seems that Emma Stone and Andrew Garfield are not back together, nor do they have plans to reunite. Them's the break(up)s. The La La Land actor dated the Hacksaw Ridge actor for three years after they met on the set of The Amazing Spider-Man, and the pair split up in October of 2015. It's a testament to their loveliness as a couple that we just can't let the damn thing go. And though Stone and Garfield have been seen together a few times, including at the Golden Globe Awards in January (not as dates!), they insist they're just friends with the utmost respect and love for one another. So, who is Emma Stone dating after Andrew Garfield? If there is anyone, she'll be the last to tell you.
Stone is notoriously private about her personal life and her love life in particular, a difficult thing to do in Hollywood. In every interview about her relationship status, Stone is a stickler about being tight-lipped. In 2015, when the status of her and Garfield's relationship was still in question during the summer (they had parted earlier in the year, then there were rumors they'd gotten back together), Stone elaborated in an interview with the Wall Street Journal exactly why she didn't open up — though she does understand the public's yen to know:
"See, I never talk about this stuff for this exact reason — because it's all so speculative and baseless. Once you start responding — once you're like, 'No, that's not true' — then they're like, 'Well, if we push enough, we'll get a comment, so let's see what else we can make up.' I understand the interest in it completely, because I've had it, too. But it's so special to me that it never feels good to talk about, so I just continually don't talk about it."
That was two years ago, and Stone's policy hasn't changed. She and Garfield are in the spotlight now more than ever, though; Stone swept up in the extreme success of her film La La Land (for which she won a Golden Globe and is nominated for an Oscar for Best Actress) and Garfield is promoting his own two serious projects, Hacksaw Ridge, for which he received an Oscar nomination for Best Actor, and Silence. So, naturally, the questions are going to come up again what with the deluge of interviews Stone has been experiencing.
According to a Rolling Stone feature about Stone from at the end of December, Stone was single. But more recently, aThe Hollywood Reporter piece from Jan. 26, said that she "decline[d] to discuss her current romantic status." Diplomatic, and very mysterious.
In any case, it truly does look like the light has gone out of Garfield and Stone's relationship for good; although they still seem to be on very good terms. During a roundtable for The Hollywood Reporter in December, Garfield chose Stone as his pick to accompany him if he were stranded on a desert island. He also gave her a standing ovation for her Golden Globe win. But if Stone and Garfield do get back together, which seems highly unlikely, or she has found another man, don't expect to hear about from her it anytime soon.