A GOP Politician Threatened To Run Over Protestors If They Tried To Block His Car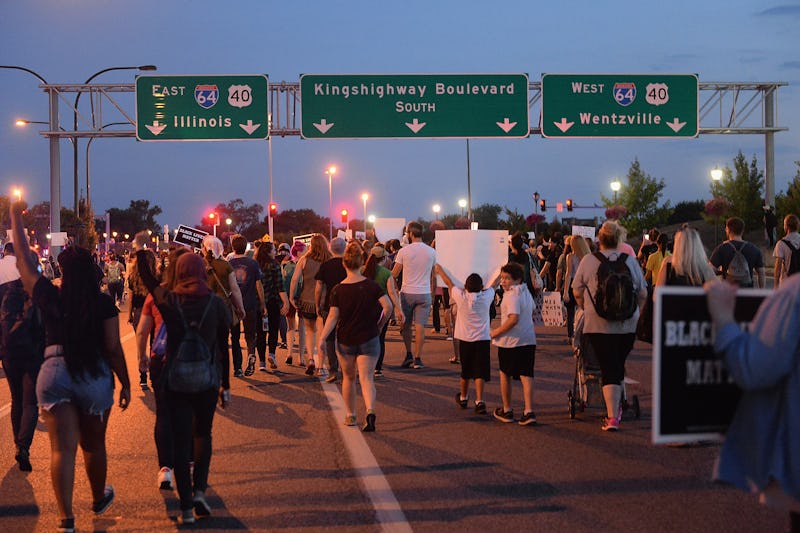 Michael B. Thomas/Getty Images News/Getty Images
After reports of demonstrators in St. Louis, Missouri, protesting the acquittal of the police officer who killed Anthony Lamar Smith on Friday, a Pennsylvania state Rep. Aaron Bernstine suggested hitting protesters with his car wasn't something out of the question if they had "negative intentions." The Republican politician tweeted on Friday, "If anyone EVER tries to stop my car on a highway with negative intentions, I will not stop under any conditions."
Critics immediately responded to Bernstine for his tweet, including a progressive group called Keystone Progress that highlighted Bernstine's suggestion to "not stop" his car "would be murder." Instead of backing down, Bernstine tweeted on Saturday morning, "Feel free to call my office and let me know if you think it is OK to refuse to stop if thugs try to stop me or my family on a highway." Bernstine claimed that the rationale behind his position was because he refused to "be assaulted in the name of 'free speech.'"
In addition to describing protesters as "thugs" — which carries racially-charged connotations — Bernstine also called demonstrators "snowflakes," a negative descriptor on the American right and conservatives' insult du jour.
On Twitter, the reaction to Bernstine's tweet about running demonstrators down with a car was relentless. One Twitter user noted, "What kind of idiot has constituents call to advise him on the legality of running people over? Dumbfounding." A number of users called for Bernstine to resign.
Bernstine's ill-advised tweet comes only a few weeks after the death of 32-year-old Heather Heyer, who was killed after a white man protesting alongside white nationalists in Charlottesville, Virginia, plowed his car into a group of counter-protestors. The white nationalist rally was in opposition to the city's removal of the Confederate Gen. Robert E. Lee statue, and the violent clashes at the protest were swiftly condemned by politicians from both parties (except President Trump, who at one point called those on the side of the white nationalists "some very fine people").
In spite of the criticism, Bernstine retweeted a photo of the Charlottesville driver's car, doubled down on his position of hitting protesters with vehicles, and said, "Ask people in [Los Angeles] how that worked out for them." "Ask Heather Heyer how not stopping for protesters worked out for her, you monster," one Twitter user responded to one of Bernstine's tweets. Another noted, "The white supremacist who ran down a woman in Charlottesville did so in the name of 'free speech.' We see whose side you're [on]."
Bernstine's tweet in favor of hitting demonstrators with his car wasn't the first time the Republican supported vehicular violence. In 2013, according to a ThinkProgress report with a screenshot of the tweet, the avid Trump admirer tweeted about refusing to stop his car in the hypothetical scenario if he saw the protesters rallying against George Zimmerman. "I'd [definitely] not stop my car! "@NewsBreaker: @Zimmerman protesters have shut down traffic in I880 in Oakland, [California]," Bernstine said.
According to investigative reports from ThinkProgress, vehicular violence or simply the act of running demonstrators down with cars is a strategic move that conservatives in the United States want to protect. According to the report, the backlash is predominantly targeted toward progressive political causes such as the Black Lives Matter movement or rising public support for anti-Trump resistance organizing.
In at least six states of the country, ThinkProgress reported that Republicans have advocated for laws that "would shield drivers who hit protesters." One of the bills was introduced by two Republican lawmakers in North Dakota in January. The bill proposed, "A driver of a motor vehicle who negligently causes injury or death to an individual obstructing vehicular traffic on a public road, street, or highway may not be held liable for any damages." Fortunately, it was rejected in February.