How Figure Skater Adam Rippon Is Paving His Own Way At The Olympics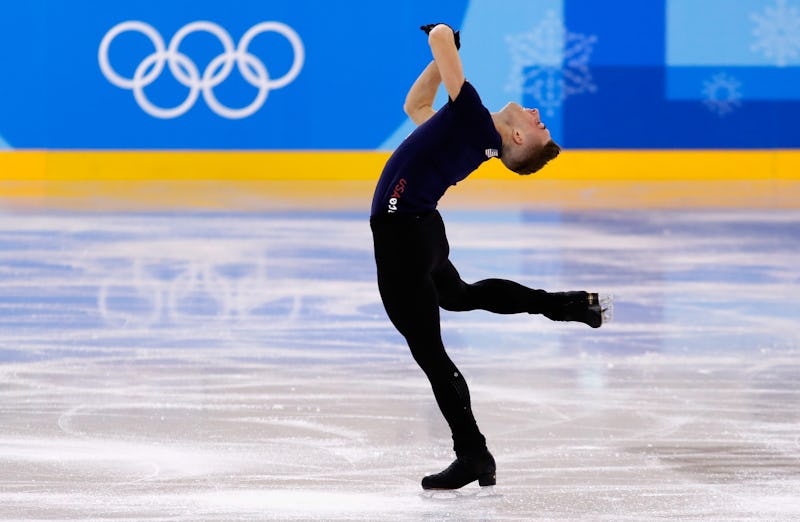 Jamie Squire/Getty Images Sport/Getty Images
The Winter Olympics are officially here, and if history is any guide, figure skating will be one of the most popular events at the PyeongChang games. One of the most talked-about athletes to hit the ice this year is American figure skater Adam Rippon, who made headlines before the games even started by getting into a feud with Vice President Mike Pence.
The 28-year-old skater was born in Scranton, Pennsylvania, and is the oldest of six children. His mother, Kelly Rippon, told the Washington Post that she first noticed her son's athletic talent when he attended a birthday party at a skating rink when he was around 10 years old. Kelly, a choreographer, taught Rippon a few rudimentary moves, and he was soon dancing and contorting himself on ice with ease. She enrolled him in lessons soon thereafter, and eight years later, he was the U.S. junior national champion.
Rippon tried to qualify for the U.S. Olympic team in 2010, and although he didn't make it, he did win a gold medal in that year's Four Continents Championships. But four years later, when he again failed to qualify for the Winter Olympics, he considered quitting the sport altogether, the Post reported. He changed his mind, however, after hearing his best friend, fellow figure skater Ashley Wagner, speak out against Russia's anti-gay laws in the lead up to the 2014 Winter Games in Sochi.
"She said, 'I didn't do anything; I just spoke up about people getting treated badly,'" Rippon told the Post. "When she said that, it changed the course of my life."
The next year, Rippon himself came out in a 2015 interview with Skating magazine, explaining that he wanted to help normalize homosexuality in sports and, simultaneously, compete as his "true, authentic self."
"When athletes come out and say that they're gay, it makes it a little more normal and less of a big deal — especially in the athletic community," Rippon said at the time. "You have a lot of respect for your fellow athletes for working hard toward a goal. Their sexual orientation takes a backseat to that."
Although he hasn't yet competed in the 2018 Games, Rippon's name will forever be etched in the record books as the first openly gay U.S. athlete to qualify for the Winter Olympics.* After it was announced that Pence, who's supported a litany of anti-gay policies throughout his political career, would be leading the U.S. delegation to the Olympics, Rippon told USA Today that he didn't want to meet with him prior to competing in the games.
"If it were before my event, I would absolutely not go out of my way to meet somebody who I felt has gone out of their way to not only show that they aren't a friend of a gay person but that they think that they're sick," Rippon said. "I wouldn't go out of my way to meet somebody like that."
There were subsequent reports that Rippon then declined an invitation to meet with Pence, a report that the White House denies. Rippon, however, said on Wednesday that doesn't want his feud with Pence to overshadow his performance at the Olympics.
Rippon's signature move is the "Rippon Lutz," a variation of an existing move — the triple lutz — that Rippon performs with both hands above his head.
"There were times when I was first learning it that I would miss my hands and my arms and shoulders would go all over the place," he told Absolute Skating in 2010. "But I've worked on it — and of course there's the rare attempt when things don't work — but I've worked on it a lot and I'm really proud to have such a unique element."
*Gus Kenworthy, another openly gay U.S. figure skater, is also competing in the 2018 Games, but he qualified after Rippon.