Trump's Pick For Head Of Health & Human Services Spent A Decade In Big Pharma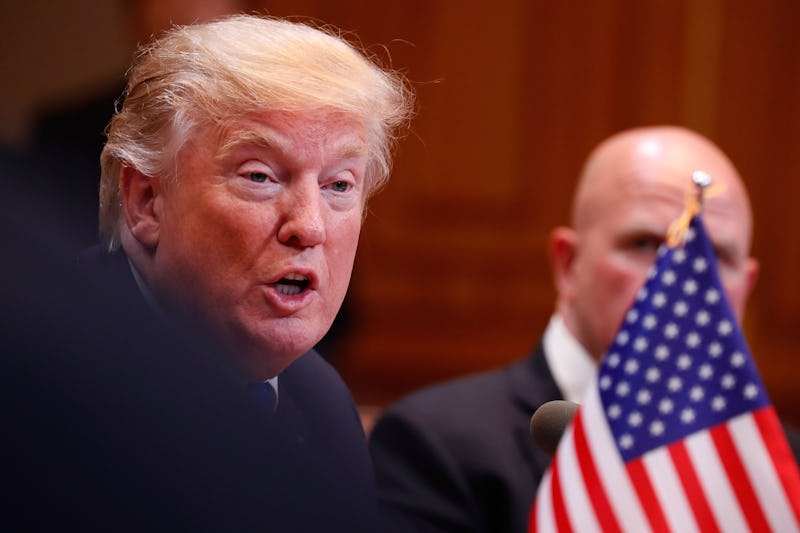 Pool/Getty Images News/Getty Images
On Nov. 13, President Trump nominated Alex Azar as Health and Human Services secretary, a role that was vacated after Tom Price resigned in late September after it was reported that he spent $1 million of taxpayers' dollars on private air travel while on the job. Trump confirmed Azar's nomination on Twitter on Monday morning, writing, "He will be a star for better healthcare and lower drug prices!"
Azar is a former pharmaceutical executive and worked for top company Eli Lilly for nearly a decade, becoming president of Lilly USA in 2011. Azar also worked in HHS during President George W. Bush's administration, serving as HHS's general counsel from 2001 and 2005 and becoming deputy secretary until 2008.
If confirmed, Azar would be tasked with attempting to roll back drug prices and overseeing Medicare and Medicaid programs, and implementing the controversial Affordable Care Act— legislation that Trump has promised to repeal while on the campaign trail but has been unsuccessful since he took office after Congress repeatedly failed to pass a series of repeal-and-replace bills. Like more than half of Trump's nominees, Azar has ties to the industry that he's tasked with regulating.
Azar is a vocal critic of the Affordable Care Act and called the health care law "fundamentally broken" and "circling the drain" in an interview with Fox Business in May. Azar also told CNBC in February that, "The remarkable thing here is Obamacare is failing completely on its own terms."
"There will be a piece of legislation passes this year that is called 'the repeal of Obamacare,' " Azar said. "I don't know what's going to be in the substance of it, but there will be a piece of legislation that says that."
Azar was asked in July about an Obamacare repeal bill in an interview with Fox Business. Azar said that he had trouble thinking of any legislation that could get 50 votes in the Senate. "At the end of the day this is a hot potato that lands back in Secretary Price's lap for him to use as many authorities as he has to grant flexibility and try and dig us out of the Obamacare mess as much as he can," he said.
Azar has also said that he doesn't believe in expanding Medicaid reimbursements, which provides insurance to nearly 130 million Americans, under the Affordable Care Act. Instead, Azar said he would prefer to use government money through "private-sector vehicles" in order to provide health care.
Back in January before he took, Trump promised to bring down drug prices and said that pharmaceutical companies were "getting away with murder" for how much they charged the government for medicine. Trump has also threatened to bring lawsuits "against people and against companies that our hurting our people" and decried campaign donations from big Pharma. Azar later donated $2,700 to Trump's campaign.
Democrats are likely to question Azar's ties to pharmaceutical companies and how the former executive plans to handle drug prices and Obamacare. Republicans control 52 seats, and Azar needs 51 votes to win Senate confirmation.
Senate Minority leader Chuck Schumer released a statement on Monday, saying the nomination "will be a referendum on the Trump administration's repeated efforts to sabotage our health care system and raise premiums on millions of Americans."
"It's time to turn over a new leaf at HHS," Schumer said. "The next secretary must demonstrate a commitment to lowering premiums, and not sabotaging the Affordable Care Act and our health care system with reckless actions that hurt families. I look forward to reviewing Mr. Azar's nomination."
The nomination of Azar has also worried women's health care organizations, including Planned Parenthood, who slammed previous Trump administration appointments for not supporting women's health.
"While we hope for a Health and Human Services Department that supports women's health, considering who makes up this department and the actions they've taken already, it looks like we can only expect more of the same: attacks on the basic health care that millions rely on," said Dawn Laguens, Vice President for Planned Parenthood in a statement.