Who Is Alexander Acosta? Trump's New Labor Pick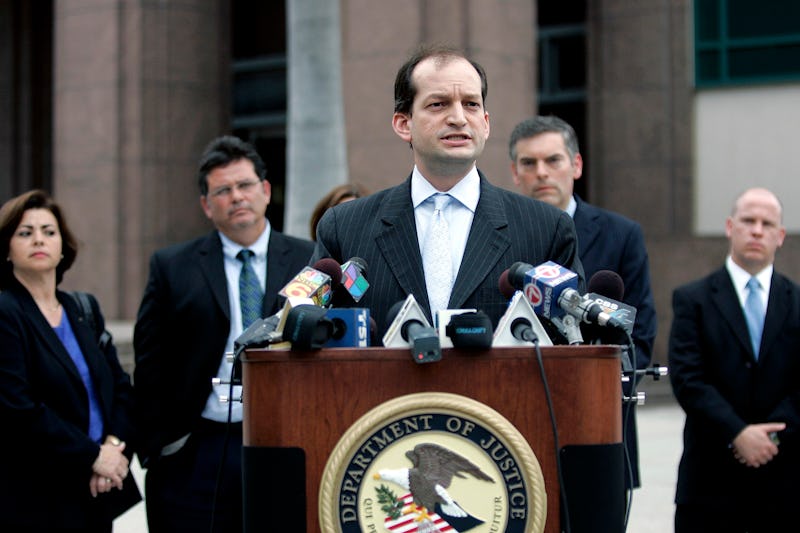 Joe Raedle/Getty Images News/Getty Images
Less than a day after his first pick withdrew his nomination, Donald Trump tapped Alexander Acosta for labor secretary, according to multiple outlets. Acosta has served in multiple government roles, including as an assistant attorney general for the Department of Justice's Civil Rights division under President George W. Bush. He has also served as a member of the National Labor Relations Board.
Trump's first pick was fast-food magnate Andrew Puzder, CEO of CKE Restaurants, Inc., which owns Hardees and Carl's Jr.. Puzder took himself out of consideration for the job after several stories came to light regarding his employment of an undocumented worker in his home, and concerns that he had abused his ex-wife, Lisa Fierstein. In 1990, Fierstein appeared on The Oprah Winfrey Show in disguise to discuss her abuse, but later retracted her story.
It was also unclear how Puzder would satisfy ethics rules that would have required him to divest his substantial holdings in the company he oversaw.
It appears as if Trump's second swing at appointing a Labor Secretary is a little safer. Instead of picking an outspoken outsider — Puzder had spoken out against issues like raising the minimum wage — Acosta appears to be much more moderate. In 2011, he even testified in front of Congress regarding the importance of defending the civil rights of Muslim-Americans.
Additionally, Acosta has been vetted for Senate-confirmed positions before and has been approved all three times. In addition to his work for the Justice Department — where he was the first hispanic person to hold the title of Assistant Attorney General — he also served as the U.S. Attorney for the Southern District of Florida.
If confirmed, Acosta would be the first (and only) Hispanic member of Trump's cabinet, adding some much-needed diversity to his administration. As Irish comedian Gràinne Maguire pointed out earlier this month, "Sad that there are more black people in Beyoncé right now, than in Trump's entire cabinet team."
Of course, one feels that anyone Trump chooses must have some darkness somewhere: an article has surfaced reporting that Acosta supported the tactic of "voter-caging" just before the 2004 election. The tactic of trying to remove mostly minority voters from voter rolls is pretty despicable (if not somewhat hard to understand), but seems nauseatingly in keeping with someone Trump would select to a cabinet position.
Still, after the disaster of Puzder, Acosta's existing reputation may help him sail through confirmation.