Jodie Whittaker's Replacement In 'Trust Me' Got His Big Break In 'Harry Potter'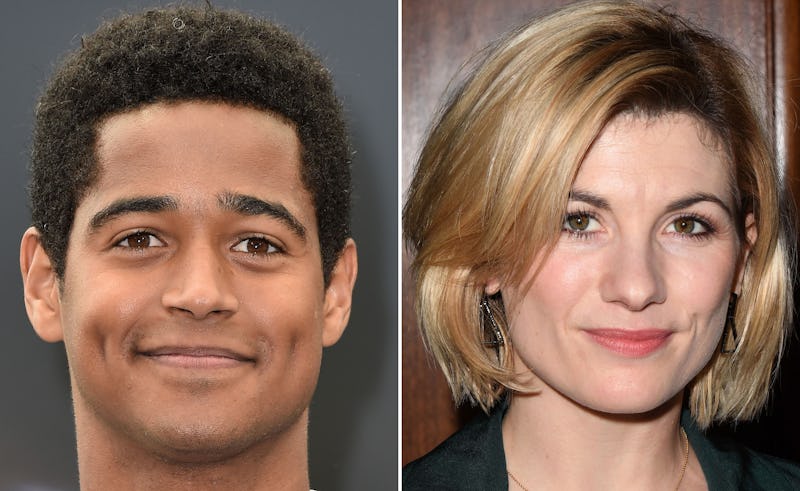 Pascal Le Segretain/Getty Images Entertainment/Getty Images/Stuart C. Wilson/Getty Images Entertainment/Getty Images
The second season of BBC One's Trust Me started filming in Sept. 2018. BBC bosses announced back in March that the medical thriller would be returning for another run despite the fact that Jodie Whittaker wouldn't be able to play the lead role because, well, she has only gone and landed the gig of the Doctor in Doctor Who. No big deal. However, while that's great for Whittaker, where does that leave Trust Me? Well, producers have signed up a replacement; but who is Alfred Enoch and will he be able to fill the shoes of his predecessor?
OK, personally, I defy anyone who grew up in the UK not to recognise his face. Enoch is pretty much a big deal. In fact, he landed his first acting gig when he was just 13-years-old in a little old film called Harry Potter and the Philosopher's Stone. Yes, really. He played the part of Dean Thomas.
Enoch spoke to Heart Radio about his time filming Harry Potter and said: "Harry Potter was an amazing experience. Ten years of work and amazing people — I had an absolute ball. But, you know, I didn't have the biggest part — so I'm always mindful when people recognise me for that. I think two thing; first I think likely 'You must have watched these movies many, many times to spot me in the street, however many years later.' The other thing is it makes me think what a huge impact it has...and still continues to have. Those books were huge, the movies maybe took it to another level, it was a phenomenon for people of my age."
Harry Potter was life, of course we are going to recognise Dean Thomas in the street. Especially as Enoch also just so happened to secure the spot as my first crush.
However it wasn't just in Harry Potter where Enoch excelled. Born in Westminster, London, to William Russell, an actor and Balbina Gutierrez, a doctor, Enoch attended Westminster School. It appeared he followed in both his parents' footsteps as whilst he was cast as Dean Thomas and appeared in seven of the eight Harry Potter films, he later attended Oxford and read Portuguese and Spanish. Academic and artsy, as if he weren't already perfect enough.
With a parent in the business, Enoch spoke about how his dad's work influenced his own career in the Evening Standard: "I used to watch war movies that my dad had done in the '50s and '60s and I was like, 'This just seems like fun.'"
After finishing the Harry Potter series in 2011, Enoch went on to make one-off appearances in hit series like Broadchurch, Mount Pleasant, and Sherlock. And he evidently left quite the impression on our screens as in 2014, he landed the role of Wes Gibbins in ABC's How To Get Away With Murder.
Whilst Harry Potter may have launched his career, How To Get Away With Murder definitely secured Enoch as a household name. Working alongside the phenomenal, Oscar-winning actress Viola Davis, Enoch played a sparky law student who would eventually see a bitter demise.
Speaking to Tim Lovejoy on Sunday Brunch, Enoch said of the show: "How to Get Away With Murder has just sort of taken over in a way that I couldn't have imagined. When I got myself involved with that, I didn't know what it was going to be."
As if being part of one of the biggest film franchises in the world, securing a main role in a TV series, and getting a degree from one of the most respected universities wasn't enough, Enoch will be returning to our screens pretty soon as Corporal Jamie McCain in BBC One's, Trust Me.
He spoke to Digital Spy about what being cast for the role was like. He said: "It's great to be on board, it's a cracking cast and Dan [Sefton] has done a great job crafting something that's really invested in the characters. It has a psychological concern that is dark and thrilling. I cant wait to get started."
He has some pretty big shoes to fill in replacing Whittaker but I am not too concerned. From learning his craft on the set of Harry Potter to honing it for years on How To Get Away With Murder, he more than knows what he is doing.
I cannot wait for Season 2 of Trust Me to start. I just hope all who are near to me, both emotionally and in proximity, are ready for me to start shouting about my love for Enoch once more.