Ananya Vinay Takes Home The Ultimate Spelling Bee Title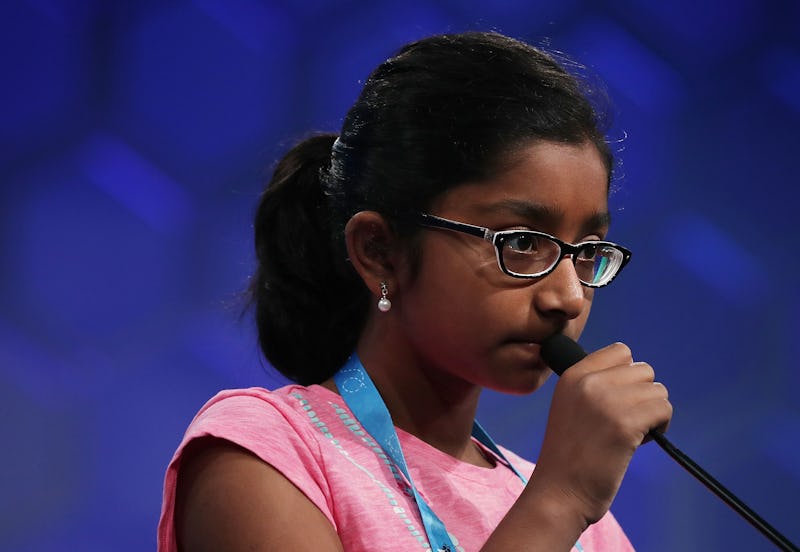 Alex Wong/Getty Images News/Getty Images
A record 291 bright young spellers from around the world gathered in Washington, D.C. this week for the 90th Annual Scripps National Spelling Bee. After a weeklong competition that tested the mental toughness and endurance of the contestants, only one was left standing to be crowned this year's champion. After a close contest, sixth-grader Ananya Vinay was crowned the Spelling Bee winner, gaining a giant trophy, ultimate spelling bragging rights, and a cool $40,000 cash prize.
Fifteen contestants duked it out in Thursday's final round of the competition. Other competitors, all between the ages of 6 and 15, were weeded out in the first four rounds of the competition, which began on Tuesday and included two oral rounds of spelling and a written spelling and vocabulary test. But ultimately, Vinay endured, becoming the first winner not to have a co-champion at the competition in three years.
The competition was brutal, to say the least. Spellers scratched their heads, inhaled deeply, and held out the palms of their hands as mock-notepads, using their fingers as imaginary pencils in a sensory attempt to correctly spell each word they were assigned. As the competition began to dwindle down to the final few spellers, many kids left the stage in disappointment after hearing the dreaded buzzer that signified they had made a spelling error.
A quick look at the misspelled words gives a sense of just how tough this competition really is. Sixth-grader Naysa Modi made it to the top 10, but was ultimately eliminated after misspelling the word "marasmus," which is basically a fancy word for malnourishment, and 11-year-old Shruthika Padhy almost broke into the final five but was eliminated after misspelling the word "quintain" because of that pesky silent "a" near the end.
In perhaps the only night of the year that spelling, grammar, and linguistics are given a national platform, Twitter was abuzz all night with speculation about who might win it all — and a few laughs about some of the competition's more memorable moments. For example, there was a pretty tense handshake snub that caught people's attention.
And then there were these adorable photos of younger siblings praying their hearts out for their brother or sister to continue spelling their words correctly.
Ultimately, this year's competition was another inspiring example of what kids can achieve when they dedicate themselves to rigorous study and hours of training. While Vinay was declared the winner, all of these kids certainly deserve a round of applause.