Nick Viall Ignored Her, But This 'BiP' Cast Member Is Finally Getting Some Love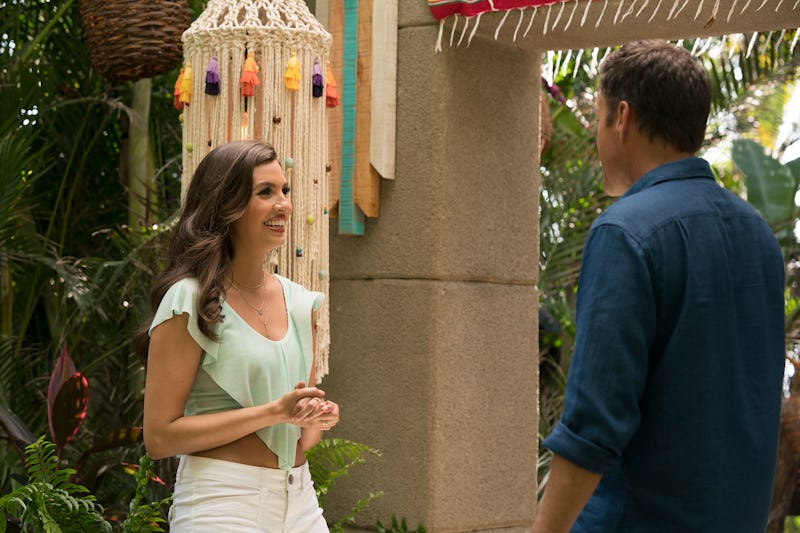 Paul Hebert / ABC
It is a truth universally acknowledged that on every reality show, someone must go home first. No one wants to be the unlucky (and often forgettable) one, but someone's got to do it. Back in The Bachelor Season 21, Angela Amezcua got the chop from Nick Viall in Episode 1. But now, the brunette model is back for another chance at finding true love — and in Paradise, no less! But with most of the other contestants having spent considerably more time on their respective seasons, you might find yourself asking, who is Angela from Bachelor In Paradise anyway? And are viewers rooting for her?
Angela hails from Greenville, South Carolina, according to her Bachelor cast bio. Local newspaper The State did a profile on her just before her Bachelor debut in December 2016, reporting that she works as a model and office manager at the Millie Lewis talent agency where she is signed. Her Instagram profile also lists two other talent agencies, one in Tennessee and one in North Carolina, to contact for bookings, so it sounds like her career may have picked up in the last year and a half!
Outside of The Bachelor, maybe you remember Angela from her other big break: playing the bouncing cheerleader in this Greek yogurt commercial. Okay — so she wasn't exactly the most memorable there, either. But hey, even Courtney Cox did a Tampax commercial before Friends. Don't judge.
From her Bachelor bio alone it sounds like she has a pretty strong sense of who she is and what she wants when it comes to life and love. When asked where she sees herself in five years, she said, "Definitely married, have one kid so far. Be a stay at home mom. Still model some if possible. Enjoying life with my family." She wrote that two years ago, though, when she was 26 years old and first competing on the show. Now, given all the time that has passed, it's possible her perspective has changed somewhat.
As for what went wrong back on The Bachelor, well, she didn't sound all that surprised that it didn't work out the first time around. In an interview on the E&G Podcast, as reported by Elite Daily, she explained that the whole first night was understandably chaotic and that there was hardly a chance for her and Nick to find out whether or not they even had a connection.
"That night is just such a blur and it's so much going on and you're talking to all these new people and you're trying to get time. And after you talk to him, if you're lucky enough to talk to the person, it's kind of out of your control. I was a little bit surprised but then I kind of felt it too."
Hopefully, with all the people in Paradise, she'll have more time to make an impression on some of the suitors. But she'll just have to wait and see if any of the eligible gents in Mexico line up with her family values. That can be hard to find on the beach.