Who Is Angela Stanton? This Author Went After A 'RHOA' Star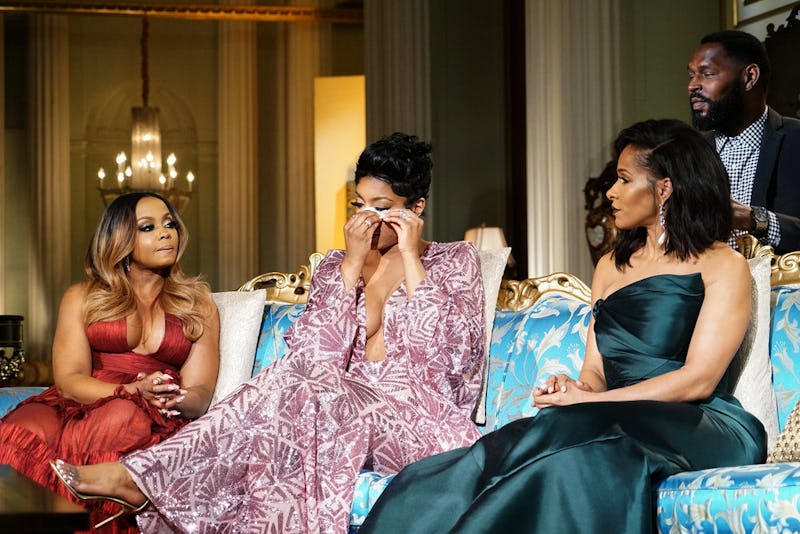 Annette Brown/Bravo
In the final installment of The Real Housewives, the show took a hard turn against Phaedra Parks, who was caught spreading rumors about Kandi, her former best friend. And as a part of her argument as to why Phaedra's rumors were unfounded and unfair, Kandi brought up a book that she completely ignored because it was allegedly telling lies about Phaedra. But who is Angela Stanton? This woman has never been brought up on the series before, true to what Kandi said... until now. Stanton is an author who wrote the book Lies of a Real Housewife: Tell the Truth and Shame the Devil, an autobiography about Stanton's early life, during which she alleges she "live[d] a hustler's life of crime with none other than Real Housewives of Atlanta's own, Phaedra Parks," according to the book's Amazon summary.
The book was released in 2012, and for four years, Phaedra and Stanton fought in court until both a defamation lawsuit from Phaedra and a countersuit from Stanton were dropped in June 2016, according to Stanton's lawyer. Some of the claims that Stanton made about Phaedra in court, according to Radar Online, include that she and Phaedra allegedly conspired on "fraudulent bank accounts, insurance checks, fake IDs, chop shops, stolen cars, fraudulent titles, fraudulent registration cards," and that one specific scam they worked on together was "the purchasing of electronics, laptop computers, Palm Pilots, jewelry, DVD players, desktop computers." Stanton also alleged that it was because of Phaedra that she was eventually caught for business check fraud and served two different terms in prison, as Radar reports.
And while Kandi used Stanton as a way to show Phaedra that she'd had her back even after their friendship breakup, Kandi just so happened to have Angela Stanton front row at her RHOA finale viewing party. And according to what Stanton says in Kandi's video, Stanton can sell her book now because Phaedra has allegedly "forfeited her right to sue" over the claims inside. Stanton has discussed these claims before, including in the Kiss 104.1 interview below. (While she's now free to sell the book, none of Stanton's claims about Phaedra have ever been proven or corroborated.)
But Stanton's namedrop was all just part of the overall turn of the tide against Phaedra. Phaedra's relationship was also interrogated during the episode, and Kandi stood by her claim that Phaedra was dating before Apollo went to prison. And while she offered an apology to Kandi and to Porsha for lying during the season, it was not well-received, and the season ended with her saying, "Obviously, I didn't think it would happen like this." I doubt she did, but this could finally be the end for Phaedra's positive reputation on the show.