The Governess Has Become A Fan Fave On 'I'm A Celeb' For The Most Important Reason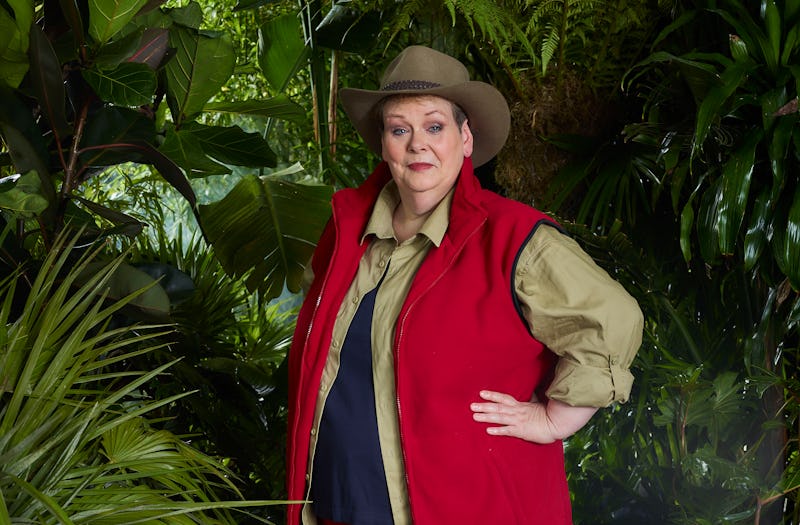 ITV
With a new series of I'm A Celebrity... Get Me Out Of Here! comes a whole host of familiar — and sort of familiar — faces. If there's one celeb you'll totally recognise, it will most probably be Anne Hegerty, otherwise known as The Governess on ITV's The Chase. Since becoming such an iconic persona, she is more than capable of switching between the character and herself pretty instantaneously. So who is Anne Hegerty, and how different is she from her on-screen counterpart?
Well unsurprisingly, the two are pretty different. Born in Wood Green, London in 1958, Hegerty originally started out as a journalist, but realised that she was "sick and tired of being edited" and decided to go pursue a career in publishing, as she told the Loose Women panel in an interview last year.
It was here that she began to notice some significant attributes to her personality, one of which was an issue with being able to multitask. "A lot of people just didn't get that, which [is] fair enough," she told the panel. Hegerty then went onto describe how she came across a documentary about boys with autism in, and "something about it just kind of clicked."
"I thought, y'know there's something about the way those boys are behaving that reminds me of me now and of me when I was a child." A couple years after watching the documentary, Hegerty was formally diagnosed as being on the autistic spectrum, which can often be missed in young girls and women as they "might demonstrate different outward reactions to the profile," according to the Asperger/Autism Network.
Hegerty then went onto explain how her troubles with multitasking ended up with two bailiffs turning up at her home as she had not been paying bills. She managed to turn this around thanks to a "terribly helpful" social worker, who made sure her bills were paid and actually helped her land her role on The Chase, according to Radio Times.
From her work on The Chase, Hegerty has gone on to star in the Australian version of the show, has hosted her own quiz show (Britain's Brightest Family), and portrayed The Empress of China in a pantomime production of Aladdin last year.
Even though only one episode of I'm A Celeb has aired so far, fans have been quick to praise Hegerty's openness when it comes to her condition, and how it will affect her during her time in the jungle. Hegerty was seen getting overwhelmed as she began to settle into life at Snake Rock, but her campmates were soon by her side supporting her and so were viewers on social media, including one of her co-stars from The Chase.
"I am going to miss the peace and quiet and I am going to be way out of The Governess' comfort zone in all this," Hegerty said in a press release sent to Bustle UK. "I will come across a lot more nervous than I do on the show. I will be interesting for people to see me as Anne."
I'm A Celebrity Get Me Out Of Here continues on ITV1 at 9 p.m. on Monday (Nov. 19).