Here's Why Ariana Grande Mentioned Her Dad On "Thank U, Next"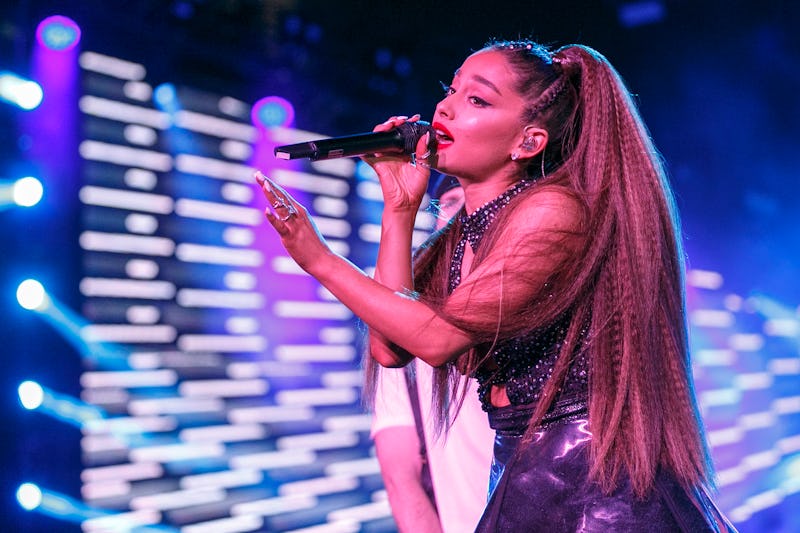 Rich Polk/Getty Images Entertainment/Getty Images
OK, so Ariana Grande is grateful for her exes. That much is made clear by the singer's newly-released track, "Thank U, Next," which feels like an empowered ode to "moving on" and what that looks like for her. Throughout "Thank U, Next," Ariana Grande references a whole roster of men who've meant something special to her over the years, including Big Sean, Ricky Alvarez, Mac Miller, and Pete Davidson — each of whom has, at some point, been in a relationship with the pop star.
But, about three-quarters of the way through "Thank U, Next," Grande turns her gratitude for past romantic partners to a markedly different (albeit, nonetheless significant) kind of relationship: The one she has with her dad. Those who've been listening to the song on repeat since "Thank U, Next" was released unexpectedly Saturday night, Nov. 3, might've caught onto the famously family-oriented singer's sweet reference already. But for those who missed it, the subject of Grande's father, Edward Butera, pops up toward the track's end, right after the second chorus:
"One day I'll walk down the aisle / holding hands with my mama / I'll be thanking my dad / 'cause she grew from the drama"
Fans who've been keeping up with Grande's personal life in the news these last few years might be a little surprised to hear her send such a public "thank you" her father's way. That's understandable, given the equally public discussion about Grande's estranged relationship with her dad, which made headlines back in 2014. Speaking to Seventeen for the magazine's September cover story, Grande opened up about "falling out of touch" with Butera, a Florida-based graphic designer, the year earlier. She told the magazine,
"Falling out of touch with my dad [was the toughest thing I've ever dealt with]. It's private, but it happened last year. It took me so long to be okay with it."
Grande didn't go into detail about what catalyzed their falling out. (Like she said, it was a private matter.) But later on in her conversation with Seventeen, Grande explained how she eventually managed to come to terms with it. "So much of me comes from my father, and for so long, I didn't like that about myself," she told the magazine, before adding, "I had to accept that it's okay not to get along with somebody and still love them."
That was more than four years ago, so it's definitely possible that Grande and Butera have mended their relationship — at least, to some extent — since then. Her reference to him in "Thank U, Next" doesn't offer listeners any sort of definitive answer on that front. However, it does seem to suggest that (whether she and Butera are on better terms these days, or not) Grande is taking any and all past grievances in stride.
Much like the song's references to Grande's past romances and how grateful she is to have experienced them — good or bad — it seems the quick "thank you" doled out to Butera in "Thank U, Next" is a nod to the singer's own emotional growth more than anything else. Because, while Grande and her father's falling out (not to mention those breakups) probably stuck her with a substantial amount of anxiety and heartache over the years, as the song goes, "she grew from the drama."
And now? With "Thank U, Next," Grande couldn't make herself clearer: She's made her peace with past relationships (romantic, familial, and otherwise) and is, unmistakably, totally thriving. Plus, per the song's second verse, the singer's got a new boo these days, and her name is Ariana Grande. So, for anyone who's somehow wronged Grande before — Butera included, it would seem — know that she's rising above, prioritizing herself, and managing to turn past upset into present-day triumphs in the process.
Not the easiest thing in the world to do, that's for sure, though Grande seems to have devised a pretty solid method for making it happen. What's that? Nowadays, when she looks back on past relationships, it doesn't sound like Grande is keen on getting caught up in the details, or the drama. Instead, she's focusing on bettering herself and moving forward. So, as for all the familial turmoil? Thank you. Next?