Fans Think Ariana Grande May Have Just Tweeted Out The Lyrics To Her Next Single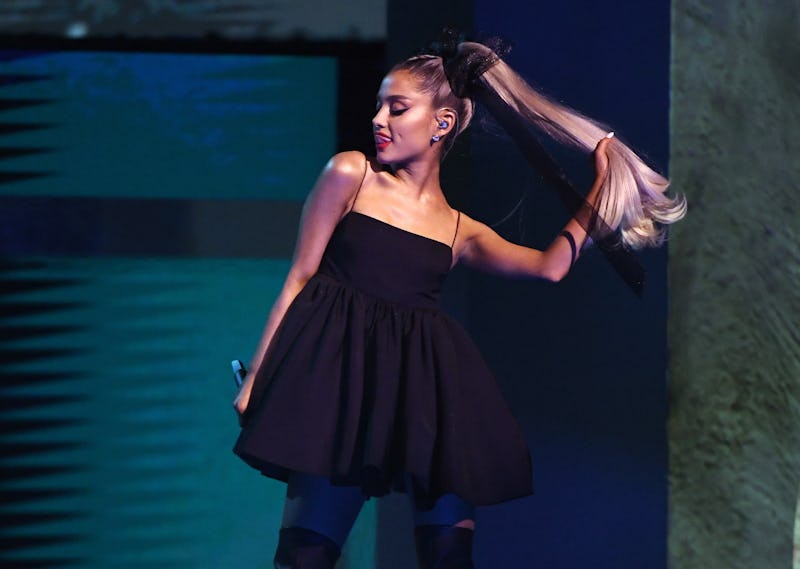 Ethan Miller/Getty Images Entertainment/Getty Images
Piggy Smallz's mom might've dropped some major hints about a possible song that could be on her (thank u,) next album. Many Arianators *raises hand* suspect Ariana Grande might've tweeted out lyrics to a new song on Friday. Less than 24 hours after Thursday's legendary subtweet session happened, Grande posted three song lyric-esque tweets in a row. And two of those tweets include the phrase "thank u, next." Maybe they're lyrics, maybe they're not. Either way, it's more outstanding Ari G. Twitter content. No complaints here.
If you're like, "What is 'thank u, next'? What legendary subtweet session? What next album? Didn't Sweetener just happen? Am I shaking in my thigh-high boots right now?" do not worry. The answers are coming. The light is coming to take back every answer the darkness stole.
Two months after Grande released her brilliant fourth record, Sweetener, she revealed she has a fifth album in the works. And she plans to release it soon. The Sweetener era and the AG5 era will apparently overlap, and hey, that's all gravy; there's no such thing as too much Ari art.
The same month Grande began dropping serious AG5 hints, news broke that her whirlwind relationship with Pete Davidson was over. On Oct. 14, TMZ reported the pair called off their engagement. A little over two weeks later, Davidson made a joke about their breakup in one of the promos for an upcoming episode of Saturday Night Live. In the clip, guest host Jonah Hill, musical guest Maggie Rogers, and Davidson all stand together on the stage. Davidson "proposes" to Rogers. She turns him down. He makes a joke about being zero for three. And scene.
Shortly after the video slithered its way across the internet, Grande tweeted some things that sure did not not feel like subtweets. "For somebody who claims to hate relevancy u sure love clinging to it huh" she wrote. Minutes later, she added, "thank u, next." And then, she quote-tweeted a fan's "tag yourself i'm maggie" tweet. She deleted the tweet triptych, but not before it was screengrabbed, like, a zillion times.
And then! On Friday, the "Breathin'" singer posted another three-part tweet series that more or less pick up where Thursday night's "thank u, next" left off. And some fans *raises hand* believe these tweets could actually be lyrics to one of the songs on AG5. And some fans *raises hand* believe this song will be called "thank u, next."
Here's the first lyric, er, tweet:
"cause look what i found .... ain't no need for searching and for that i say.... thank u, next"
And then, she gives us this:
"got so much love..... got so much patience..... i've learnt from the pain .... and turnt out amazin.... say i've loved and i've lost..... but that's not what i see cause look what i got.... look what u taught me"
And for her final magic trick:
"and for that i say ....... thank u, next"
thank u, Ari G.
The Arianators have responded accordingly.
If she did, it would be next level.
*Searches bookshelf for spare bookmark.*
We do not know if they are lyrics, but it sure is fun to theorize.
Whew.
Whew.
Same.
Great plan.
Nothing will truly prepare us for AG5.
And yes, you are shaking in your thigh-high boots right now.