Astrid Silva Has A Spanish-Language Trump Response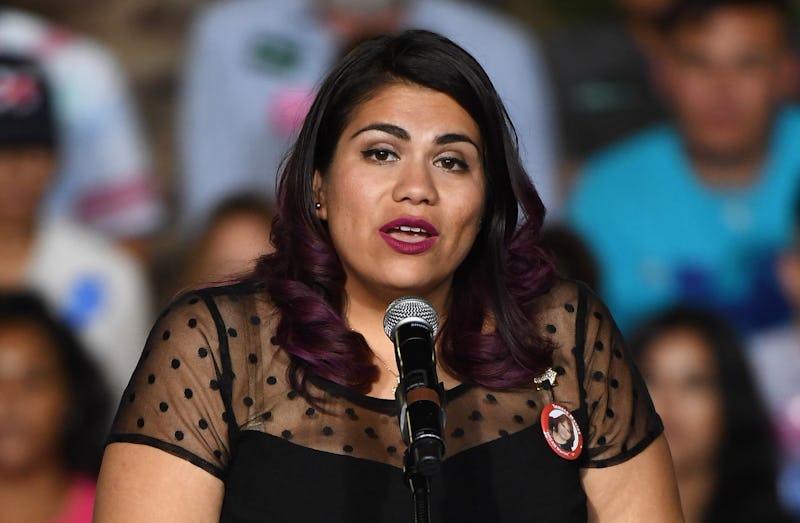 Ethan Miller/Getty Images News/Getty Images
President Donald Trump is speaking to Congress Tuesday night. Democrats want to make sure that you hear their response to it — so much so that they're delivering the response twice, once in English and once in Spanish in order to reach out to Spanish-speaking and bilingual Americans. The English address will be given by former Kentucky Gov. Steve Beshear. The Spanish address will be given a Dreamer who has temporary legal status only thanks to the Deferred Action For Childhood Arrivals (DACA) program. So who is Astrid Silva?
Silva is an up-and-coming star in the Democratic Party. She has been on the national radar since she addressed the Democratic National Convention in July, sharing the stage with the likes of former first lady Michelle Obama and Sen. Bernie Sanders. Silva is from Nevada, but was born in Mexico and came to the United States as a child. As she put it in her DNC address, "When I was four years old, my mother and I climbed into a raft and we crossed the river to join my father in America, in search of a better life. All I had was a little doll." Now the activist is now 28.
Her political life began with letters to then Nevada Sen. Harry Reid. Silva's grandmother used to come visit every year from Mexico, but in 2009, she died. The family was unable to attend her funeral in Mexico. This marked the first time Silva saw her father cry, according to Cosmopolitan, and thus, she decided to act. She wrote Reid about the experience, and the senator not only read the letters, but actually responded. According to the Los Angeles Times, so began a pen pal relationship that culminated in a close friendship.
Silva excelled in a Las Vegas magnet high school, and after graduation, she worked as a babysitter for five years to pay for community college. Silva earned two associates degrees, and eventually went on to Nevada State College for her third degree, ABC News reported. She co-founded Dream Big Vegas, a community-based immigration reform organization, and has worked on progressive issues. This past fall, she stumped for the Hillary Clinton presidential campaign.
As for what she'll say in response to Trump's address on Tuesday night, Silva told the Associated Press that she's hoping to speak about a range of concerns. "Immigration is obviously very important, but I think people assume immigration is the only issue that Latinos care about," she said. "There are so many things affecting our lives, like health care, LGBTQ rights, women's rights."
If you don't understand Spanish, you may want to make sure you view a closed-caption version of Silva's response. It seems like she's the perfect person to explain why Trump and Republican policies are so wrong.