This 'Westside' Star Is Like Harry Styles, But Way More Dramatic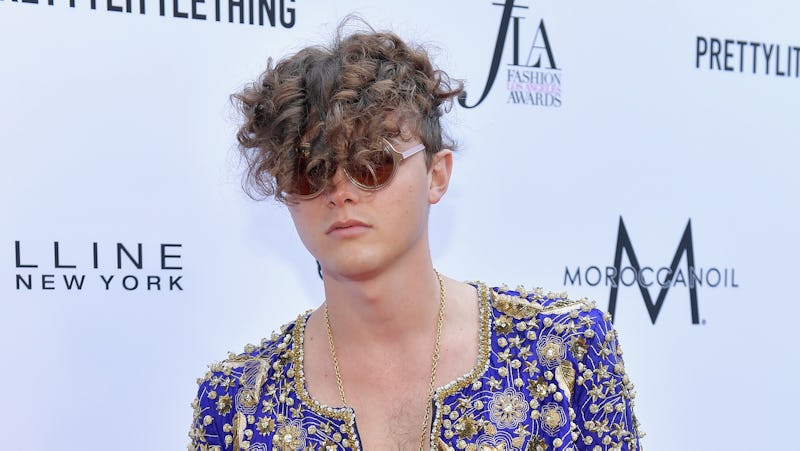 Neilson Barnard/Getty Images Entertainment/Getty Images
Call it cockiness or call it confidence, but Westside star Austin Kolbe knows who he is and what he wants — and he's not holding back. Kolbe joins eight other L.A. musicians in Netflix's new reality series about making it as a musician and coming together to put on a show. But while it may be a group effort, Kolbe thinks he stands out at the top. "I have the strongest songwriting ability, and I've got to carry the team on my back," he says in a scene from the trailer.
His confidence isn't necessarily without merit, though. His fellow cast mate Caitlin Ary praised Kolbe's work ethic in the trailer, saying, "Austin works really hard and really goes balls to the wall." Outside of the show, Kolbe is hustling in not one but two major industries. In addition to his musical efforts, he's also launched a clothing line called DRTY DSCO that features an array of bell-bottom pants. His website says that the pants bring the "nostalgia of traditional bells with the modern fit of todays favorite denim styles."
It's very Harry Styles of him. And it's also why his Westside bio calls him "a funk-loving fashionista with a flair for the dramatic." Naturally, though, his headstrong nature may prove to be a sore point for his co-stars. The press release says that while "self-confidence has never been a problem for Austin ... [it] results in clashes with several of his collaborators."
But Kolbe wasn't always been so confident. He said in a video posted to his Twitter page that he's been through a lot, and he's come out the other side more sure of himself. "The different trials and tribulations that I have gone though has finally allowed me to see myself in a comfortable, yet dazzling way," he said. "I feel untouchable."
And he's worked hard for what he has. He added in the video, "I've just been grinding in these streets of L.A. for the past seven years. Music is literally all I have." Which isn't entirely true, since he also has fashion. He's already so high-profile in that world that at a recent fashion show, he sat next to Adam Lambert and Heidi Klum, according to a photo he posted on Instagram.
With his passion for fashion, perhaps next in the Austin Kolbe Apparel line will be a collection of high heels. The Netflix release says he "has a fondness for heels and is almost always seen wearing them." Or maybe, like, a line of really cool sunglasses similar to those seen in this video of him playing guitar.
But while Kolbe may rub his cast mates the wrong way at times, there's no denying that he has talent. As evidenced in the many videos on his social media pages, he has some serious pipes, which will undoubtedly be featured prominently in Westside.
That kind of talent may come with a little bit of attitude, but sometimes, you have to take the good with the cocky.