This Barbara Morgan Theory For 'A Million Little Things' Makes So Much Sense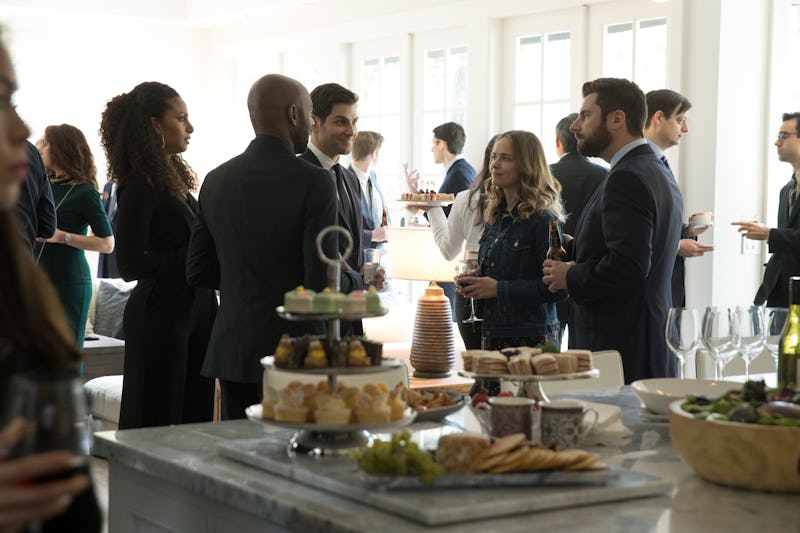 Jack Rowand/ABC
Did you blink and miss UnREAL's Constance Zimmer in the premiere of A Million Little Things? She showed up for only a moment at Jon's funeral and hasn't been seen since. And considering that there was another mystery woman introduced in the second episode, it's not hard to believe they're one in the same. Zimmer's potential role may be coming into view soon, especially if you start thinking about who Barbara Morgan is on A Million Little Things?
Now, it's not confirmed that Zimmer is playing Barbara. But you don't just cast Zimmer as a throwaway character. She has "big reveal" written all over her brief appearance. TV Line reported that ABC confirmed Zimmer's character will return to the show, but wouldn't give any hints as to who she plays. In fact, Hidden Remote reported that Zimmer is so far listed only as a "mourner" for her scene at the funeral in the premiere. But Entertainment Weekly was able to get a bit more out of ABC as to Zimmer's character. The outlet reported that she's "someone from the group of friend's past," which would make the Barbara Morgan theory very compelling.
In Episode 2, viewers learned that Barbara is the fourth beneficiary on Jon's Rutledge life insurance policy. It's Jon's three best friends and a mystery woman named Barbara Morgan. Like Jon's friends, Barbara may not even know she's the beneficiary. That's because Jon's assistant Ashley has hidden all the Rutledge papers from Jon's wife Delilah for reasons that are super fishy but can't be explained yet.
Still, if Zimmer is Barbara, she clearly has her own ways of finding out information — she was at the funeral after all, but it doesn't seem like Jon's core group of friends knew her or would have invited her. If she was close enough to be included in his will and they knew her, they would have said "hello," right? She's a real mystery. But there is one other clue as to how Zimmer's character may be connected to all of this — through Eddie's wife Katherine.
TV Line reported that Zimmer wasn't even in the pilot until Grace Park's Katherine was cast. And Hidden Remote pointed out that the two shared a tense moment during the funeral. Katherine gave her a withering stare, so there definitely seems to be more to the story of Zimmer's character — whether she's Barbara Morgan or not.
But the fact that ABC is being so secretive about Zimmer's role seems to hint that, when we finally learn who she is, it will be a big reveal. Since we so far have no idea who Barbara Morgan is or how Jon knew her, Zimmer would be a pretty big reveal in that role.
So far, the UnREAL star is loving that fans are already speculating about her. She responded to Hidden Remote's reporting about her role and said on Twitter, "I love how much work you've done to try and find out information! And I love how much you already care about the characters from one episode."
Fans will only continue to search for answers as more clues are revealed. Whoever Barbara Morgan really is, she was obviously close enough to Jon for him to leave her a life insurance policy alongside his three best friends. Is she another friend? A sibling? Is she even played by Zimmer or is that a whole separate thing? The story is just beginning to unfold, but keep an eye out for Zimmer — she's coming back, and my bet is she's playing Barbara.
If you or someone you know is experiencing suicidal thoughts, call the National Suicide Prevention Hotline at 1-800-273-8255 or text HOME to the Crisis Text Line at 741741. You can also reach out to the Trans Lifeline at 877-565-8860 or the Trevor Lifeline at 1-866-488-7386, or to your local suicide crisis center.