This Could Be The Ex Becca Is Always Talking About On 'The Bachelor'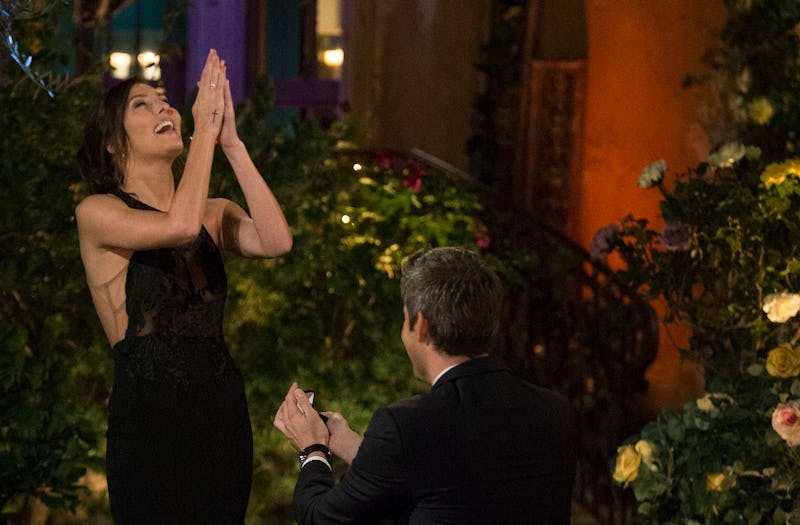 Paul Hebert/ABC
Being on The Bachelor is all about forging new connections, but some of Arie Luyendyk Jr.'s contestants this season are carrying baggage from their past. On Monday night's episode, Becca K. talked about her ex again — and it's not the first time she's brought him up. But who is Bachelor star Becca's ex-boyfriend? Although she's never mentioned him by name, it's easy to narrow down the suspects.
When she and Arie had a one-on-one date in Tuscany, they talked about their possible hometown date, which are slated to happen in next week's episode. She admitted that she's never really brought a boyfriend home to meet her family all at once like she'd be doing with Arie; instead, her exes just kind of met her family sporadically, one or two members at a time. This is what happened for her ex whom she dated for seven years and was very important to her in the past. Talking about exes is all part of Arie and Becca getting to know each other better, but it's hard to ignore what a lengthy mark he's had on her life — seven years is a long time.
Reality TV World reported that Becca's ex boyfriend is Ross Jirgl (based on a Facebook profile pic of the two together). That holds up considering the fact that the man in that old Facebook photo of the two of them together is the same as this guy Becca posted about on Instagram three years ago, although she didn't share too many details in her caption.
According to his LinkedIn page, Ross works at Stanford University as a sport performance coach for their football program. His staff page on the Stanford website adds that he played football himself at Minnesota State, and he's also worked with basketball teams. And as far as his Instagram is concerned? Well, it looks like he's obsessed with his job, being active, and hanging out on the water. He might not be with Becca anymore, but he still seems to be doing OK. (He declined to comment to Bustle about Becca's claims about him on the show.)
On Becca's first one-on-one date with Arie earlier this season, she also talked about why her ex was so important to her. Not only did he help her figure out what she wanted in future relationships, but he was also there for her during an extremely difficult part of her life, which understandably has had an effect on her. She said:
"After putting up with a lot of stuff in past relationships, I know what I want and I know what I don't want. My most serious relationship, we were on and off for about seven years. And I'm just ready to move on in my life and find that person again ... Especially initially, he got me through the hardest time I had ever lived through at that point when my dad passed away."
After a seven year relationship, it definitely does sound like Becca might be ready to find the person she spends the rest of her life with... but there's no guarantee that the man she's been talking about is Ross. After all, she does have a history of sharing photos with guys online who aren't her boyfriend — a topic she's addressed in her Instagram captions more than once.
Obviously, where Becca is concerned, no assumptions can be made based solely on what she posts online. She just seems to be a lady who has a lot of male friends, which isn't that unusual. Maybe the guy she's been talking about on The Bachelor is Ross, but don't be too quick to jump to conclusions when it comes to Becca's love life.
Whoever her ex is, it seems like fans might get to meet him soon. According to earlier promos for this season, one of the women has an ex who comes back on the show to try to win her heart, so maybe it's Becca's? If so, it would help clear up who she's been talking about this whole time.
No matter who is in her past, though, it seems like Becca's looking toward her future, and hoping to include Arie in it. If things between them keep progressing like they did on their one-on-one date in Tuscany, Becca could be here to stay for a while.