This Woman Overseeing The Russia Investigation Could Be Key To Trump's Downfall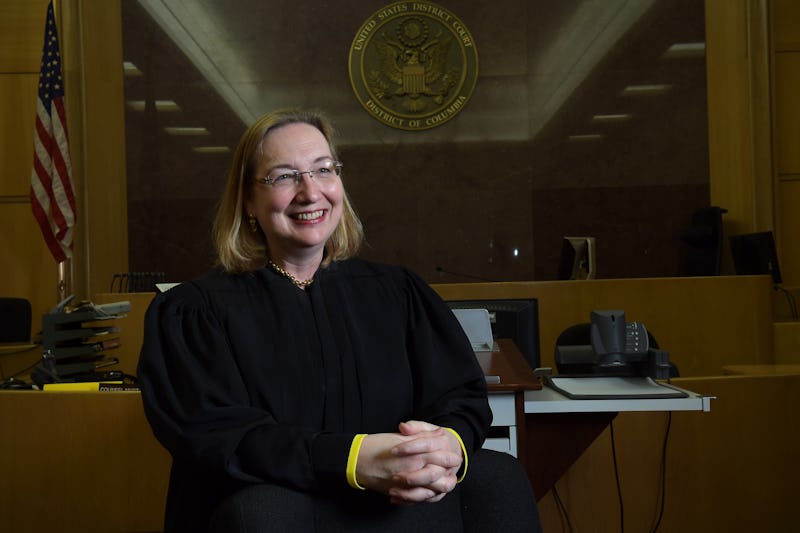 The Washington Post/The Washington Post/Getty Images
Ever since it was reported that Special Counsel Robert Mueller is using a D.C.-based grand jury in his investigation into links between the Russian government and any members of President Donald Trump's campaign, tension surrounding the case has been high. Because grand juries typically operate in quiet, out of the public eye, normally a lot goes under the radar, including the key players. But you may have heard the name Beryl Howell in the Russia investigation grand jury, and may be wondering about her role.
U.S. District Chief Judge Howell is reportedly the judge who likely signed off on Mueller's request for a grand jury in D.C. and will oversee the process, according to The Daily Beast. She's the one who will be making the determinations about things like whether subpoenas will be enforced or whether Trump-adjacent members of the campaign will be able to get out of testifying under oath.
Former President Barack Obama appointed Howell to the D.C. District Court in 2010. And former President George W. Bush appointed her to the U.S. Sentencing Commission in 2004, where she served until 2012. She's worked as the chief judge in D.C. for more than a year now.
After graduating from Columbia Law School, Howell clerked for a U.S. District Judge and eventually became an assistant U.S. Attorney for the Eastern District of New York. In 1993, she left to work on the Senate Judiciary Committee.
An interesting part of her bio, especially considering the Russian interference investigation, is that Howell had a stint at cybersecurity firm Stroz Friedberg in the '90s as executive managing partner. According to The Daily Beast, the company's specialty is using forensic computer science to gather potentially relevant evidence for a court.
Even though the grand jury's actions have thus far been under wraps, the proceedings could become more talked about in the coming months. If the jury decided to go for impeachment, it would be up to Howell to approve that.
Howell has been linked to former Attorney General Loretta Lynch and Department of Justice fraud chief Andrew Weissmann, who joined Mueller's investigation team in May, but an anonymous formal federal lobbyist told The Daily Beast that she is "no-nonsense."
Now that there is a grand jury assembled, Mueller and his team have the opportunity to call up witnesses and seek indictments. For now, we'll have to wait to see how the special counsel's investigation will play out over the next few months.