An NFL Team Owner On #TakeAKnee Protestors: "We Can't Let The Inmates Run The Jail"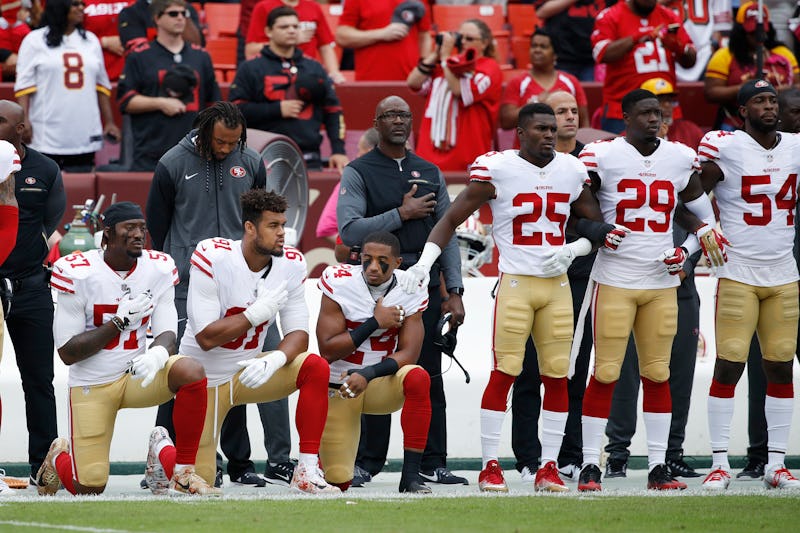 Joe Robbins/Getty Images Sport/Getty Images
According to an ESPN report, in an Oct. 17 meeting with 11 NFL team owners, Houston Texans owner Bob McNair compared protesting NFL players to prison inmates, saying, "We can't have the inmates running the prison." The reported comment has sparked widespread backlash on Twitter. Bustle has reached out to the Houston Texans for comment.
Troy Vincent, the executive vice president of football operations for the NFL and former NFL player, immediately took issue with McNair's comments and said he had been called "every name in the book, including the N-word," but he never felt like an "inmate" during his career. McNair later took Vincent aside and apologized, saying that he didn't mean for his words to be taken literally, according to ESPN.
McNair has since apologized for his remarks, in a statement to ESPN. "I regret that I used that expression," McNair said. "I never meant to offend anyone and I was not referring to our players. I used a figure of speech that was never intended to be taken literally. I would never characterize our players or our league that way and I apologize to anyone who was offended by it."
In the closed-door meeting, the NFL owners discussed the business repercussions of players kneeling to protest police brutality and President Trump's criticism of the league. The meeting last month was also an opportunity for the owners to vote on a mandate that would require all of the NFL players to stand during the national anthem. During their annual conference, the NFL announced that they would not require players to stand, according to NFL Network's Ian Rapoport.
Trump has rebuked the kneeling players for being "very disrespectful to the flag" and even called for the "son of a b*tch" protesters to be fired. Trump has also been feuding with the NFL, calling for owners to fire players who participate in the protests. McNair, who was a vocal Trump supporter during the election and donated $1 million to Trump's campaign, has called the president's comments "divisive and counterproductive to what our country needs right now," according to a statement released to NBC.
More and more athletes have since joined the movement to #TakeAKnee ever since former San Francisco's 49ers quarterback Colin Kaepernick kneeled during the national anthem in the 2016 season to protest police brutality against people of color. Kaepernick was not picked up by any team this season and believes that the decision was impacted in part by blowback to his decision to kneel during the anthem.
Other NFL owners, including Dallas Cowboys owner Jerry Jones, have taken a more hard-line stance against the protests. Jones had already issued an ultimatum, threatening to bench any player who knelt during the games. During the meeting, Jones and Washington Redskins owner Daniel Snyder were also angry with 49ers CEO Jed York, believing that if York had forced Kaepernick to stand during the games last year, the movement could have been squashed.
"See, Jones gets it — 96 percent of Americans are for guys standing," Snyder said.
According to the ESPN report, only nine owners were in favor of a mandate to require players to stand. "The majority of owners understand this is important to the players and want to be supportive, even if they don't exactly know how to be supportive," one owner said.
Similar to Trump's comments urging the NFL to fire kneeling protesters, McNair's statements comparing football players to "inmates" has incited fervent backlash and shows that there's still a long way to go for NFL owners and protesters to find a common ground in the #TakeAKnee movement.