Here's Who Brad Pitt Has Been Romantically Linked To After His Split With Angelina Jolie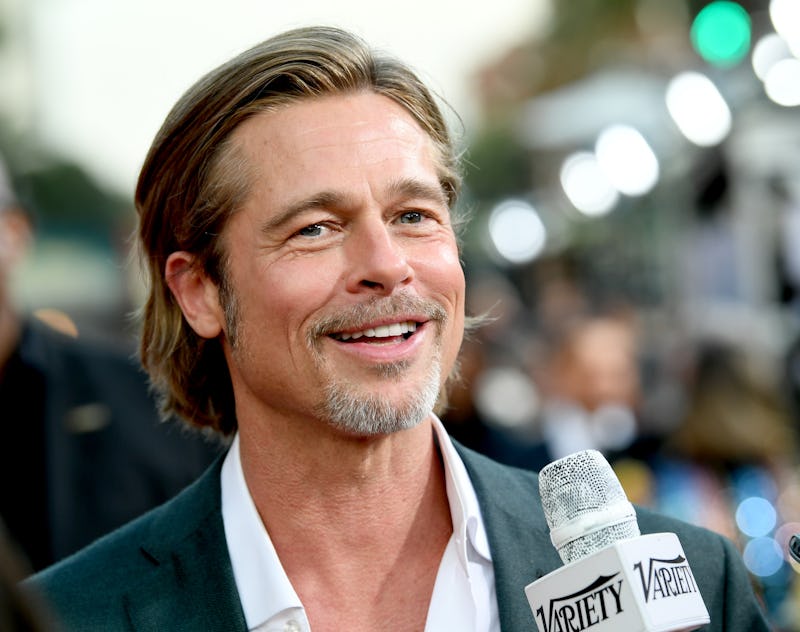 Kevin Winter/Getty Images Entertainment/Getty Images
It's been almost three years since Brad Pitt and Angelina Jolie's split caught fans off guard. In their 12 years together, the A-list couple built a family of eight. The couple wed in August 2014, but after two years of marriage, the couple filed for divorce in September 2016. Since then, there has been lots of speculation about who Brad Pitt is dating. While there may not be concrete evidence of any romance happening right now, he's been linked to everyone from costars to his ex-wife Jennifer Aniston.
Currently, Pitt is busy promoting his latest film Once Upon a Time In Hollywood, which was released on July 26. With the buzz around the moment, it doesn't appear Pitt is dating anyone at the moment, but as mentioned, since his divorce, he's been linked to several women. For example, less than a week after the of his divorce broke in 2016, rumors started swirling that he was romantically involved with Marion Cotillard, who was his costar in Allied. Cotillard, who was expecting her second baby at the time with partner Guillaume Canet, responded to this news on her Instagram firmly stating these rumors were not true. She wrote,
"This is going to be my first and only reaction to the whirlwind news that broke 24 hours ago and that I was swept up into. I am not used to commenting on things like this nor taking them seriously but as this situation is spiraling and affecting people I love, I have to speak up. Firstly, many years ago, I met the man of my life, father of our son and of the baby we are expecting. He is my love, my best friend, the only one that I need. Secondly to those who have indicated that I am devastated, I am very well thank you. This crafted conversation isn't distressing. And to all the media and the haters who are quick to pass judgment, I sincerely wish you a swift recovery. Finally, I do very much wish that Angelina and Brad, both whom I deeply respect, will find peace in this very tumultuous moment."
Following those rumors about Cotillard and Pitt, the subject of his dating life remained untouched until April 2018 when reports linked Pitt to Neri Oxman, an associate professor at MIT. However, in an interview she did with The New York Times on October 2018, Oxman said she was never in a relationship with Pitt, but rather the two are strictly friends. In fact, later that month, it was reported by Fast Company that Oxman was engaged to investor Bill Ackman and got married in January 2019.
After that speculation ended, Pitt attended Jennifer Aniston's 50th birthday party in February 2019, according to People, which sparked fans' hopes of reconciliation. Pitt and Aniston were married from 2000 to 2005, but even 14 years later, they still have fans rooting for them to get back together. Pitt and Aniston are both single now, following Aniston's split from husband Justin Theroux in February 2018.
In May 2019, a cameraman for Entertainment Tonight asked about Pitt's current relationship status with Aniston. The cameraman said, "I gotta ask you, everyone wants to know, are you and Jen getting back?" To which Pitt simply responded, "Oh, my God," which sounds like he was a little thrown off by the question. But still, Pitt continued to be in good spirts as he said goodbye to the cameraman and drove off.
While there are no more recent updates about who Pitt may be dating, it appears he has his hands full with being a dad to six kids, working on finalizing his divorce with Jolie, and promoting his upcoming film.