Bill Cosby's Lawyer Brian McMonagle Has A Powerful Reputation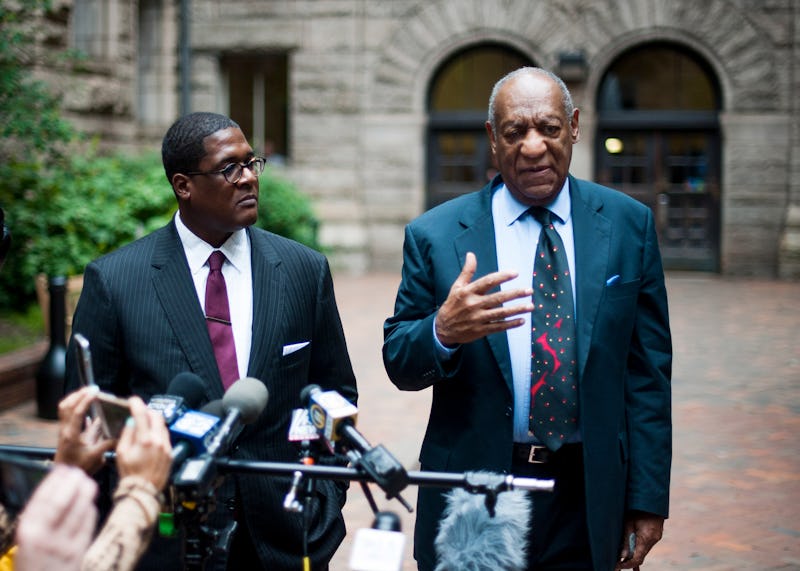 Pool/Getty Images News/Getty Images
For the lawyers in the Bill Cosby sexual assault trial, the next two weeks essentially amount to a rematch: Cosby's attorney Brian J. McMonagle will face off with Kevin J. Steele, the district attorney of Pennsylvania's Montgomery County. They both argued a similar case involving a Montgomery County Republican Party chairman who allegedly drugged and raped a woman who worked in his office in 2013.
McMonagle, who represented the Republican chairman and high-powered lawyer Robert Kerns, ended up defeating Steele, who was at that time the first assistant district attorney in the Montgomery County D.A.'s office. The Daily Beast reported that experts found an error in the way the grand jury interpreted the woman's toxicology report, which had found Ambien in her system. In 2014, Steele announced he was dropping charges because of a technicality error; later, the Pennsylvania attorney general took up the case and Kerns pleaded no contest to two misdemeanors, according to The Daily Beast. Kerns was sentenced to pay his victim restitution and a $500 fine. He also had to register as a sex offender and was sentenced to two years of probation.
McMonagle, a star Pennsylvania defense attorney who started off working as a prosecutor in the DA's office, has reportedly represented mobsters, rappers, athletes and a retired cardinal of the Catholic Church during an investigation into how the archdiocese of Philadelphia handled the allegations of priests' sexual abuses.
"I like battle, and I like competition," he said in a TV ad for his law firm. "When you hire us, you've hired someone who may not guarantee you a win, but will guarantee you a war." According to his firm's website, McMonagle has won "hundreds of acquittals for his clients."
In opening statements in Bill Cosby's trial, McMonagle said that the accuser Andrea Constand's story was inconsistent. Constand, he said, had originally told police that she hadn't been alone with Cosby before the assault and that she hadn't contacted the actor and comedian after the alleged incident. The accuser's story, McMonagle said, later changed.
He also noted that in 2005, then-District Attorney Bruce Castor declined to bring charges against the celebrity because he felt that the case was weak. (It wasn't until much later, when the 12-year statute of limitations was nearly up, that Constand's recollection of that January 2004 night with Cosby prompted prosecutors to bring charges against him.)
"They saw there was no evidence to bring a prosecution then," McMonagle reportedly said in his opening statement. "So why are we here?"