TLC's New Show Stars A Man Who Can Supposedly Heal People In Minutes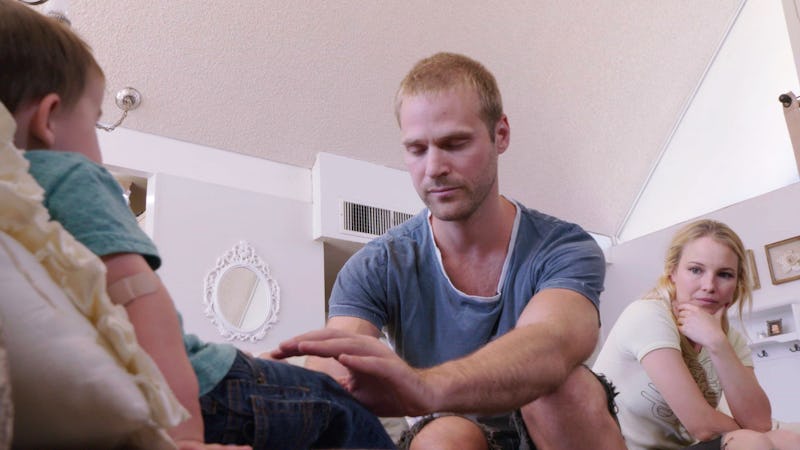 TLC
There are a lot of divisive opinions in the medical community when it comes to the topic of spiritual healing. TLC is aiming to bring this controversial healing technique to the spotlight with the new reality series, The Healer. The show will focus on Australian spiritual healer, Charlie Goldsmith and according to an interview with People, Goldsmith welcomes skeptics to tune in so he can provide supposed evidence of his abilities and their alleged positive outcomes on people suffering from chronic pain, as well as a variety of other ailments.
Goldsmith discovered his supposed unique abilities, what he calls his "gift," when he was 18 years old. According to an interview he did with Elle, Goldsmith doesn't charge for his services. This, he said, is partially because he doesn't want anyone to think he is making money off of what some believe to be pseudoscience, but he is successful in a myriad of other business ventures. Per Elle, Goldsmith started a marketing company called Cassette when he was 20 years old, which now has offices in Melbourne, Sydney, and Hong Kong. On top of this marketing company, he does branding work for Nike and Topshop, while also heading up a health food company, targeted at people with food allergies, that he created called Celebrate Health. He sold that company in 2014, per Elle, but recently launched another company that makes sugarless chocolate products called Pumpy Jackson.
Per Goldsmith's website, his aim with his healing abilities is to bring as much credibility to his work as possible through participating in various clinical studies. As his website states, Goldsmith completed his first study focused on the supposed effects of energy healing done in a hospital setting in 2013, at NYU Lutheran Hospital in New York City. This study used a prospective case format which means that the patients in the study were observed during the study over a long period of time as opposed to a retrospective study, where the researchers would look back on previous cases to observe patterns or changes. According to the published study results linked above, "Most patients experienced marked, immediate improvement of symptoms associated with their chief complaint." Basically, energy healing seemingly did have a potentially quantifiable effect on a patient's improvement.
Goldsmith's website also states that his second clinical study related to the effects of energy healing in a hospital setting was done in 2015 by Monash University Professor Paul Komesaroff — again at the NYU Lutheran hospital. This study and its results are due to be published in 2018. It appears that the two previous studies done on Goldsmith's supposed abilities in the energy healing field have spurred on more in depth research to further quantify the supposed effects of his work on patients.
And, in 2016, Charlie was requested to participate in a double-blind study researchers. Per MedicineNet, a double-blind study is when all participants are unaware of the procedure or the study details — which helps to ensure accurate and unbiased results. This is usually done when previous research or studies on a particular subject have shown promising or significant results, as seems to be the case for Goldsmith. If he is aiming to prove the credibility of his supposed energy healing abilities, then he could be on the right track.
Now, Goldsmith is bringing his alleged healing abilities into the spotlight with TLC for The Healer. During the show, Goldsmith will be explaining his techniques and using them on some famous faces. According to the aforementioned People article, these celebs will include Kyle Richards from Real Housewives of Beverly Hills and Jennifer Grey from Dirty Dancing. Tune in to The Healer, Nov. 6 at 10 p.m. ET on TLC to see him in action.