Notorious B.I.G.'s Son Honors Him At The BBMAs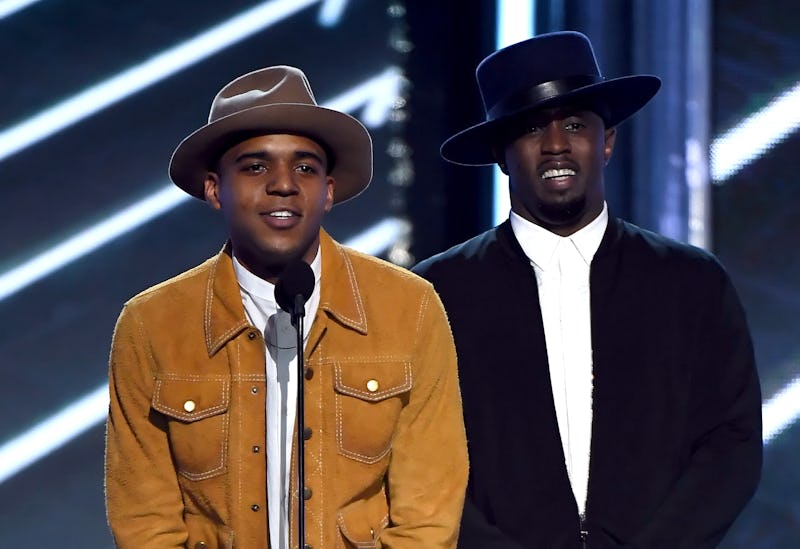 Ethan Miller/Getty Images Entertainment/Getty Images
Christopher Jordan Wallace, known as CJ Wallace, appeared at the 2017 Billboard Music Awards to honor his late father Notorious B.I.G. On what would be a significant day for the fallen iconic rapper, his son stepped out alongside Diddy to create an incredibly moving moment. The night of the Las Vegas awards show would've been the rapper's 45th birthday. The show also came just a few weeks after the 20th anniversary of his untimely death. Thus, his 20-year-old son spoke during his heartfelt tribute, which also included a trailer for the documentary Can't Stop Won't Stop about Bad Boy Entertainment.
The tribute, which Diddy introduced, included archival footage like Biggie's mom Voletta Wallace accepting an award upon her son's behalf at the BBMAs 20 years ago. In spirit of the dedication, Diddy also brought out Biggie's son CJ (whom he had with Faith Evans) for a rare appearance to speak about his dad.
"I know my father is looking down on all of us tonight," Wallace said. "And all of this love and support, my sister and I will continue to carry on his name with tremendous pride, and live my life by his words." It seems Wallace takes his dad's words seriously, as he's even following in his footsteps.
Diddy introduced Wallace as "a new groundbreaking actor, brand-new recording artist that's going to change the game." Audiences may have seen Wallace in the films Notorious (2009), playing a young version of his father, Everything Must Go (2010), and Kicks (2016), in which he was referred to as a "scene-stealer." Wallace also has an upcoming rap album with his half-brother Jahad on the way, by their group CJ and Jahad.
This young artist is onto big things and surely honoring his father's legacy in the process.