The Utah Cop Who Fatally Shot A 50-Year-Old Black Man Won't Face Charges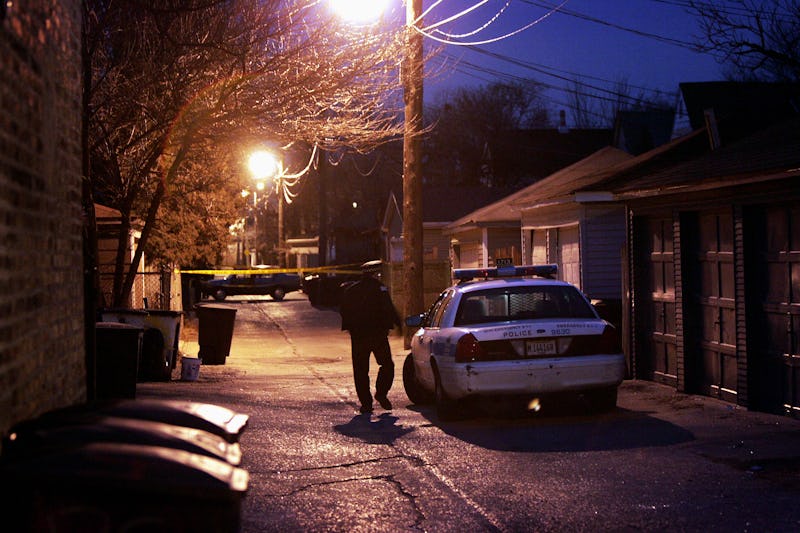 Scott Olson/Getty Images News/Getty Images
A police officer in Utah won't face any charges following the fatal shooting of 50-year-old Patrick Harmon, who was reportedly pulled over for riding a bicycle without a light. Newly released body camera footage shows Harmon attempting to flee the scene, at which point officer Clinton Fox dispatched three fatal shots at Harmon, who'd been running away from him. Before firing the shots, Fox had yelled, "I'll f*cking shoot you!"
According to The Guardian, Salt Lake City prosecutors have said the killing was justified because the officers had feared for their lives. A district attorney has claimed Harmon threatened the officers, saying, "I'll cut you," and brandishing a knife as he was running. The body camera footage, however, shows no evidence that Harmon did either of these things.
"They just murdered him flat out," Alisha Shaw, Harmon's niece, told the outlet. "They are lying. There is no way they were threatened by anything. He was only trying to get away."
When the Utah police officers first pulled Harmon over on the night of August 13, they told him they'd just wanted to "discuss the situation" with Harmon, who they said had ridden his bicycle "across all six road lanes and a median" and lacked the "required red rear tail light." The encounter escalated when Fox and officer Kris Smith, who'd been the one to pull Harmon over in the first place, called for back up and learned of an outstanding warrant for aggravated assault.
According to Fox, Harmon had appeared "emotional and distraught," reassuring the officers on the scene that he'd been trying to resolve the issue of the warrant.
After seeing the footage for the first time on Thursday, Adriane Harmon, another one of Harmon's nieces, said her uncle had tried to flee because he was scared. "All he did was run," Adriane said. "It hurts … They said 'I'm going to kill you' and they shot him three times. He's just moaning on the ground."
Police handcuffed Harmon while he was on the ground and transported him to a hospital, where he was later pronounced dead.
The fatal shooting of Harmon has once again brought issues of police brutality and racial profiling to the fore, along with questions about the de-escalation tactics for which Salt Lake City's police department once received praise.
A HuffPost report from May touted the department's record of not having killed anyone in the last 20 months, citing de-escalation training which encourages officers to "communicate and empathize with suspects, take stock of the factors contributing to a confrontation, and consider ways to disengage before the situation spirals out of control."
"The Salt Lake City Police Department is probably one of the leading agencies in the country as far as how we train and deploy and use these tactics to de-escalate and save lives," Police Chief Mike Brown told a local Fox affiliate at the time. "It's amazing to see the training go into effect."
Despite the department having broken its streak of reported success with de-escalation, Brown said he stands by his Fox's decision to fatally shoot Harmon and agrees with the district attorney's evaluation of what happened that night. "I believe our officers have the training and judgement and ability to make split-second decisions in dynamic situations," he said in a statement.
Harmon's death, his niece said, has proven that the training can only be so effective when biases against people of color endure.
"He was just being profiled," Shaw said. "Why do we have to fight so hard for justice? All we want is to be treated equal as a black person instead of being profiled and looked at as if we were a threat."