What You Need To Know About The D.A. Who Didn't Prosecute Harvey Weinstein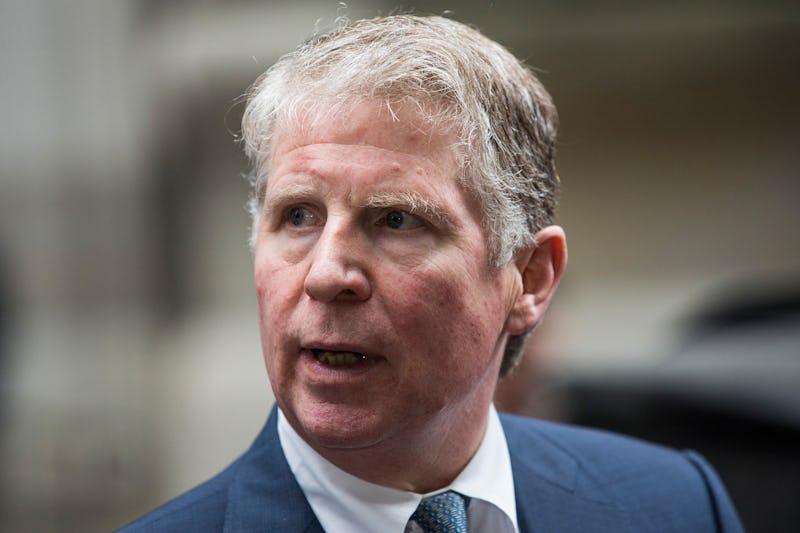 Andrew Burton/Getty Images News/Getty Images
In 2015, after Italian model Ambra Battilana Gutierrez caught Harvey Weinstein on tape pressuring her to enter his hotel room and apologizing for groping her breast the day prior, Cyrus Vance Jr., Manhattan District Attorney at the time, decided not to file criminal charges. "This case was taken seriously from the outset, with a thorough investigation conducted by our Sex Crimes Unit," a statement from the D.A.'s office said at the time. "After analyzing the available evidence, including multiple interviews with both parties, a criminal charge is not supported."
Two years later, a recent New York Times report revealed Weinstein's decades-long history of sexual harassment allegations. So far, more than 20 women have come forward against the producer. In a report released by the The New Yorker on Tuesday, journalist Ronan Farrow outlines Gutierrez's encounter with Weinstein, and provides the recording where the producer confesses to grabbing her breasts, saying that he was "used to" doing that kind of thing to women.
Once the recording was obtained by police, sources close to the investigation told the New Yorker that they supposedly had enough evidence to prosecute Weinstein. However, after unrelated details in Gutierrez's past reportedly began to emerge, Vance's office decided not to file any charges. "We had the evidence," one police source involved said. "It's a case that made me angrier than I thought possible, and I have been on the force a long time."
On Tuesday, Manhattan's District Attorney office released a statement defending its decision. "While the recording is horrifying to listen to, what emerged from the audio was insufficient to prove a crime under New York law, which requires prosecutors to establish criminal intent," it read. "Subsequent investigative steps undertaken in order to establish intent were not successful. This, coupled with other proof issues, meant that there was no choice but to conclude the investigation without criminal charges."
Had Weinstein been charged, a law-enforcement source told the New Yorker, he would have most likely faced a count of sexual abuse in the third degree, a misdemeanor that could have resulted in a maximum of three months in jail. Instead, once the D.A.'s office ruled it could not press charges, Gutierrez signed a nondisclosure agreement, including an affidavit claiming that what Weinstein confessed to on the recording didn't actually happen.
In the months following the D.A.'s decision, a lawyer for Weinstein, David Boies, donated $10,000 to Vance's reelection campaign, the International Business Times reported. Boies has donated more than $50,000 to Vance since 2005, according to the IB Times, and his son and law firm partners have donated an additional $130,000. However, Boies' law firm, Boies Schiller Flexne, denies any connection between the donations and Vance's decision to not charge Weinstein.
"David Boies has been a supporter of the District Attorney since long before 2015, including before he was first elected, and has never spoken to him about Harvey Weinstein," a spokesperson for the firm told the IB Times. Vance's communication director added that, "David Boies did not represent Harvey Weinstein in 2015 during the criminal investigation."
As district attorney, Vance is also decided not to press federal fraud charges against Donald Jr. and Ivanka Trump for allegedly misleading buyers into purchasing rooms in their "condo-hotel" in New York City. Their lawyer admitted the siblings had made hyperbolic claims about the condo-hotels, but denied any of their actions were criminal in nature. The investigation began in 2010. According to a New Yorker report released Wednesday, Donald Trump Sr. eventually brought his longtime lawyer, Marc Kasowitz, onto the case. Eventually it was dropped.
Just months later, Kasowitz made a contribution of $32,000 to the D.A. He claims the donations didn't have any influence over Vance's decision. "I donated to Cy Vance's campaign because I was and remain extremely impressed by him as a person of impeccable integrity, as a brilliant lawyer and as a public servant with creative ideas and tremendous ability. I have never made a contribution to anyone's campaign, including Cy Vance's, as a 'quid-pro-quo' for anything," he told the New Yorker.
The D.A. defended his decision to drop the case against the Trumps. "I did not at the time believe beyond a reasonable doubt that a crime had been committed," he told the New Yorker. "I had to make a call and I made the call, and I think I made the right call."
Vance is up for reelection for a third term in November and he's currently running unopposed.
If you or someone you know has been sexually assaulted, call the National Sexual Assault Telephone Hotline at 800-656-HOPE (4673) or visit online.rainn.org.