Who Is Dana Boente? Trump Is Hunting For Comey's Replacement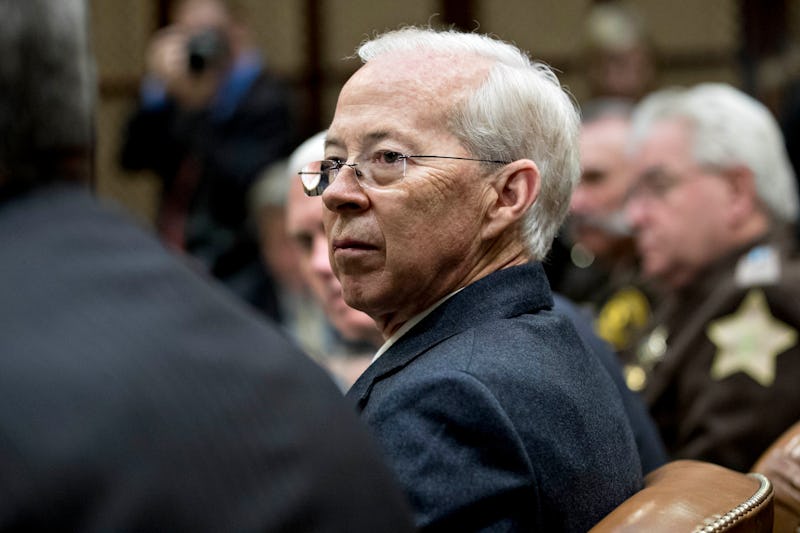 Pool/Getty Images News/Getty Images
On Tuesday, the political world was thrown into upheaval by the news that President Donald Trump fired FBI director James Comey, in the midst of an investigation into his campaign's possible ties to the Russian government. It was such seismic news, in fact, that it bumped another big story off the front page — the fact that U.S. Attorney for the Eastern District of Virginia Dana Boente served up multiple subpoenas in the very same investigation. As such, you may find yourself wondering: just who is Dana Boente, and should I view this as cause for relief?
Democrats and even some Republicans have been roiled over the past 24 hours by Comey's firing. Trump dismissed Comey from his role as head of the FBI hours after ProPublica reported that he had significantly misspoken during his testimony before the Senate last week. Comey said that top Hillary Clinton aide, Huma Abedin, had forwarded "hundreds and thousands" of emails from the former secretary of state's private server. According to FBI officials, it was only a relatively small amount emails and the agency sent a letter to Congress correcting Comey's comments hours before Trump fired him.
According to official statements from the White House, the president fired Comey, on the recommendation of Attorney General Jeff Sessions and Deputy Attorney General Rod Rosenstein, over his handling of the Clinton email probe. However, many critics almost immediately raised concern that Comey had actually been fired in an attempt to derail the FBI's ongoing investigation into his campaign.
Now, Boente is being publicly floated as Comey's possible replacement. So, who is he, and what should you expect?
For starters, it wouldn't be the first time Trump called on him in a pinch.
As previously mentioned, Boente, 63, is currently the U.S. attorney for Virginia's eastern district, and was tabbed by Trump to assume the role of acting attorney general after his firing of Obama apointee Sally Yates back in February. Yates, you may recall, refused to implement Trump's first executive order travel ban. Although it was not publicly known at the time of her firing, Yates had also warned the administration about then-national security adviser Mike Flynn.
Boente, also an Obama appointee, replaced her, and served as the acting attorney general until the confirmation of his replacement, Rosenstein, as deputy attorney general on April 25.
Boente has, in a career sense, been the beneficiary of a number of controversial Trump decisions — ascending to temporarily run the Justice Department thanks to the president's firing of Sally Yates, heading up a sensitive legal inquiry into the president's campaign in Virginia, and now getting his name thrown around as a possible new FBI director.
Boente does have a track record when it comes to holding powerful people legally responsible, having been involved in the prosecution of former Virginia Republican governor Bob McDonnell. However, even if he were Trump's FBI pick, that likely won't do much to tamp down the concerns stirred up by Comey's firing.