Dana Gresham Just Became The Democratic Senate's First Black Chief Of Staff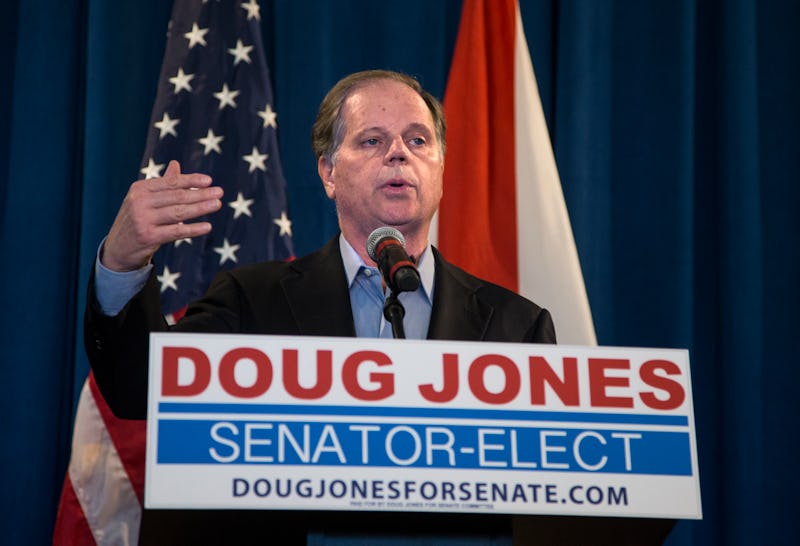 Mark Wallheiser/Getty Images News/Getty Images
On the eve of being sworn in, Alabama Sen. Doug Jones has named Dana Gresham as chief of staff on Tuesday. According to POLITICO, that makes Jones the only Democratic senator who currently has an African-American chief of staff.
Progressive activists like Shaun King have celebrated Gresham's appointment, tweeting:
This is the most important position on a Senate Staff.
"I would like to welcome Alabama native & former Asst. Secretary for Governmental Affairs at @USDOT Dana Gresham, who will be joining our team as Chief of Staff," Jones tweeted on Tuesday.
The former transportation official and congressional aide previously served as assistant secretary for government affairs at the U.S. Department of Transportation under then-President Barack Obama. Before that, Gresham was chief of staff to former Alabama Rep. Artur Davis. He also worked as legislative director for Rep. Bud Cramer.
"Great News!" Alabama Rep. Terri Sewell tweeted. "Birmingham's own stand out Dana Gresham chosen to be Chief of Staff to Alabama's Senator Doug Jones! Looking forward to working with them to move Alabama forward!!"
In December, a coalition of more than 16 minority advocacy groups wrote an open letter to Jones, asking him to hire a diverse staff. As the letter read:
A diverse coalition is not only essential in securing electoral victories, but also fundamental in creating policy that fully represents the voices of Americans.
They urged Jones to recognize the "profound lack of racial diversity that currently exists among staff in the U.S. Senate."
The letter continued:
The lack of diversity among top Senate staff is not caused by a complete absence of strong candidates of color. ... Hiring at least one person of color to your senior staff in Washington would speak loudly, and we ask that you do so among the qualified applicants that you will receive.
After beating Republican Roy Moore in the Senate race, Jones vowed to promote diversity in his office. As he told CNN's State of the Union:
I'm gonna commit to having a Senate office, both in my state and in D.C., that reflects the diversity of Alabama. ... I wanna make sure that I have the best staff available; it will absolutely reflect the diversity of the state of Alabama. I'm not gonna get bogged down in numbers but I can promise everyone that we're gonna represent the entire state of Alabama.
Jones' decision to hire Gresham has been praised by activist groups pushing him to diversify the Senate. "This is an important moment in the movement to make the Senate truly representative of all Americans," Don Bell, director of the Black Talent Initiative at the Joint Center for Political and Economic Studies, said in a statement.
Currently, only two other senators, Tim Scott of South Carolina and Jerry Moran of Kansas, both Republicans, have black chiefs of staff. And there is still a major lack of representation in American politics — to date, there have only been 10 black senators in the United States. Hopefully, politicians like Jones can help shift those statistics, especially considering black voters are widely credited for his victory.
On Tuesday, Jones named a few other staff positions in addition to Gresham, including Mark Libell, a former assistant congressional liaison for the Federal Reserve Board, who will be legislative director, and Katie Campbell, veteran congressional aide and former adviser to Sen. Joe Donnelly of Indiana, who will be Jones' deputy legislative director. Jones also named Sonceria Ann Bishop-Berry as his transition advisor, another win for minority groups.
According to an April 2015 study on senators' staff diversity, only three out of the chamber's 336 top staffers were black; adding Gresham and Bishop-Berry to that list is a big win.
Correction: A previous version of this story mischaracterized Gresham's appointment. It has been updated to accurately reflect the nature of the appointment.