Meet The Woman Poised To Become Virginia's First-Ever Openly Transgender State Legislator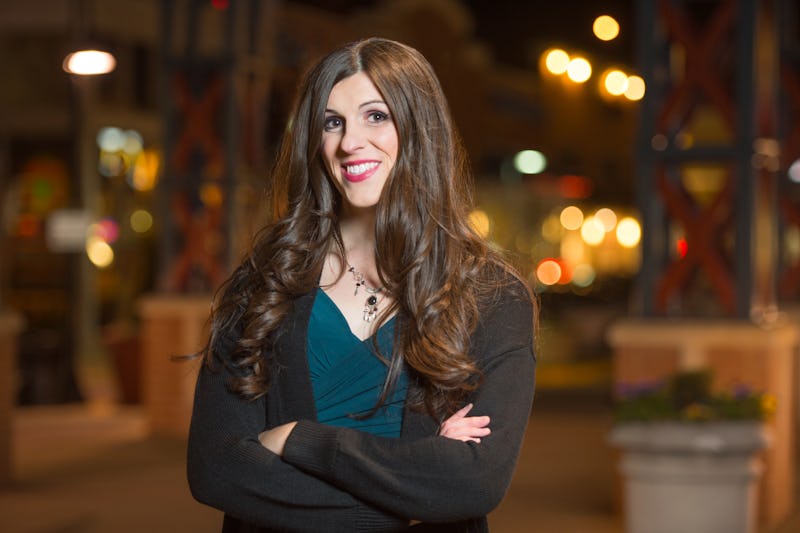 Courtesy of Danica Roem
Like any candidate vying for political office, Danica Roem has a running list of issues she cares about: solving the dreadful rush hour traffic on Route 28 in Manassas, Virginia, for example. With her ready smile and high energy, Roem might not strike you as a typical political candidate. Her foray into politics is unusual, but it's all the more remarkable for who she is. If she wins the District 13 election for Virginia's House of Delegates on Nov. 7, Roem would become the first openly transgender state legislator in Virginia — and only the third nationwide —, beating a Republican lawmaker with a steadfast anti-LGBTQ record.
In June, Roem, a Democrat, became the first transgender candidate to win the primary for Virginia's House of Delegates. Having grown up her entire life in Manassas county, Roem worked as a reporter writing for the weekly paper, The Gainesville Times. It was there that she interviewed her now-opponent, incumbent Bob Marshall, and became well-acquainted with his legislative record. "I know his record inside and out. I know his strengths and weaknesses," she says.
Just six months prior to Roem's primary win in June, Marshall authored an anti-LGBTQ bathroom bill. Although it wasn't the first anti-transgender bathroom bill to go through the state legislature, Marshall took it a step further by including a measure that required schools to out students to their parents within 24 hours if they asked "to be recognized or treated as the opposite sex."
And as her political opponent, Marshall has not played nice. He has refused to refer to Roem using female pronouns throughout the campaign, saying she is "clearly a male" in a radio show. In September, Marshall challenged a reporter from the Prince William Times, asking: "Why do you call Danica a female? Did Danica's DNA change?"
Roem has responded to talk about her identity with a composure that contrasts with the frantic anti-transgender rhetoric across the country. In the first of three campaign ads, Roem takes her hormone medication and applies makeup in front of the mirror. "Identity shouldn't be a big deal," she says in a voiceover. "This is just who I am."
Taking the high road is part of her strategy. "The point is that when you attack me with rhetoric like that, it's not just me you're doing that to," Roem says. "You're doing it to kids. Do you remember the quote from Michelle Obama, 'When they go low, we go high'? We didn't even mention his name or the attack. We're going to respond to this with an upbeat, inspirational ad that tells LGBT kids that they can succeed because of who they are, not despite of it."
In her bid for political office, Roem has gone door-to-door, talking to strangers in a district that has secured an anti-LGBTQ lawmaker's position in the statehouse for more than two decades. After Congress repealed "Don't Ask, Don't Tell" in 2011, Marshall proposed a bill that would ban gay people from serving in the Virginia National Guard. Marshall also co-authored a bill in 2006 that successfully implemented a constitutional ban against same-sex marriage in Virginia.
Even though Marshall has essentially owned the delegate seat for 25 years, Roem has a fighting chance come Nov. 7. The 13th district goes back and forth between Democrats and Republicans in presidential elections, and Hillary Clinton beat Donald Trump by 14 points in 2016. Roem also has a strong financial backing; after Trump announced his ban against transgender people serving in the military in August, Roem broke the record for having the most donations received by a Virginia House of Delegates candidate.
Kyle Kondik, who analyzes elections for the University of Virginia's Center for Politics, tells Bustle that if Roem trumps Marshall, it would be a victory for Democrats in the House of Delegates — but it's also bigger than that. "A win by Roem, Kondik says, "would also give transgender candidates across the country a role model for their own bids."
For Roem, it's a balancing act between tackling local issues in her district and representing the LGBTQ community. "Your identity shouldn't be a hindrance to you running because you are a person," Roem says. "You are part of the human experience just as much as any cisgender, straight white male is which is the overwhelming majority of our legislature here in Virginia."
She points out the Catch-22 of bringing up her gender during the campaign. "If I don't talk about gender it becomes an issue. 'You're trying to hide it!'' she says. "If I do talk about it becomes an issue. 'Oh you're focusing on it. There's literally nothing you can do."
The brunt of the media coverage surrounding Roem has largely focused on her transgender identity, which has frustrated Roem. "You read transgender candidate this, transgender candidate that. I don't even have a name!" she exclaims.
In fact, Roem says she's even entertaining the idea of writing a book satirizing the experiences as a transgender woman running for public office. The running title of her book, she jokes, is: "Transgender Candidate Writes Book."