Trump's Top Science Official Quit & He Hid A Powerful Message In His Farewell Letter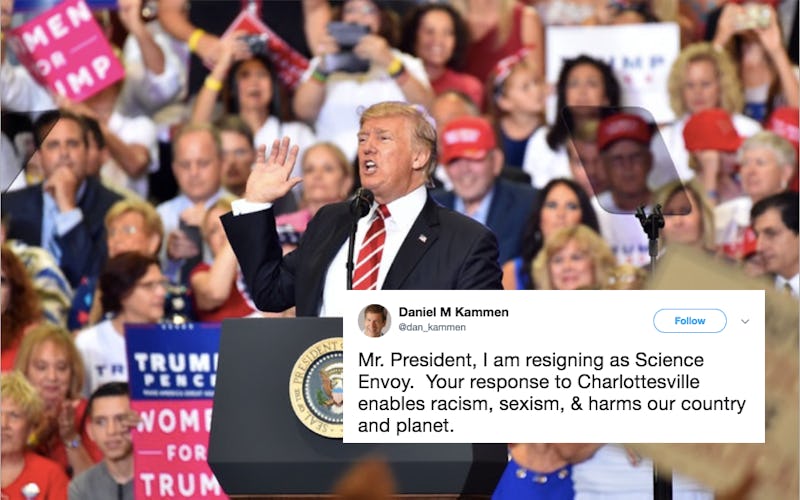 NICHOLAS KAMM/AFP/Getty Images
On Wednesday, another Trump administration official resigned from their post left behind a not-so-hidden message expressing their opposition President Donald Trump. On Wednesday, Trump's science envoy, Daniel Kammen, resigned with a "secret" message in his letter, and Twitter sleuths quickly noticed it.
Last week, it was the president's committee on the arts and humanities that pulled the plug in a resignation letter that contained the word "RESIST" spelled out by the first letter of each paragraph. And now, it was Kammen's turn, with a distinctly more pointed statement.
"Mr. President, I am resigning as Science Envoy," Kammen tweeted on Wednesday, including an image of his resignation letter. "Your response to Charlottesville enables racism, sexism, & harms our country and planet." In the course of seven paragraphs, the letter lays out exactly why Kammen feels he can't continue in the Trump administration, the bulk of the issue being about Trump's widely criticized response to white supremacist protest and violence in Charlottesville, Virginia two weeks ago.
On closer examination, however, it's clear that there's something else going on in the letter. A quick glance over the first letter of each paragraph tells the tale: altogether, the letters spell out "IMPEACH," an even more forceful statement than "RESIST" was.
Setting aside the cleverness of the hidden message ― to say nothing of its bluntness ― Kammen lays out the following reasoning for his withdrawal from the administration, citing Trump's "broader pattern of behavior that enables racism and sexism," and his decision to withdraw the U.S. from the Paris climate accords:
Particularly troubling to me is how your response to Charlottesville is consistent with a broader pattern of behavior that enables sexism and racism, and disregards the welfare of all Americans, the global community and the planet.
Examples of this destructive pattern have consequences on my duties as Science Envoy. Your decision to abdicate the leadership opportunities and the job creation benefits of the Paris Climate Accord, and to undermine energy and environmental research are not acceptable to me.
In short, it's yet another splashy departure from the federal government, with yet another shot taken at the president on the way out. It's hardly a surprise that longtime government officials are heading for the exits, given the Trump's extreme inexperience and the several calamitous controversies and scandals that have rocked the White House in his first year. But it's also clear that some people aren't interested in leaving quietly, instead preferring to make their real feelings known.