Dean From 'The Bachelorette' Got Off To An Awkward Start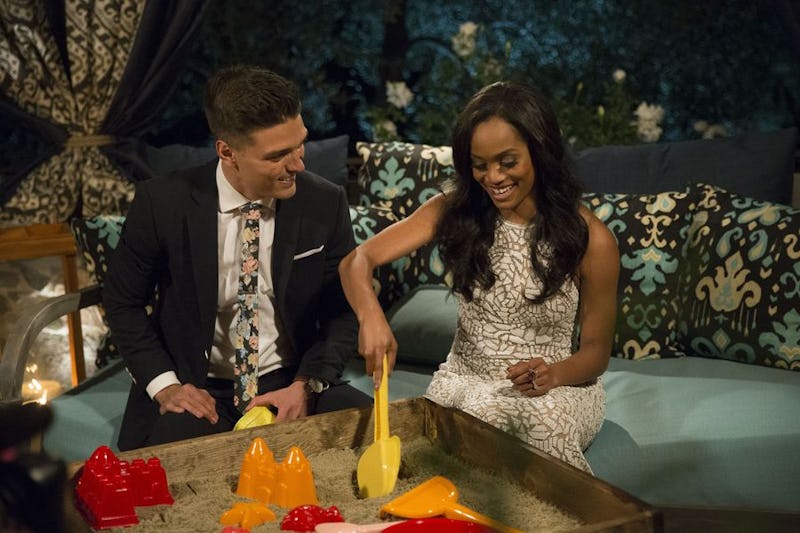 ABC/Paul Hebert
In a super surprising twist, Rachel Lindsay met some of her Bachelorette contestants during the live After The Final Rose special of Nick Viall's Bachelor season. One guy who stood out was Dean Unglert who told a "once you go black, you never go back" joke that didn't go over so well. Unfortunately for him, the show was airing was live, so fans all saw it and will never forget it. But, who Dean is from The Bachelorette other than that awful first impression.
I feel like Dean is going to have a tough time with the viewers, but hopefully there is a lot more to him than that one moment. The new season premieres Monday night, but considering that Rachel will be meeting 30 other guys, I doubt we are going to learn a ton about Dean in episode one.
Thankfully, we have social media and the ABC cast bios on hand to help us get to know Dean a little bit better. "Knowing" Rachel the way I feel like I do, I feel like she is not the type of person to judge someone based on one moment, so I think she'll give Dean and the other men she met at After the Final Rose plenty of time to make a second impression.In the meantime, here is what we know about Dean, so far.
1. He Isn't Into Social Media
Unfortunately, Dean doesn't have a major social media presence (yet). He only has one tweet and it's from 2015. He is a little more active on Instagram. I'm sure his social media use will increase as the season goes on, especially if he ends up sticking around for a significant amount of time.
2. He Is A Startup Recruiter
According to Dean's ABC bio, he is a startup recruiter. Thankfully, he didn't get one of those crazy "job" titles like "Dog Lover" or "Twin." So I'm hoping that this is a sign that we should take him seriously as a contender for Rachel's heart. Plus, I think it's safe to assume that a startup recruiter would have an outgoing personality, so I feel like Dean will entertain us this season.
3. He Is An Animal Lover
Dean posts a bunch of sweet photos with his dog, Nala, but he has also shared posts hanging out with lions and camels.
4. He Enjoys Golf
Just one look at Dean's Instagram and it's clear that he has a lot of hobbies and playing golf is one of them.
5. He Is A Risk Taker
I feel like most people who go on reality TV are not scared of taking a risk and Dean solidifies my opinion. I mean he rock climbs and literally jumps off cliffs for fun.
6. He Is Tatted Up
In his cast bio, Dean revealed that he has some tattoos. He shared that he is inked with "[his] Mom's initials on chest, artwork on back, friend's initials on back, 'Righteous' on inner lip, Latin on hip, Triforce on inner arm."
7. He Was Close With His Mom
Dean has a tattoo of his mother's initials on his chest, so she is always close to his heart, but he also revealed that she passed away. In response to the question "If you could have lunch with one person, who would it be and why?" Dean answered, "My mom. It's been over 10 years since she passed. Lunch would be amazing."
8. He Snowboards
It's not surprising that someone who is active as Dean enjoys snowboarding.
9. He Used To Rock A Man Bun
The obvious takeaway from this photo is that Dean enjoys playing football. However, I think the key thing to notice is that Dean used to have a man bun.
10. He Surfs
Surprise, surprise. Dean is also into surfing.
I get it. It's very easy to hate on Dean after his initial introduction, but there seem to be a lot of good things going on here beyond that one joke, and if Rachel is a fan, then I'll give him another chance.