'Doctor Who' Newbie Tosin Cole Actually Got His First Big Break In 'Star Wars'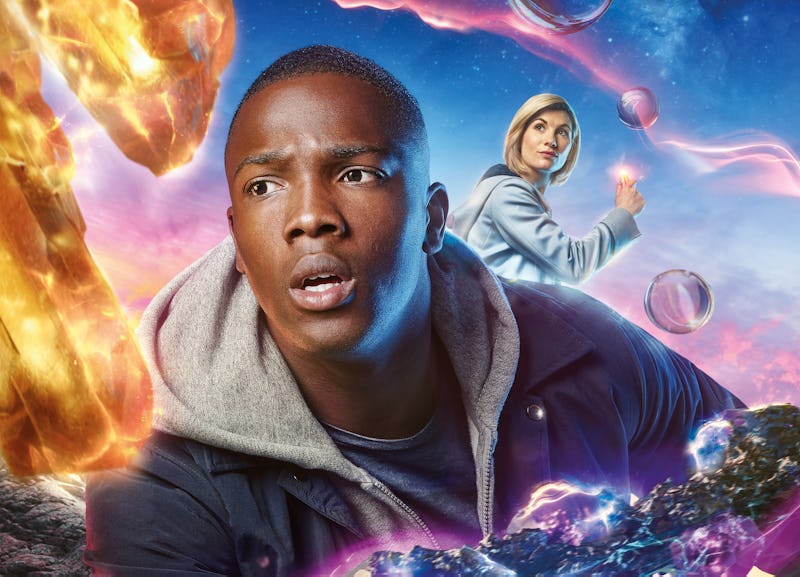 BBC
Doctor Who is about to embark on its 11th ground-breaking season in just a few days' time. Premiering on Sunday Oct. 7 on BBC One, the new series will see Jodie Whittaker play the first ever female Doctor — however, who will be joining her in the Tardis? Producers have confirmed that a character called Ryan Sinclair, played by Tosin Cole, will play one of her sidekicks. But who is Doctor Who actor Tosin Cole?
Well, it appears that the young British actor has graced our television screens before. In 2010, Cole made his television debut in the BBC teen drama The Cut, before joining the cast of EastEnders: E20, a spin-off of soap opera EastEnders, which lasted a total of three series. The following year, the 26-year old was cast as Neil Cooper in the Channel 4 soap Hollyoaks and its accompanying spin-off titled Hollyoaks Later, which at the time was the actor's most notable role. The new Doctor Who star has also featured in a number short films such as Me and My Dad and Jasmine, but most recently starred as Keith Potts in BBC's Holby City, and Djimon Adomakoh in the ITV detective series Lewis.
Before his early television roles, Cole starred in a modern day production of Julius Caesar titled Wasted!, according to The Sun.
Cole's acting talents were also enjoyed by audiences on the big screen back in 2015 when he secured a brief role in Star Wars Episode VII: The Force Awakens. Yes, seriously. Cole played X-Wing pilot Lieutenant Bastian, and during an attack on the fictional Starkiller Base in the film, he said the line "Direct hit! But no damage".
Interestingly, Cole is now the fourth actor to have appeared in both Doctor Who and Star Wars, alongside Warwick Davis, Dave Prowse and Felicity Jones.
When speaking of his casting in the new BBC series, Cole said: "I'm grateful and excited to be a part of this journey with the team. I'm looking forward to jumping in this Doctor Who universe."
Executive producer of the 11th Doctor Who outing, Chris Chibnall, recently opened up hared his thoughts on the show's brand new cast, and admitted he was "thrilled" to have Tosin on board. "The new Doctor is going to need new friends," he told the Radio Times.
"We're thrilled to welcome Mandip, Tosin and Bradley to the Doctor Who family. They're three of Britain's brightest talents and we can't wait to see them dive into brand new adventures with Jodie's Doctor. Alongside them, we're delighted that Sharon D Clarke is also joining the show."
Cole is joining the legendary show during a significant moment in Doctor Who's history. As previously reported, lead actress Jodie Whittaker will be the first woman ever to take on the role of the Doctor.
Whittaker's debut episode's official synopsis has already got fans excited. It reads: "In a South Yorkshire city, Ryan Sinclair (Tosin Cole), Yasmin Khan (Mandip Gill) and Graham O'Brien (Bradley Walsh) are about to have their lives changed forever. A mysterious woman, who is unable to remember her own name, falls from the night sky. Can they believe a word she says? And can she help solve the strange events taking place across the city?"
As the show reaches new audiences due to some welcome inclusivity, it looks like long-time fans can expect to enjoy the classic show fit for a modern audience, and I for one cannot wait for the new chapter.