Dua Lipa Handled Twitter Drama About Her Relationship In The Absolute Best Way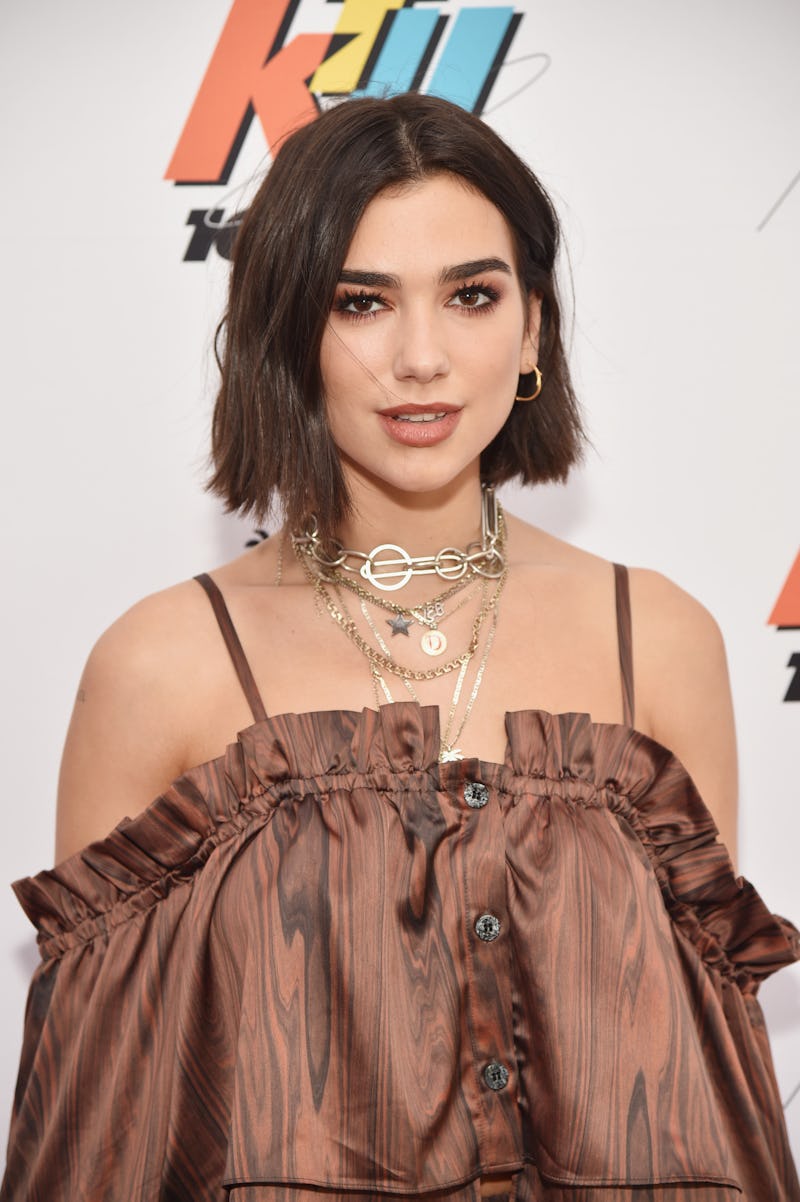 Bryan Bedder/Getty Images Entertainment/Getty Images
She's one of the coolest pop stars around, snagged two BRIT awards earlier this year, is rumoured to be working on the latest James Bond song, and recently headlined her first major festival. But while her working life is clearly very busy, what about her personal life? Who is Dua Lipa dating? Well, if recent reports — and the odd soppy Instagram post — are anything to go by, it would seem she's back with her ex, celebrity chef and model Isaac Carew.
The couple met in 2015 and were together for two years before splitting up in February 2017. According to Capital FM, Lipa, who has also been linked to comedian Jack Whitehall and Calvin Harris, then went on to date fellow musician Paul Klein. However, her romance with the LANY frontman Klein was short-lived, with the pair dating for a mere five months before calling it quits back in January. Lipa then defied her own rule of not getting back with exes, as per her hit single "New Rules," by rekindling her romance with Carew not long after, according to the Daily Mail.
And though they have only been back together a few months, it hasn't all been plain sailing. In June the couple's relationship was rocked by cheating rumours after a video surfaced of Carew reportedly seeming close to another woman at G-A-Y Late nightclub in London. However, Carew denied kissing the woman and said instead that he had been speaking closely in her ear.
According to Metro, Lipa took to Twitter to post a stream of cryptic messages after the news broke, cautioning fans to "keep your friends and loved ones close, trust your gut and go with your instinct" and to "never let go of the people that are nothing but honest with you."
Then just 20 minutes after she shared said tweets, Lipa declared, "Love is the most wonderful thing in the world. Don't be afraid to love with all you've got." She also added: "When it doesn't go your way, it's not the end it just builds you up for your perfect future."
Her statements threw the Twittersphere into a state of confusion as to the status of their relationship.
Two days after her tweets emerged, Carew cleared things up by posting a picture of the pair on Instagram, with a caption stating that Lipa simply "wouldn't stand" being in a relationship with someone who doesn't respect her, and blamed the tabloids for "causing drama [...] when there is simply nothing there."
Here is his statement in full:
"I wouldn't want you to think that Dua is in a relationship with someone who doesn't love and respect her. She wouldn't stand for it. Both Dua and I have fallen into the hands of tabloids causing drama and linking us to different people when there is simply nothing there. I'm in a gay bar dancing with a friend and its been shown in a bad light. There was no kissing and I'm disappointed at myself for even dancing for a brief moment given the way it was portrayed. It was a loud club and I was talking to her in her ear. Don't believe everything you see because these people are paid to create drama. We are very happy being back together. We spent three and half years happily together with loyalty and love and we never broke up in the first place because we had problems like that. We broke up because of scheduling conflicts and not being able to be together. Luckily our skin is tougher and love is stronger than this."
I've reached out to the couple's rep for comment and am yet to hear back. But from the looks of the couple's recent trip to Turkey — which included a romantic boat trip — they are as strong and solid as ever. Personally, I wish them all the best, while the couple may have had their bumps in the road, the course of true love never did run smooth.