Fox News & Trump Allegedly Coordinated A Fake Murder Story To Distract From Russia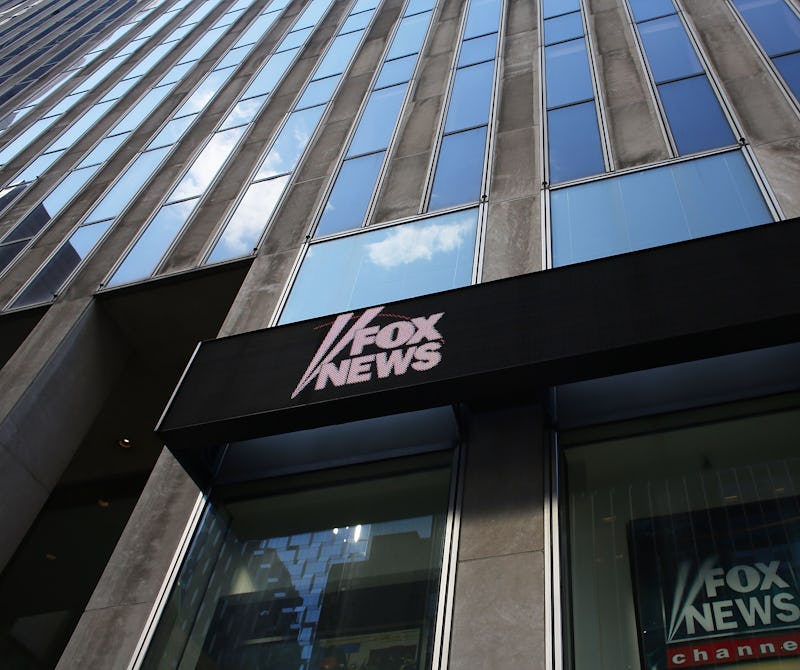 Spencer Platt/Getty Images News/Getty Images
According to an exclusive report from NPR, a former Washington, D.C. area homicide detective has filed a lawsuit alleging that Fox News concocted a fake story about Seth Rich, a Democratic National Committee staffer slain last year, in collaboration with a wealthy Trump supporter. The case is reportedly being brought by Rod Wheeler, an ex-detective and paid Fox News commentator who alleges he was misquoted as the single source supporting the wildly controversial and quickly retracted report.
Bustle reached out to Fox News for comment and received the following statement from its president of news, Jay Wallace, denying key parts of the lawsuit:
The accusation that FoxNews.com published Malia Zimmerman's story to help detract from coverage of the Russia collusion issue is completely erroneous. The retraction of this story is still being investigated internally and we have no evidence that Rod Wheeler was misquoted by Zimmerman. Additionally, FOX News vehemently denies the race discrimination claims in the lawsuit — the dispute between Zimmerman and Rod Wheeler has nothing to do with race.
The report, which is no longer online, suggested that Rich might have been behind last year's DNC email leaks, rather than Russian government hackers, the culprit widely cited by U.S. intelligence agencies. After it retracted the report in May, Fox News said in a statement that the story "was not initially subjected to the high degree of editorial scrutiny we require for all our reporting," and upon review was removed.
In the lawsuit, Wheeler alleges that he was crucially misquoted by Fox News' Malia Zimmerman, quotes that were used to bolster the unsupported narrative of the report. According to NPR's report, Wheeler also claims he was paid to investigate the Rich story by a wealthy Texas Republican and Trump supporter named Ed Butowsky, and that he and Butowsky sat down for a face-to-face meeting about the story with then-White House press secretary Sean Spicer.
Wheeler's lawsuit also involved an allegation of racial discrimination, alleging he didn't rise at the network as quickly or successfully as his white colleagues. Wheeler is black.
Perhaps most explosively, the lawsuit further alleges Butowsky bragged to Wheeler that President Donald Trump himself had personally reviewed the now-infamous fake story before it ran. The suit reportedly quotes a text message and a voicemail to that effect.
Spicer reportedly confirmed the meeting with Butowsky and Wheeler, but told NPR he has no knowledge of any involvement by the president. For his part, according to the report, Butowsky said he was kidding about Trump reviewing the story prior to its release. Wheeler's lawyer gave the following statement to NPR, accusing Fox News, Butowsky, and the Trump administration itself of having "used" his client.
Rod Wheeler unfortunately was used as a pawn by Ed Butowsky, Fox News and the Trump administration to try and steer away the attention that was being given about the Russian hacking of the DNC e-mails.
According to Oliver Darcy of CNN, the family of Seth Rich has released a statement on the matter, saying they hope this will put an end to the conspiracy theories surrounding their slain loved one.
While we can't speak to the evidence that you now have, we are hopeful this brings to an end what has been the most emotionally difficult time in our lives, and an end to conspiracy theories surrounding our beloved Seth.
As demonstrated in the audio above, despite now acknowledging he took the meeting with Butowsky and Wheeler on April 20, Spicer denied knowledge of the false report about Rich after it was released in his May 16 off-camera press gaggle.
I don't, I'm not aware of, generally I don't get updates on former DNC staffers, I'm not aware of that.
As Wheeler's lawyer outlined in his statement, they're effectively alleging that Fox News and the Trump administration coordinated in the creation of a fake news story to contest the widespread reports about Russian hacking of the DNC, and to suggest Rich may have been behind it instead. In the weeks and months following his death, right-wing conspiracy theorists have insisted, with no evidence, that Rich was murdered in some sort of cover-up or political retribution.
The whole ordeal has been immensely hurtful to Rich's family. They've repeatedly requested that his memory be respected and the misinformation stop, including after Fox News host Sean Hannity began stoking theories about Rich's death on his prime time cable news show. After the fallacious Fox News report ran in May, Hannity claimed on the air that it "[blew] the whole Russia collusion narrative completely out of the water."