San Francisco's Mayor Urges City To "Come Together In Peace To Reject Hate & Bigotry"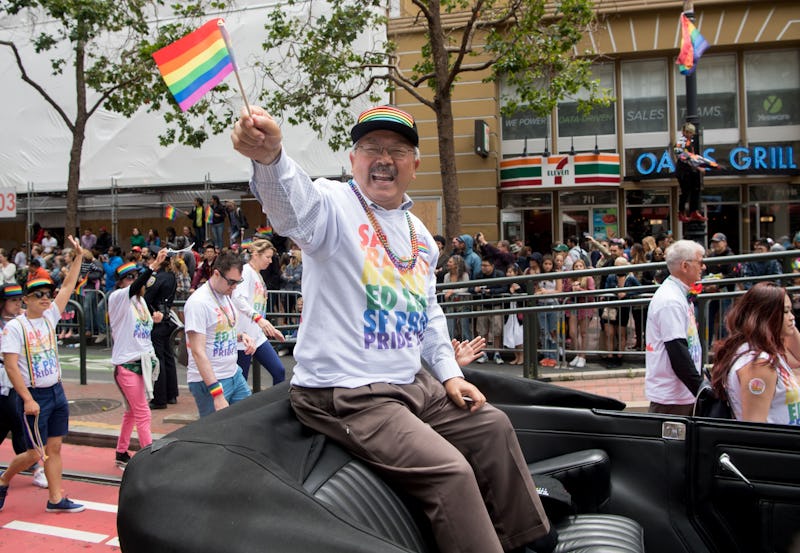 JOSH EDELSON/AFP/Getty Images
In the weeks leading up to a right-wing rally initially scheduled (but later canceled) to take place Saturday at Crissy Field in San Francisco many spoke out against the event, vowing to counter it with messages of peace and unity. Among those was San Francisco Mayor Ed Lee, who denounced the rally, calling it "shameful" and a "display of hatred." Instead, Mayor Lee has urged San Francisco residents to come together peacefully to reject hate and bigotry.
Organizers behind Patriot Prayer's Saturday event announced Friday they'd decided to cancel the rally they'd been issued a permit for in favor of holding what they called a "press conference" complete with a full list of speakers and bands at a public park in the middle of the city. In a Facebook Live video the group cited safety concerns as their motivation for the last-minute change and claimed officials like Mayor Lee had falsely painted them as white-supremacists, which was drawing potentially violent protesters to their event.
"It doesn't seem safe," Joey Gibson, the founder of Patriot Prayer, said in the video about the rally'. "A lot of people's lives are going to be in danger tomorrow. The rhetoric from Nancy Pelosi, Mayor Lee, the media, all these people are saying that we're white supremacists and is bringing tons of extremists."
But Mayor Lee expressed caution in celebrating the news Patriot Prayer had canceled their rally. "We don't trust this group," ABC News reported Mayor Lee told reporters Friday. "I never have from the beginning." And in a tweet posted to his official Twitter account Saturday morning, the mayor urged residents and visitors to the city to "please take part in peaceful gatherings."
Earlier in the week Mayor Lee had condemned the National Park Service's decision to issue Patriot Prayer a permit to hold their rally at Crissy Field, a former army airfield now included in the Golden Gate National Recreation Area and under the authority of the National Park Service. "The shameful, anti-American trend of hate-filled extremist rallies will unfortunately be allowed to continue this weekend in our city," Mayor Lee said in a statement issued after the decision had been made Wednesday.
He urged residents not to dignify Patriot Prayer's "display of hatred" by showing up to Crissy Field. "Let us show this nation that San Francisco is a city of peace and unity. Do not engage with the members of this group, whose only priority is to incite violence through divisive rhetoric."
Patriot Prayer canceled their so-called press conference at Alamo Square Park late Saturday morning after police and city officials closed the park and erected a temporary fence around it. Despite Patriot Prayer's repeated cancelations, hundreds of counter-protesters converged on areas near Alamo Square Park and Crissy Field on Saturday with a simple message: white supremacists, Nazis, and any other similarly hate-driven far-right group aren't welcome in San Francisco.