Enid Ortiz Is A Rising Star On 'The Voice'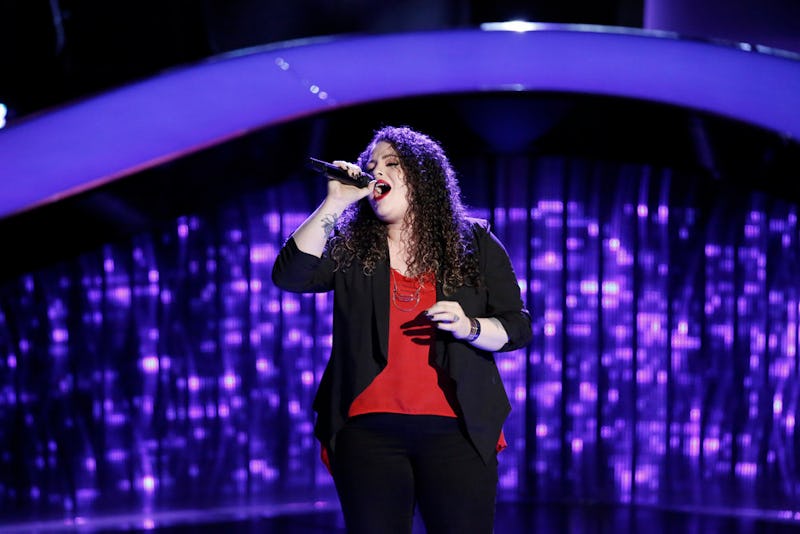 Tyler Golden/NBC
My heart was beating a mile a minute during one particularly heartfelt blind audition on Monday night's edition of The Voice. Enid Ortiz's blind audition on The Voice was so soulful and beautiful that it was clear from the first notes that she deserved to get more than one judge's chair to turn around. That didn't happen and it was only in the final seconds (quite literally) of Ortiz's audition that she got a chair to turn around.
Before we get ahead of ourselves, let's back up. Let's spend some time getting to know Ortiz. Who is this amazing woman? Who is she as a empowered singer and inspiring human? This singer hails from Tampa, Florida where she splits her time between working in a doctor's office and singing in a local band. She has suffered from vitiligo her entire life and as a result, went through the world feeling less than others. She found her voice, as a person and a performer, while singing. While her musical comfort zone would seem to be reggae, R&B, and rock n' roll, Ortiz transcended all boundaries of genre when she took the stage on The Voice.
Now that we're getting down to the wire with blind auditions, I think it's fair to say that you have to be able to knock it out of the park right away in your blind audition if you want to preserve any hope of getting through to the real competition. Ortiz's talent was so immense and so readily apparent when she began singing Adele's hit ballad "All I Ask," but the judges weren't as quick to come to the same conclusion.
As time wound down and no judges were turning around, the fear the Ortiz might actually go home to Tampa instead of advancing to the next round grew more real. It wasn't until judge Gwen Stefani actually whispered to judges Blake Shelton and Alicia Keys that Ortiz was "too good" to pass up that any major action happened. Shelton slammed his button in the closing notes of Ortiz's song. He spun around. In that moment, Ortiz landed herself a spot on Team Blake.
The surprise and excitement on Ortiz's face appeared to be very real. So was the relief, which actually passed through me in great waves while watching Ortiz get her moment in the sun. After revealing that she struggled with her confidence while battling vitiligo her entire life, Keys made sure to deliver an empowering statement to Ortiz: "In this world, we are taught not to love ourselves. We're taught that if we're different, there's something wrong with us. I think this is an incredible moment [for you]."
It really is an incredible moment and I can't wait to see what Ortiz does next on The Voice.