The Plus Size Model Fronting C5's New Fashion Industry Documentary Is Major Goals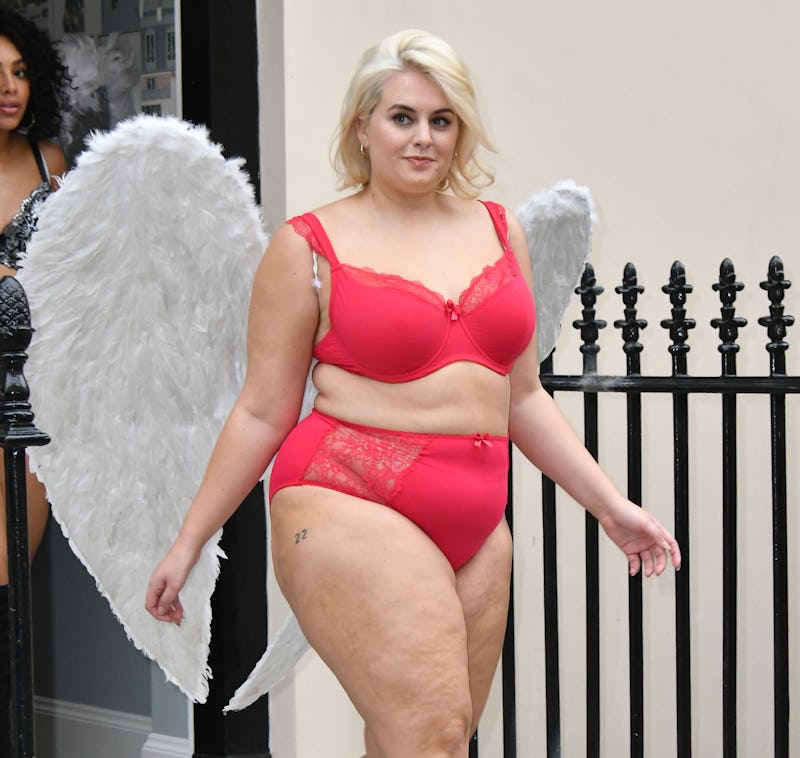 Nils Jorgensen/Shutterstock
From the moment you first interacted with other kids and the world, there's a chance you might have been made to feel bad about the way you look — and you might not even have realised it. As a woman, it often feels like the world has an exhausting preoccupation with you looking and feeling small. Models, celebrities, fitness Instagram influencers — smallness if often the holy grail, but finally people are calling BS on that whole narrative. A new Channel 5 documentary is showcasing a new beauty alternative, but who is Felicity Hayward, one of the faces of it?
New to Channel 5 is the Hayward starring doc Curvy Girls Stripped Bare. According to its bio on the Channel 5 site, the series will go "behind the scenes of a plus-size modelling agency," specifically Milk Management, according to The Sun, who call "ladies with fuller figures" Milk's specialty.
Hayward is one of the agency's more prominent stars, and you might remember her as one of the first plus size models to have featured in a MAC cosmetics commercial. Following the shoot, Mac wrote: "For if anyone is able to evoke the golden age of cinema with just a few thrifted rags, some eyeliner and a red lip, it's Felicity Hayward." You'll no doubt see all of that glamour and sass shine through on the show.
Hayward doesn't seem to have been bogged down by traditional beauty standards, as she was lucky enough to grow up with a supportive family. "Even when I was a little girl and much bigger than I am now, my grandparents would tell me I was beautiful," she said in her profile with MAC. Now, confidence oozes out of Hayward, and it's enough to make you wanna squeeze your own squishy thighs, and see the sexiness in your sag.
Hayward's on a mission to make this not just a skinny girl's world. As Bustle reported in April 2016, Hayward saw a big gap in the market and launched her own latex collection, which catered to plus sized bodies. According to her website, Hayward was also appointed the first ever Curve Ambassador & Stylist for ASOS, in 2014. So, if you were wondering why that plus sized selection is just so great, that may well be Hayward's doing.
She's since campaigned for several other well known brands to become less exclusive. In Sept. 2017, as Grazia reports, Hayward pushed for sportswear brands like Nike and adidas to rethink and resize their plus size options. She's now currently spearheading the body positive movement with her #SelfLoveBringsBeauty message and fashion line.
Writing on her website, Hayward says she was inspired to launch her own brand, since she "wanted to create a space for everyone, no matter what size, age, background, gender or sexuality." "I want you to celebrate your beauty," she says, "there is only one version of yourself, you should be celebrating your individuality not changing it. If that's not inspo enough, catch her on Curvy Girls Stripped Bare to get the full pep talk.